The 'Crazy Rich Asians' Press Tour Made Red Carpet Stars of Its Lead Actresses
"This movie says so much for so many people because it's so inclusive, and so there's this celebratory element to it."
There's already been much said about the importance of "Crazy Rich Asians," which is in theatres now and carries the distinction of being the first major motion picture starring Asian-American leads in over 25 years. That's a very big deal for Hollywood, to be sure. 
But just as important is the plethora of red carpet and style moments created by the promotion of "Crazy Rich Asians," and none of the stars disappointed. From press junkets to the Los Angeles premiere, the leading ladies brought their fashion A-game and left us wanting more every time. We'd even go so far as to say the press tour fashion was even more stellar than the movie's incredible costumes — and that's something.
As the film's leading lady, Constance Wu had the most to prove with "Crazy Rich Asians," and she more than did so both on and off screen. Though she had other obligations for much of the press tour, Wu linked up with stylist Micaela Erlanger to hammer out the looks she would wear to support the film when she could. It was their first time working together. 
"It has been such a collaborative and exciting process with her. We really wanted to bring the fashion, and also have fun," Erlanger says over email. "Every outfit feels like a complete look — accessories, hair, makeup, and of course, incredible clothes!"
Those "incredible clothes" included options from Versace and Oscar de la Renta, as well as a show-stopper of a Ralph & Russo couture gown chosen for the "Crazy Rich Asians" premiere. And because Erlanger is the queen of accessorizing, there was no shortage of fun bags or exciting jewelry.
Stylist Avo Yermagyan started working with Awkwafina for her other summer blockbuster, "Ocean's 8," but he knew this press tour had to be different. "I feel that the actors all feel like this is such a bigger moment than themselves," he says. "This movie says so much for so many people because it's so inclusive, and so there's this celebratory element to it — we wanted to keep it really light and sophisticated yet colorful and fun."
Yermagyan called in the big guns: Valentino, Fendi and Victoria Beckham all make an appearance, and Reem Acra designed Awkwafina's princess-moment premiere gown. He also wanted to be sure Awkwafina had a style distinctly different from that of her character, toning down the quirkiness and amping up the style factor — which meant no silky pajama sets or clompy Gucci platforms. And while comfort is still key for the comedian, Yermagyan says he's been able to open her up to new style possibilities while having a ton of fun along the way. 
"The prerequisite from our first call was, 'I can only wear flats,'" he remembers with a laugh. "By the time we had the 'Ocean's 8' premiere, she was in platform Giuseppe Zanotti heels. We had quite an evolution."
"There's an aftereffect to Awkwafina," he continues. "It takes a minute for her to wear off, so often times 45 minutes after the fitting, I find myself looking in the mirror and I'm still smiling and it's really because it's a joy working with her."
The real breakout star of the tour — and maybe even the film — has to be Gemma Chan. Not only did Chan hit many of the film's many screenings across the country, she regularly promoted designers and brands with an Asian connection, always making sure to detail their work on her Instagram. Chan works with stylist Rebecca Corbin-Murray, who helped bring her style vision to life."
"It was very collaborative — Gemma has a very strong sense of style and of what she wanted," Corbin-Murray says over email. "It was a really positive and exciting process."
Some of the designers highlighted by Chan included Laura Kim and Fernando Garcia of Oscar de la Renta, Joseph Altuzarra and Prabal Gurung. With each post, Chan added background of where each designer comes from and what they are known for in their work. The Hollywood Reporter noted that few of the stars promoted designers of Asian heritage at the film's big premiere; Chan was an exception to the rule for most of the press tour, and showed off some of the best looks in the process.
Altogether, these ladies are proving themselves to be as powerful on the red carpet as they are on screen. What's next? More leading roles for all, hopefully, and our fingers are crossed for some big glossy covers in their future too. We missed them this September.
See some of the best looks from the "Crazy Rich Asians" press tour below:
Constance Wu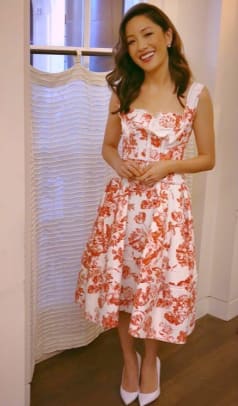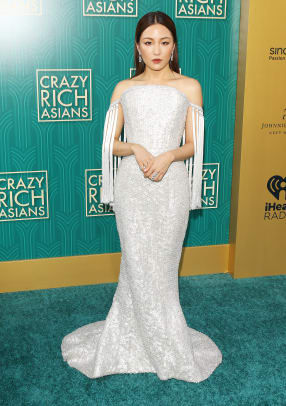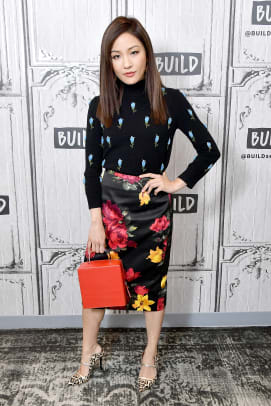 Awkwafina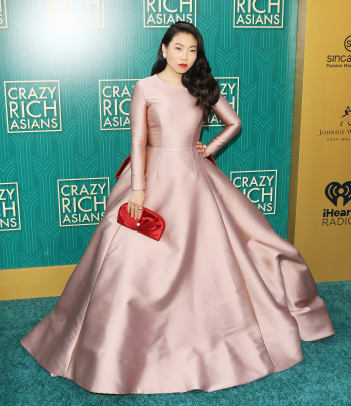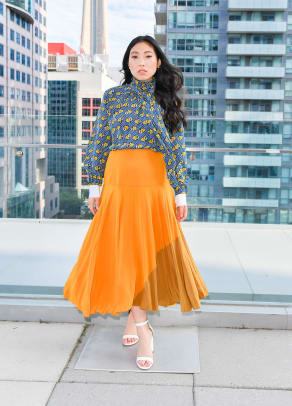 Gemma Chan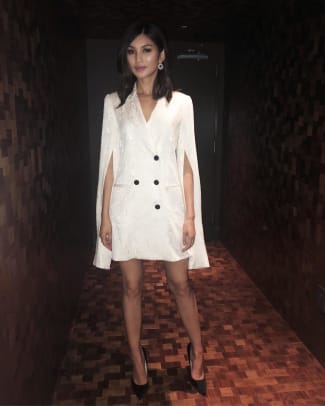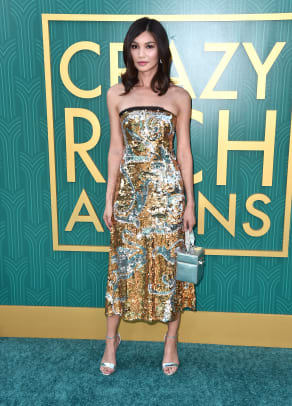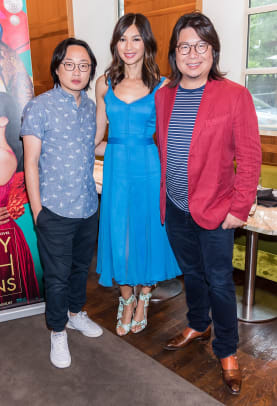 Want the latest fashion industry news first? Sign up for our daily newsletter.