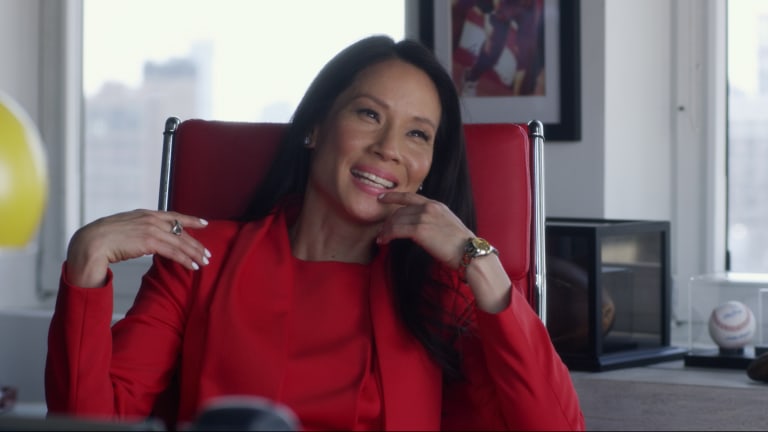 How to Shop for the Perfect Pantsuit for Fall, Like a Costume Designer
We got tips straight from the minds behind the power-dressing looks on "The Bold Type," "Younger," "Set It Up" and "The Good Fight."
Welcome to Pop Culture Week! While you can always find us waxing poetic about the hefty overlap between fashion and pop culture, we're dedicating the next five days to the subject of our favorite music, movies, TV, celebrities, books and theater, and how that all intersects with the fashion industry.
Pantsuits have not only been a dominant trend on recent runways (and red carpets and wedding aisles), but the power-dressing sets have also taken over both the big and small screens, from Cate Blanchett's criminally chic suiting as thieving mastermind Lou in "Ocean's 8" to Liza's (Sutton Foster) sleek ice blue moment that helped jolt Charles (Peter Hermann) into getting his shit together on "Younger." 
"It was her way of basically saying 'screw you' to Charles and look at the real me," says the TV Land show's costume designer Jacqueline Demeterio. "'I am a strong, 40-something-year-old woman who knows how to take care of business.' That suit exuded strength and the color was so sensational — it was one of my favorite looks of the season." 
There is also the cast of millennials in media power-dressing for the jobs they want on "The Bold Type." Kat (Aisha Dee) attended Paris Fashion Week in an ivory-and-black brocade Gucci suit that she likely borrowed from the Scarlet magazine fashion closet — either that, or she found an impossibly good deal on The RealReal. "It changes the way people look at you when you enter a room," says costume designer Lisa Frucht, over the phone from Montreal, where she's shooting the third season of the Freeform series.
Whether you're looking for a power look to help you lean in (and kick ass) at the office, a refined alternative to a dress or versatility for any occasion, you surely need a pantsuit for fall. But with so many styles and silhouettes out there — online and in-store — and at varying price-points, where to begin?
We asked the experts who are busy dressing your favorite career ladies on TV in pantsuits for various drama-fueled life events, and often on a deadline and a budget. In addition to Frucht and Demeterio, a few more costume designers shared their tips and tricks: Rebecca Hofherr, who dressed Lucy Liu in her fiery red suit in "Set It Up" and Dan Lawson, who regularly outfits a cast of name-taking (and trend-making) women on "The Good Fight" and "Instinct," as well as IRL with his modern workwear line 35·DL. 
Find the right silhouette — for you.
Essentially, try on as many shapes, styles and fits as possible to figure out what jacket and trouser silhouettes work best for your body and make you feel comfortable and confident. Of course, there are key elements to note.
"The waist of the jacket has to hit the waistline in the proper place in order to avoid the suit overpowering and 'wearing' you," explains Demeterio, via email. The shoulders are also indicators. For petite builds — like Hillary Duff, who wears tailored and often-printed suiting as book editor Kelsey — the costume designer avoids overly strong architectural shapes or hefty pads. But padding "could do wonders" if you have sloped shoulders.
But our bodies — and style preferences — are unique to us, so there's no hard and fast rule when it comes to finding the right suit proportions. "You'll know when you know," says Lawson. "Listen to your intuition a little bit." Set aside time to try on as many suits as you can in person.
"Find a suit that makes you feel how you want to look," writes Hofherr, via email, who also suggests venturing out of your comfort zone, perhaps with color, prints and different silhouettes. You never know until you try!
Carefully assess for quality.
Another reason to shop in-person: You can touch and study the pantsuit to make sure it doesn't look or feel cheap, even if it is a budget buy. Lawson suggests first checking the tag for fabric info. Natural textures, like wool and silk, are ideal. Of course, that doesn't mean polyester or otherwise synthetic blends are a bad thing. "Everybody wants a little stretch in their pants," he says, because comfort is key — whether you're running around to appointments, nursing an afternoon food baby at your desk or downing frosé at happy hour. 
Check the inner workings and "bones" of the pieces, too, as lining tends to be an indicator of a quality suit. Also, move around in the suit to assess how well it holds it shape and drapes.
Scrutinize every last detail when shopping online.
We live in an online shopping universe, and many places to find cool, chic and affordable pantsuits exist via e-commerce. But "it's tricky shopping online," says Frucht. There's a strategy behind the process, and costume designers — who are often on a tightly controlled budget or an overnight delivery deadline — know this all too well.
Ideally you've already tried on a bunch of suits in person to create a shortlist of styles and silhouettes that work best on you. Frucht prefers shopping on sites that offer the most information possible, starting with images of a model wearing the suit jacket and trousers together. (Many show the suit as separates.) She also visits e-retailers that offer as many views of the suit as possible (runway videos are a plus), as well as detail the size of the model wearing the suit for comparison, fabric info and exact garment measurements.
"Take out a tape measure and measure yourself," she adds. "It cuts down on returns and it'll help you understand the silhouettes moving forward."
Find an expensive-looking suit, but on a budget.
Liza wore Tom Ford to make her power move and Lucy Liu's red look for sports agent Kirsten is Alice + Olivia, but most of us are probably on a slightly more accessible budget. Costume designers often are, too, and frequently shop ASOS, Topshop, Zara and H&M.
"They have great suits and tend to sell them as separates, so you can mix different style and size jackets and pants together," says Demeterio. Lawson has also mixed courtroom-ready suits from Kohl's with Armani and Roland Mouret on "The Good Wife." "The fit is key," he says.
Frucht also suggests perusing gently-worn resale sites and boutiques for deals on higher-end labels. "When you put your own personality to it, no matter what the price point is, you're going to sell the look and that's what's important," she notes. 
Visit a tailor.
"You can buy a very inexpensive suit, have it tailored and look like a zillion dollars," asserts Lawson.
Just know what to ask the tailor before you visit. You can tweak the shoulders to not over- (or under-) whelm you. Shoulder pads can be added or taken out — perhaps swapped out for smaller ones. Demeterio sometimes asks her seamstress to narrow the arms of a jacket to elongate the look. On the flip side, Hofherr asks her tailor for optimum hemming on the suit sleeves and/or pant legs. "Sometimes if they are too long it makes the suit look cheaper than it may be," she says. 
Demeterio suggests tweaking the waistline to hit at the ideal place and points out the length can also be altered to your preference. "The waistband on the pant should hit your waist in a way elongates your body and isn't cutting you in half." Just make sure you bring in both pieces of the suit so the tailor can assess the fit of the entire look.
Of course, not everyone is blessed with on-staff expert tailors, on-call at a moment's notice. If you don't have one that you trust, Frucht suggests asking around for word-of-mouth recommendations from your local dry cleaner or shop. Yelp is a great resource, too. A good trick — borrowed from online vintage wedding dress shopping tips — is to test out a new tailor by asking them to alter a piece that you're not that invested in first.
RELATED ARTICLES
Make Your Suit Work for the Money.
"You can purchase a full pantsuit and wear it as separates, pairing a jacket with jeans or athletic trousers," says Demeterio of justifying the purchase of an investment suit — you're basically getting multiple looks in one. Or, pair the suit trousers with a feminine printed blouse, a camisole top or graphic t-shirt, depending on your workplace or occasion.
Sutton, on "The Bold Type," is an excellent resource for versatile blazer looks, whether with jeans or a non-coord — but still coordinating — pair of work trousers. Lately, Frucht is into layering a structured blazer over a t-shirt, tucked into "a long, floaty skirt" and accessorized with heels. "It's a great way to combine some [suiting] elements but to also create a cohesive look," she says. "That's what I like about Sutton. She just has a very open mind and she's willing to put pieces together that she likes in a very unique way."
Top and homepage photo of Lucy Liu in 'Set It Up': Courtesy of Netflix 
Follow Lisa Frucht @costumeinspiration, Jacqueline Demeterio @jackie_o_demeterio, Rebecca Hofherr @chamazing and Dan Lawson @danlawsonstyle.
Never miss the latest fashion industry news. Sign up for the Fashionista daily newsletter.