Kanye West Wore a Mint Green Suit From Virgil Abloh's Louis Vuitton Debut to 2 Chainz's Wedding
With too-small Yeezy sandals with socks.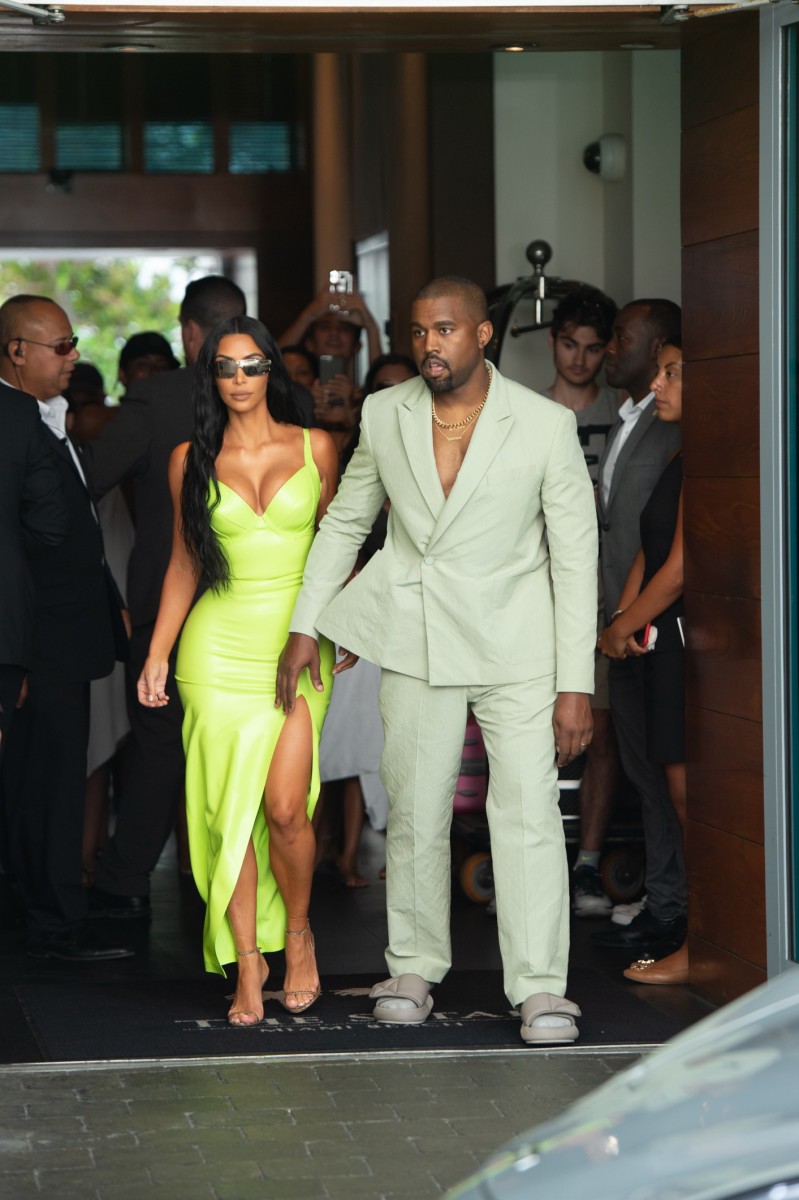 Over the weekend, 2 Chainz married his longtime parter Kesha Ward in Miami at a mansion that originally belonged to Gianni Versace. The couple's wedding had quite the coveted guest list of 75 invitees, including a white tiger and Lil Wayne, as well as Kim Kardashian and Kanye West. 
The rule of any wedding is to not upstage the bride, but West didn't get the memo: He wore Virgil Abloh's first suit from the designer's debut menswear collection for Louis Vuitton, paired with Yeezy slippers that the internet likened to orthopedic slippers. But before we get to the hospital-friendly footwear, attention must be paid to West's sea green ensemble that he wore without a shirt. West's matching blazer and trousers set didn't just come in an excellent, minty hue, but it also featured Louis Vuitton's signature motif embossed throughout. To top it off (and to give a proper nod to yacht-owning retirees in Boca Raton), West wore a gold chain and two slimmer gold necklaces on his bare chest. 
On his bottom half, West sported Yeezy Season Six sandals — with socks, of course. The velcro slippers were done in a dark shade of gray and looked a few sizes too small, seeing as how his heels were spilling off the back. 
Kardashian, meanwhile, was dressed in a neon lime latex number that perfectly matched the fluoro Mercedes-Benz G-Wagen in which the duo pulled up. But even her outfit wasn't as talked about as was West's decision to wear too-small slides to a wedding. 
Stay current on the latest trends, news and people shaping the fashion industry. Sign up for our daily newsletter.