The Kardashian-Jenner Sisters Are Back For Another Calvin Klein Campaign
The new #MyCalvins campaign features the brand's underwear and jeans line — plus a pregnant Khloé.
It looks like Raf Simons is officially a Kardashian-Jenner stan. The sisters are back again as the faces of another Calvin Klein campaign, revealed on Wednesday morning, for the brand's recently revamped underwear and jeans line. The new imagery, photographed by Willy Vanderperre, follows up the family's #MyCalvins modeling debut in January.
Like the previous campaign, which featured an expectant Kylie, Khloé was pregnant during this photo shoot, which took place back in March. "I think we were all a little more comfortable this time around, but shooting for Calvin Klein is always a little bit intimidating," Khloé exclusively told People. "Shooting in underwear at eight-and-a-half months pregnant is even more intimidating."
Kylie, who confirmed her pregnancy after the birth of her daughter Stormi in February, is no longer conspicuously covering her midsection with an Americana-inspired quilted blanket. (Though, she's still toting one around in the photos below.) 
Instead of playing "Never Have I Ever" like the last campaign, the Kar-Jenner clan decided to do a wholesome game of "Telephone" this time around, starting with Kendall and finally passing it off to the youngest sister of the bunch. View the video above to find out how they do.
Plus, see the entire Calvin Klein campaign featuring the Kardashian-Jenner sisters in the gallery below.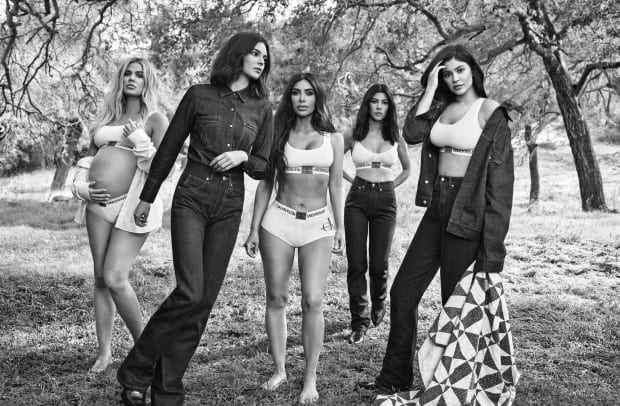 Sign up for our daily newsletter and get the latest industry news in your inbox every day.