Kotn, a Chic, Sustainable Line of Basics, is Opening Its First U.S. Store
The brand is bringing the goods from Egypt to NYC.
There are some brands that get the label "ethical" because they're doing one or two things in the realm of labor or sustainability right, and then there are brands who get that label because they're seemingly doing it all. Kotn, an elevated basics brand that opened its first U.S. store in New York City this week, falls into the latter category.
Founded in 2015 by Rami Helali, Mackenzie Yeates and Ben Sehl, Kotn sells simple, well-designed t-shirts, dresses, joggers and more made from — you guessed it — cotton. But it's not just any cotton: it's long-staple Egyptian cotton, known for its softness, breathability and durability.
"For us, it's really important to use natural fibers, because at the end of the life of the garment, it can decompose into the ground, unlike a lot of synthetics," Helali says, motioning at the rack beside him as he walks through the brand's airy new store.
The environmental consciousness of Kotn's production, also evidenced by its factories' OEKO-TEX certification, is just one side of its "ethical fashion" coin. Perhaps an even more central concern for the brand is how the people in its supply chain are treated, which is why Kotn was built from the ground up with an emphasis on transparency and fair wages. Unlike many of its competitors, Kotn can trace its clothing back not just to the cut-and-sew factory, but all the way through the supply chain that includes dye houses, fabric mills, yarn spinners and farmers.
"We do everything, from the second it leaves the ground to the final product, in Egypt. We partner with people all through the supply chain to make sure it's done ethically and in the best possible way," explains Helali.
Though Helali and his co-founders are Toronto-based, they've established an office in Egypt to make sure they're always in touch with what's happening on the ground. And though it helps that Helali himself has Egyptian heritage and speaks the language, Kotn doesn't just count on internal oversight — it also relies on third-party auditors for accountability that customers can trust is more than just convenient greenwashing.
"We bring in outside people that can take a look at our facilities and drop in unannounced," Helali says.
Beyond the value to the region that's baked into the way that Kotn does business, it's also using part of its profits to build schools in the area where its cotton is farmed. Through these initiatives and partnerships with local NGOs, Kotn intends to reduce Egypt's 25 percent illiteracy rate and promote education for girls in particular.
New visitors to the store in Soho, though, might not know any of that — and as far as Helali's concerned, that's okay. While the brand places a large emphasis on hiring the kinds of salespeople who share Kotn's values and can talk intelligently about the brand's mission, the store space, located on the same cobble-stoned street as A.P.C., Prada and Balenciaga, reflects the label's emphasis on elevated aesthetics more than anything else. A pair of 120-year-old antique doors imported from Egypt, metal hieroglyphs on the walls and live plants common to the region all hint at the brand's origins, but the overall effect is more about being welcomingly chic than it is about preaching.
"A lot of people walk in [to our stores] and they're like, 'Oh, this is going to be super expensive,' just from how the store looks," Helali laughs. "And then our products are very middle-market pricing, so there's always a sigh of relief or excitement when they see that."
Check out more pictures of Kotn's new space below, then visit it in person at 112 Mercer Street in New York.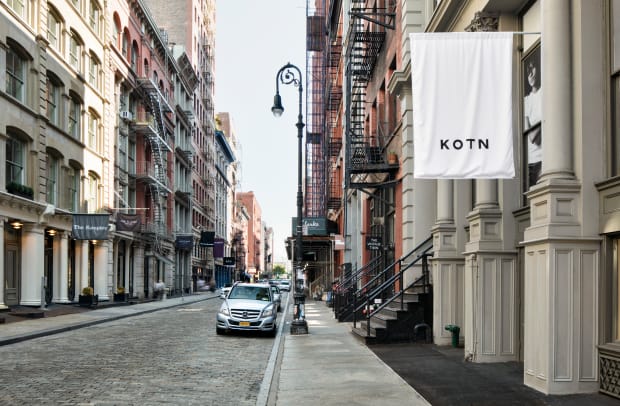 Stay current on the latest trends, news and people shaping the fashion industry. Sign up for our daily newsletter.