'Architectural Digest' Visits Leandra Medine's Manhattan Loft
The founder of "Man Repeller" shows off her colorful new digs.
Architectural Digest's annual September "style" issue focuses on the homes of fashion insiders. This year, the magazine paid a special visit to a woman who's spent most of her life swallowed in ruffles and oversized pants: Man Repeller's Leandra Medine. The notorious maximalist invited the publication into her new Manhattan loft, where she and her husband, Abie Cohen, along with their newborn twin girls and her memorable outfits reside. 
Medine and her husband moved into the apartment late last year, when she was four months pregnant. At the time, the space was completely empty, but as someone who's made a business out of her unique personal style, it wasn't long before Medine had filled it with colorful custom wallpapers and impressively organized closets. 
Though she expressed an early penchant for Scandinavian minimalism, Medine gravitated toward color and pattern. Her team of designers from Decorist married the two aesthetics by sticking to simple, contemporary furniture and adding vibrant wallpapers. "What I ended up with was this very French, very eclectic mix," notes Medine.
The French influence is particularly prominent in the nursery, which features a mural of a Parisian streetscape. This room houses Medine's most prized possessions, but a wall of bespoke California Closets contains some of her other cherished items: her vast collection of jewelry and shoes, which she artfully stacks and plays with on a daily basis. 
And of course, the loft boasts numerous enviably stocked closets reserved for her formal frocks, metallic skirts, striped shirts and whatever miscellaneous garb required for her absurd shirt-and-pant pairings. "Some people meditate; I make lists of outfits," she explains. "Dressing for me has always been about individual satisfaction."
Check out more images of Medine's loft and read the full feature over on AD's website.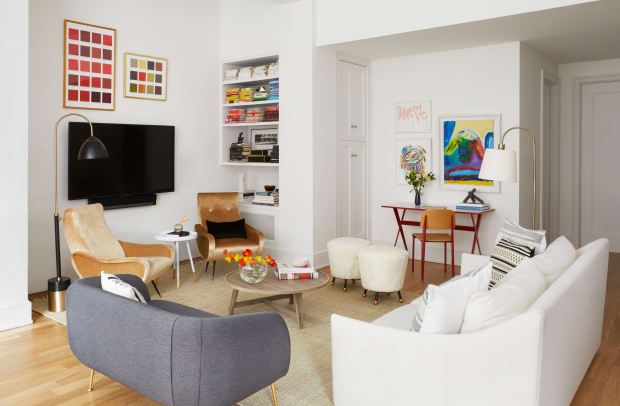 Stay current on the latest trends, news and people shaping the fashion industry. Sign up for our daily newsletter.