See Every Look From the 2018 VMAs Red Carpet
Music's biggest names from across generations pulled out all of the stops at New York's iconic Radio City Music Hall.
We won't sugarcoat it: Over the years, MTV — as both a television network and a pop cultural force — has lost much of its luster. The days of groundbreaking music videos with the ability to influence the aesthetic of an entire generation (we're looking at you, Madonna and Michael Jackson) are pretty much gone, and most musicians have decamped to internet and streaming services like Tidal in order to premiere and promote their new releases. Though MTV still provides viewers with iconic, culturally relevant programming like "Jersey Shore" and "The Hills," its force within the music industry is a fraction of what it once was.
However, music's biggest names across all genres come together for one night annually at the VMAs in celebration of the most innovative, memorable and visually stunning videos released that year. With categories spanning the likes pop, rock, rap, alternative and hip-hop — along with honors for achievements in direction, choreography, effects and fan-selected favorites — a diverse crew of attendees turn up for the occasion, often having more than just a little fun with fashion. This is not what you'd call a stuffy red carpet, folks: Expect lots of exposed skin, sparkle, print, color, logos and, for the truly statement-making, costume. (You may recall that this very event is where Lady Gaga debuted her infamous meat dress in 2010, and where Lil' Kim brought the word "pastie" into the mainstream lexicon in 1999.) 
From the good to the bad to the completely insane, browse every look from the 2018 MTV Video Music Awards red carpet in the gallery below, which we will continue to update throughout the evening.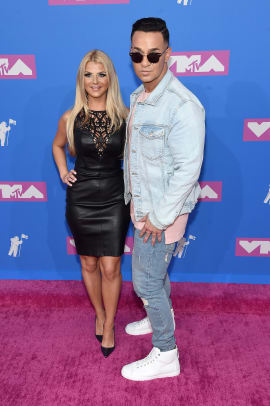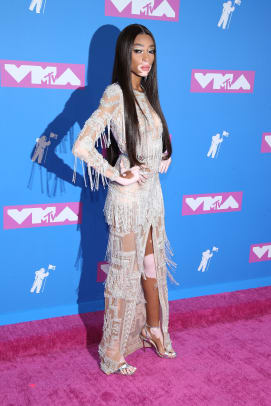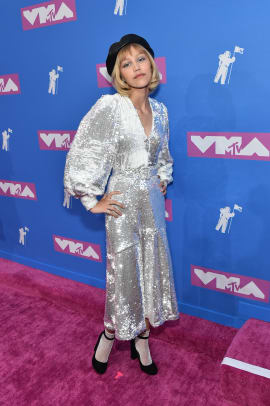 Want the latest fashion industry news first? Sign up for our daily newsletter.