23 Wide-Legged Cropped Pants That Are Honestly Just Really Trendy Right Now
Let's not try to pretend these are "timeless," "classic" or any of those other adjectives.
Sometimes, you just have to give into trends. I'm sorry, those are the rules. How else would fashion even begin to explain bandana shirts, airbrushed jeans, tiny sunglasses or trucker hats? Thankfully, however, some trends age better than others, and I'm about to talk to you about one such style: the wide-legged cropped pant. 
Not to be confused with culottes, the wide-legged cropped pant is actually fitted at the waist and pelvic area before it explodes into above-ankle bell bottoms. Whoa! Right? Our friends at The Cut went so far as to describe the trouser as "ugly-cool," which is pretty on the nose. But unlike other "ugly-cool" trends — like any item of clothing that falls into camping-adjacent "gorpcore" — these ballooned slacks are actually quite flattering, as well as comfortable. That's what happens when you cross the lower breathability of JNCOs with the upper fit of bootcut jeans. 
While you can't comb through a single street-style gallery without spotting a pair or 10, let's not try to pretend these are "timeless," "classic" or any of those other adjectives that indicate a perennial appeal. Unless, of course, the wide-legged cropped trouser has the aptitude to outlive us all. Which it just might.
Click through below for 23 of our favorite wide-legged cropped pants available to shop now, ranging in all fabrics, silhouettes and price points.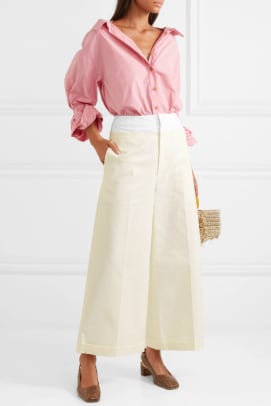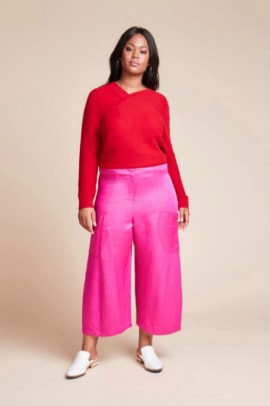 Please note: Occasionally, we use affiliate links on our site. This in no way affects our editorial decision-making.
Sign up for our daily newsletter and get the latest industry news in your inbox every day.