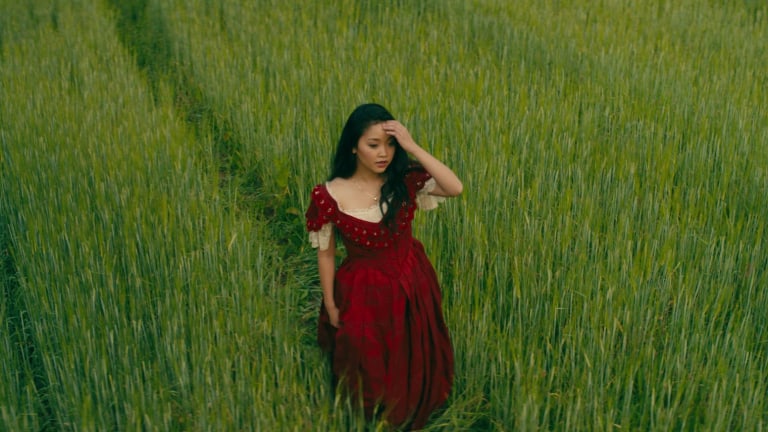 The Costumes in 'To All the Boys I've Loved Before' Reference K-Pop and the Modcloth Aesthetic
"Lara Jean is this badass, quirky, awesome individual," says costume designer Rafaella Rabinovich of the beloved lead character.
Warning: Mild spoilers for Netflix's "To All the Boys I've Loved Before" below.
Netflix continues to nail the rom-com movie game — as the summer of Asian representation continues — with "To All the Boys I've Loved Before," a new film based on the best-selling YA novel of the same name by Jenny Han. 
For you grown teens who haven't read the book (full disclosure: me), here's the summary: Middle sister and high school junior Lara Jean Song Covey has a penchant for reading paperback bodice rippers (and conjuring up fantasy sequences of herself in them), watching John Hughes classics and writing — and addressing — cathartic love letters to her unrequited crushes. She stores the unsent notes in a hat box from her late mother, until they're mysteriously mailed to said boys, including former BFF and older sister Margot's boyfriend Josh Sanderson (Israel Broussard) and lacrosse bro Peter Kavinsky (Noah Centineo). Yeah, cringe.
To keep emo-dreamy Josh from thinking she's still in love with him (and ultimately hurting Margot), Lara Jean agrees to pretend-date jock-dreamy Peter, who also wants to make his ex, Genevieve (Emilija Baranac) jealous. But will it stay a ruse? Hey, I've watched enough '80s and '90s teen flicks (and The CW programming) to know how this could play out, but getting there was absolute, pure joy: tears, laughter, heavier tears. I also completely fell in love with Vietnamese American actress Lana Condor in her first starring role as bi-racial Korean American Lara Jean.
Some parts of the book may have been modified for the streaming small screen, but one defining element definitely stays true to the source material: the fashion. "Lara Jean is this badass quirky awesome individual," says costume designer Rafaella Rabinovich, over the phone from Vancouver. "She's not aware of how cool and what great style she has. So especially the beginning, there's almost a bit of awkwardness."
To bring the characters to life via costume, Rabinovich looked to Han's book,  worked off the script by Sofia Alvarez and collaborated with director Susan Johnson. "The entire movie has a palette," she explains. "As a creative team we all went for magenta, cayenne and yellow, which really helped us define a mood, in a sense." 
Rabinovich looked to sources that perhaps Lara Jean herself would have looked to for fashion inspiration: '90s issues of Vogue, fashion from the Clinton era and K-pop, which speaks both to Lara Jean's heritage and current fashion trends. "I spent a lot of time on Instagram just looking at what girls, who look at the more romantic things, these days — what do they pick up on?" explains the costume designer, who fell down the Insta rabbit hole of Modcloth communities and hashtags to see how young women styled their retro-inspired pieces. 
Her goal was "to bring it all together in a way that can be on one hand, timeless — relevant 10 years ago and 10 years from now — and at the same time very accurate," adds Rabinovich. Fans of the book will be happy to see Lara Jean's aesthetic of feminine silhouettes, vintage mix-and-match pieces, knee socks and cardigan layering translated onto the screen, especially during scripted fashion call-outs (and life-defining moments for a teen).
As many of us may remember, a first-day-of-school outfit would be a carefully strategized operation, possibly months in the making. Rabinovich took a similar approach, formulating Lara Jean's junior year debut look around her lug sole combat boots. Ex-middle school friend and now-HBIC Genevieve bullies Lara Jean by the lockers and mocks her military-inspired footwear with a snarky, "Thank you for your service," to which Lara Jean earnestly responds, "They're vintage. I got them on Etsy." 
Rabinovich confirms the '90s-inspired boots by BP. are, in fact, thrifted (although not technically retro) and, overall, Lara Jean's first day 'fit is adorable: high-waisted, sailor-front cream shorts from Aritzia in-house brand Wilford, burgundy knee socks and a vintage plaid flannel, casually tied at the waist (above). The shirt's rugged, grungy vibe "represents a bit of Josh," says Rabinovich. "Just a touch."
Lara Jean relies on layering to sartorially protect herself from her fear of opening up, especially after losing her mom at an early age. But, silver lining: She has a stellar collection of sporty bombers and streamlined blazers to counterbalance playfully printed and fit-and-flare dresses in palettes of pinks and blues.
After reluctantly agreeing to go to a party with Peter, Lara Jean changes out of her cupcake batter-covered house clothes into a sweet-meets-streetwear look that makes her feel most secure outside of her comfort zone. "Lara Jean represents such a celebrated individual that is not going to conform to what [people expect her to be] wearing to this party," says Rabinovich. "The easiest thing for most women to do is throw on a little black dress. For Lara Jean, her go-to is this Peter Pan collar navy dress." 
Of course, there's her signature layer, and, in this case, a baby blue bomber jacket (above) with floral embroidery packed with symbolism. "The flower to me represents her opening up to different options," hints Rabinovich. Behind the scenes, the jacket from Forever 21 has sentimental significance, too. The costume designer actually bought it for her previous Daytime Emmy-nominated on "Project Mc2," but the scene was cut. So she added the piece to her ever-growing "kit" of costume gems saved for the perfect moment.
But Rabinovich keeps Lara Jean's accessories understated and streamlined to the teen's "favorite scrunchie," delicate necklaces, a couple '90s lace chokers and a very chic mustard beret that shamefully only gets a few seconds of screen time early in the movie. To contrast, EDM-loving and impossibly cool Christine (Madeleine Arthur) — kind of a Gen Z Rayanne, minus the betrayal — wins the accessories game hands-down. To costume Lara Jean's only friend, Rabinovich looked to Stevie Nicks and classic Natasha Lyonne (I'm thinking "Slums of Beverly Hills") for inspiration behind her witchy hat, which perfectly complements her pink streaked hair, and stacks and stacks of jewelry in each scene.
"It's very detail oriented and very texture attached," says Rabinovich, about the rings, bracelets and embellished belts which highlight Chris's artistic side and accent her all-black wardrobe.
RELATED ARTICLES
The costume designer sourced fast fashion and vintage from all over the world: Germany, the U.K., Israel, Los Angeles and locally in Vancouver, where the movie was shot. "There is a pretty astonishing volume of clothes on this show," she says. Rabinovich also made a point to shop where real teens do, including Forever 21, H&M, Urban Planet and thrift stores. (She bought the period dress that Lara Jean wears in the intro fantasy sequence from the Shaw Festival Theatre costume shop in Ontario.)
For a movie about the importance of friends and family, it was also apropos for Rabinovich to raid the closets of loved ones to pinpoint the most heartfelt pieces, too. Struggling to find the perfect deep shade of pink for Lara Jean to wear in a few defining moments, she remembered a Gloverall cerise duffel coat that she had gifted her sister years ago. 
"I called my mom and sister, who live in Israel now," Rabinovich laughs. "I was like, 'send this over!'" And they did, happily.
Follow Rafaella Rabinovich on Instagram @costume_designer101. 'To All the Boys I've Loved Before' premieres on Friday, Aug. 17 on Netflix.
Top photo: Courtesy Netflix
Never miss the latest fashion industry news. Sign up for the Fashionista daily newsletter.