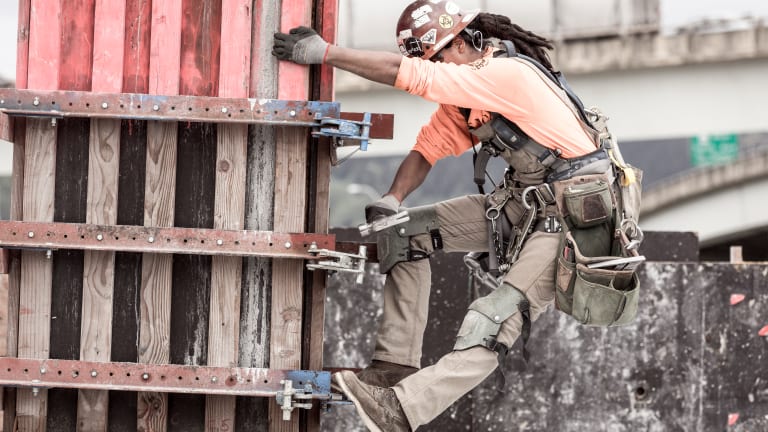 Female-Focused Manual Workwear Is Still an Emerging, But Also Evolving, Market
New labels are launching to outfit all sorts of tradeswomen in durable, fashion-conscious and above all, innovative clothing.
In fashion media, "workwear" often pertains to a wardrobe worn in the office or for a traditional corporate job. But for professionals within the manual labor industry — carpentry, landscaping, artisans of various mediums and so much more — workwear serves as a daily uniform for function, style and, most importantly, protection.
As a field that's predominantly male — in 2015, women working in construction made up 1.3 percent of the entire U.S. workforce — the offerings available for female-focused workwear remain extremely slim. Meanwhile, labor force participation among women has steadily increased and is expected to remain high, with a projection of more than 5 million female employees in the U.S. between 2010 and 2020. 
Over at least the past decade, the response and need for women's workwear has slowly built an emerging market, with its first wave of brands including Gamine Workwear, launched by horticulturist Taylor Johnston in 2014. Her first product, a pair of limited-edition dungarees made from selvedge denim, pushes Gamine's values of sustainability, natural textiles and domestic manufacturing. Johnston has also collaborated with Dickie's on an adaptable trouser and expanded her brand's collection to include gusseted shorts and cotton smocks.
RELATED ARTICLES
"It's a very niche business within a niche — that's why it works well," says Johnston of women's workwear. "I would be excited to see an endless number of iterations of workwear companies for women that really are catering to things that should exist but don't. Rather than trying to make products they think are what we want to wear or are dumbed-down versions of what guys get. That's not good enough. I don't support that."
While the "shrink it and pink it" strategy has been evident among sportswear and sneaker industries, the same method applies for women's workwear, too. "It's still based on men's cuts," says Kate Day of Dovetail Workwear. (Originally known as Moxie & Moss, Dovetail announced its rebranding in June.) "The fabric is typically still quite uncomfortable and takes a while to break in because there hasn't been enough time put into patterning [for women]."
Day co-founded the Portland-based brand with Kyle Marie Begley and apparel industry veteran Sara DeLuca in 2016 to create workwear that truly felt like it was designed with women in mind. "It's just really tapping into a market that you know the apparel world seems to have overlooked or not given credence to," says Day. "Women are really hungry for it. That's where we're really trying to come from and be authentic to that brand."
DeLuca, Day and Begley gathered a small group of core testers — construction workers, artists and even firefighters — to wear various iterations of their debut work pant while on the job. The collective feedback helped launch their first Maven style last fall, which quickly sold out during its first production run and has already expanded with three silhouettes and different fabrications.
Dovetail's rapid success caught the attention of incubator Portland Product Werks, which acquired the brand last year, allowing for expansion of its wholesale retail business, as well as online. Dovetail also has a number of new styles set to launch later this fall and into 2019.
The customer base that Dovetail serves can be broken down into three main categories. First, there's the tradeswomen, including builders, electricians and plumbers. "That number is growing significantly as our economy changes and more women are entering the trades," notes Begley.
Then there are the natural resource specialists who work in forestry programs, such as building trails, as well as organic farmers, landscapers and even whale scientists. The third group includes artisans, from woodwork and glass blowing to winemaking and brewing.
"There are so many subsets, too," adds Begley. "Cinematographers, camera women and installation artists. Really, there's no end. It's been a lot of fun to discover so many traditionally male-dominated occupations that more and more women are entering."
As Dovetail's range of consumers grows, so does the brand's drive for innovation. "The other area that we're super excited about is bringing technology into our fabric," says DeLuca. She cites the outdoor industry as a huge source of inspiration. "In workwear it's been a little bit slower out of the gate. It's more steeped in the 12-ounce duck canvas world."
Indeed, as athleisure and performance-driven garments continue to take over mainstream consumers' everyday (and office) wardrobes, it's interesting to see a more specialized pocket in the fashion space — workwear that's traditionally rooted in heritage brands — finally take on an almost similar approach.
"Work was one of the last industries to be disrupted," notes Jeanine Pesce, founder of Range, a creative agency that specializes in in the outdoor and active lifestyle industries. "Historically, workwear has always been manufactured in cotton and heavy-weight fabrics like waxed canvas. Now we're really starting to see innovation from performance fabrics typically associated with the outdoor industry."
High-performance fabric brand Cordura's Global Brand and Marketing Director Cindy McNaull notices this crossover, too. "We've been in the business about 50-plus years and we've had this amazingly unique opportunity to see the transitions of our workwear product range go from basic reinforcement all the way through to very soft next-to-skin type fabrics and everything in between. People are much more familiar these days with technical performance fabrics."
Workwear accessories for women is also a growing category, as well as the main focus for Sinade Wadsworth and Tamara Rivera's new business Jack of All Tools, which is expected to launch in October. Both Wadsworth and Rivera are alumni of Nontraditional Employment for Women (NEW), a New York City-based program that prepares women to work within the construction, transportation, energy and facilities maintenance industries. Together, they're planning to release a sports bra, gloves, as well as construction accessories and safety wear, like vests, harnesses and arm sleeves.
"Women at a much younger age are now realizing that they can do anything they want," says Rivera. "I've been in the union for 24 years, but when I came in, I always thought that [this industry] was for the guys. Nowadays, it doesn't matter what you want to do, so there's definitely a need for more accessories that are designed for women, whether it's tools, clothing or safety gear."
Among these smaller, emerging (and mainly female-founded) brands that make up the early stages of women's specific workwear is also a need to balance function with style. "We're demanding more in our clothes," says McNaull. "We want them to look newer longer. We want them to last. We want them to be very utilitarian but yet very fashion-forward as well."
"It sounds kind of superficial, but it's not. It's actually really, really important," says Johnston. "Every day when I get up to go to work, I feel so confident and good and I don't spend any time thinking about what I'm going to put on my body. I have one pair of pants and a shirt and I love them and they're great. All my bandwidth goes to other problems, bigger problems, better problems."
Homepage image: Dovetail workwear. Photo: Dovetail
Sign up for our daily newsletter and get the latest industry news in your inbox every day.