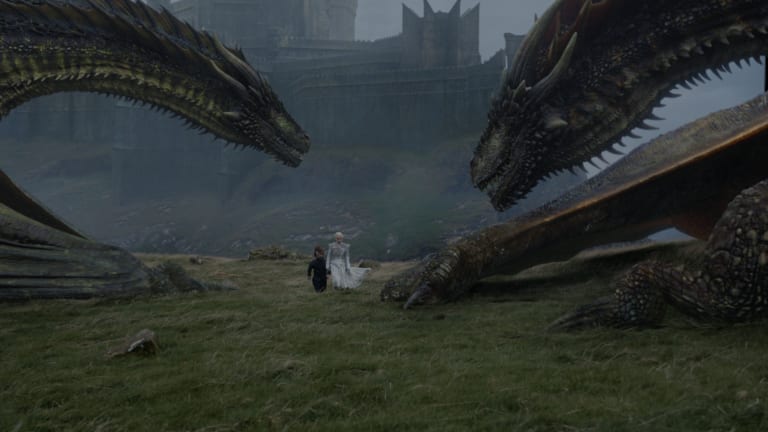 The Hardest Moments to Costume in 'Game of Thrones,' 'The Crown,' 'This Is Us' and More
The 2018 Emmy-nominated costume designers share their biggest challenges — behind-the-scenes fun facts, included.
Before the 70th Primetime Emmy Awards airs on NBC next Sunday, Sept. 17, the Creative Arts Emmy Awards go down this weekend — and the costume design categories are extra stacked this season. Because this year, the academy separated the Fantasy/Sci-Fi and Period costumes into two separate categories, which breaks down into four sets of honors total, in addition to Contemporary and Variety, Non-Fiction or Reality Programming. (Although, what would be extra fantastic: If the costume designers were honored live during in the main televised ceremony. Just saying.) 
RELATED ARTICLES
To celebrate the hard work and talent of all the designers and their teams — and the joy we've experienced from their skilled storytelling through costume — Fashionista asked the nominees about the hardest, most challenging and ultimately most memorable moment in designing for their nominated episode. Read on for behind-the-scenes stories, like Paolo Nieddu helping Taraji P. Henson pull off her first on-screen dance moves as Cookie Lyon on "Empire," Jane Petrie accurately dressing not one, but three of the most influential women of the 20th century on "The Crown," Michele Clapton custom-creating the most functionally fantastical dragon-riding look for Daenerys to save Jon Snow and Tom Broecker of "Saturday Night Live" pivoting to the near-impossible feat of recreating the Royal Wedding in less than nine hours — and so much more.
Outstanding Contemporary Costumes
Lou Eyrich and Allison Leach for 'The Assassination of Gianni Versace: American Crime Story' (The Man Who Would be Vogue)
"We found the hardest part of designing the costumes was recreating specific collections and looks from the iconic brand Versace — on a budget. We wanted to show respect for this amazingly talented designer through the quality of our work, and also live up to expectations of a fashion-savvy audience."
Michelle Cole for 'black-ish' (Juneteenth)
"I had done 'In Living Color' with the Fly Girls and I come from theatre so [creating costumes for dancing] was easy for me. I've done period costumes and studied history of costumes, so everything flowed for us. I wish I had a really big story, but we had a really wonderful time. If anything was challenging, it had to be the choir. We had to order all the [choir costumes] and age and dye them to make them [look] older. We added the head-wraps and the rope to it. That would be the most challenging, but as far as the lead actors' clothes, that went off nicely."
Paolo Nieddu for 'Empire' (Slave to Memory)
"The tango between Lucious (Terence Howard) and Cookie (Taraji P. Henson). We had to get three dresses with different lengths because there were different parts in the dance where she would dip. I was walking by a store in the wholesale district in New York and saw this really sparkly, cool gown — and they were relatively inexpensive — so I was able to buy four of them, easily. I didn't do that in anticipation for the scene, it just sort of happened. We took one of the strips of crystals off one dress and made the straps fancy. The longer dress was for the the big wide scenes, so you would see her, and then we had a shorter dress for the close-ups, so it was easier for her to move. That was the biggest challenge because we've never done a musical number, so to speak, with choreography with Cookie."
Allyson B. Fanger for 'Grace and Frankie' (The Expiration Date)
"As I've always been one to find exhilaration in a challenge, being asked to do eight looks for my beloved Frankie (Lily Tomlin) in one episode served as a hurdle and a goal and indefinite amount of happiness in its finished context. My two 'bigs,' my Grace (Jane Fonda) and my Frankie, both have seminal moments in the context of this episode. There's a big story to tell here for them both in the illustration of their ever-important journeys. While reading the script for the episode, I immediately found a vision for all of what it would mean to have a fantasy sequence that included a 'Dead Frankie' (the worst ever). I wanted her ceremonial look in 'death' to match the artist spirit of her life, so we rust-stained and dyed a blank linen template — in doubles, and that is a challenge — and splayed her collar ceremonially with leaves of rubber on thread. This was a most significant vision for this episode and yet, all of the Frankie looks in this episode play for me like her Greatest Hits."
Hala Bahmet for 'This Is Us' (The Wedding)
"We had a freak cold-snap in Los Angeles and so we had designed and built all these amazing costumes for two weddings and then a couple days before shooting in Topanga Canyon, we realized it was going to be 38 degrees in our location. The biggest unexpected challenge was, 'What are we going to do with the 100 people that are out there?!' The men, we'll underlay them with silk long underwear, they'll be fine. Quickly, we tried to find pashminas and shawls [for the women]. For Chrissy [Metz], we took an ivory cashmere pashmina and we took all the lace leftover from her [custom-built wedding] dress and laid it down on top and tried to make it a bridal looking shawl. I was so worried we were going to lose these details we had worked so hard on because of the weather, but I think in the end, it did work out fine and the heaters around really saved us. Thirty eight degrees ... It probably hasn't been that cold there since."
*Also nominated: Michelle Cole for 'Black-ish' (Juneteenth)
Outstanding Period Costumes
Michael Kaplan for 'The Alienist' (A Fruitful Partnership)
"The sheer crowd numbers were daunting! I'd say the most difficult issue on the show for me was the fact that we were shooting the entire series in Budapest, Hungary, but wanting it to be New York City in 1896. I needed to create convincing looks for Irish, Italian, Jewish and Chinese immigrants, as well as well-heeled aristocrats for the Opera House sequences. I decided it would easier if I got all the books from the various casting agencies and hand-picked all the extras myself so their faces would look correct in each location. This was incredibly time consuming, and added many hours to my already long days, but I think definitely worth it."
Jane Petrie for 'The Crown' (Dear Mrs. Kennedy)
"'Dear Mrs Kennedy' was a joy of an episode to work on. The diversity of costumes epitomizes why 'The Crown' is such a special and challenging show to design for, bringing to life the best-dressed, most-well-known women of the 20th century. However, channelling the spirit of these three iconic women, which supported the narrative of our script, whilst feeling like authentic interpretations of historical events — which we didn't always have a recorded window into — wasn't always easy. Staying true to the reproductions, while ensuring they worked for the actors proportions, but most importantly maintaining the essence of the characters, is a constant balancing act. Elizabeth's (Claire Foy) insecurities in coming to terms with middle age was told through the costumes, contrasting her out-of-date style with the modern fashion icons in John F. Kennedy (Michael C. Hall) and Jackie [Kennedy] (Jodi Balfour). I was able to further push Elizabeth's identity struggles and the defining of her 'work uniform,' while Margaret's (Vanessa Kirby) journey to break away from the confines of the Palace and forward propulsion of the Swinging Sixties was front and center in her looks."
Sonu Mishra for 'Genius: Picasso' (Chapter One)
"The most challenging part of 'Chapter One' was to find Pablo Picasso's silhouette. Antonio Banderas and Alex Rich are both much taller than Picasso and they are leaner, too. Picasso had a very dominant and powerful presence and I used this essence to create very structured and broader silhouettes for both Antonio and Alex. We played with the lengths and widths of the jackets and trousers to create an optical illusion to make both men look shorter and broader than they are in real life. Once we established their core look, we had to dive into creating costumes for the incredibly diverse and vast worlds that he lived in: his family in Spain in the late 1800s, the bullfight scenes, his visit to the very stylish Paris Expo in 1900, his Bohemian lifestyle in Montmartre, his rise to fame and his very aristocratic lifestyle with Olga, his continuing fame and success in the art world and so on. All of this with hundreds of extras and a huge number main cast with filming in three countries: France, Spain and Hungary."
Donna Zakowska for 'The Marvelous Mrs. Maisel' (The Disappointment of the Dionne Quintuplets)
"The episode encompassed a very large scope of looks moving between the past and present trying to create a palette that emotionally brought you on the journey. The episode also involved very clearly the use of drama mixed with comedy. There are some very touching moments alongside comedic ones. I needed to tell many stories about Midge (Rachel Brosnahan) and events surrounding her. Also, the use of color needed to punctuate these moments emotionally, as did the silhouettes. She crosses the threshold in pastels and ends in a sober deep tone. The wider, more expansive skirts narrow closer to her body. Essentially, it needed to capture the many phases of a changing life. That was the challenge."
Terry Dresbach for 'Outlander' (Freedom & Whiskey)
"A  reason I chose that [episode for Emmy consideration] was it was a culmination of everything 'Outlander' in one episode. There aren't that many episodes where you're doing multiple decades and two centuries — probably not that many episodes on television period, ever. It really defines what 'Outlander' is from a costume design viewpoint. It's interesting as a viewer, you're watching it either in one century or one decade at a time. So, you're seeing 1950 on your screen or you're seeing 1740 on your screen, but for us who are doing it, we're doing all of that in one episode, so it's a fascinating, slightly schizophrenic process. 'Freedom & Whiskey' really just defines the show, as far as I'm concerned. The whole 16 seasons or whatever it's going to be."
Outstanding Period Sci-Fi Costumes
Meghan Kasperlik for 'Fahrenheit 451'
"The most challenging part of designing the costumes for 'Fahrenheit 451' was to ensure that the fireman costumes stayed consistent in shape and glistening appeal throughout the film. Being around fire for half the film — and filming in the summer — the actors were around extreme heat and the firemen jackets started to mold to their bodies. This benefited the costume, as the fireman's jacket then became like armor, but our textile artist had to keep applying an oil and paint lacquer to the jacket to keep the glistening effect and so that the oils would not dry out from the heat of the flames. The glisten from the application helped reflect the light from the flames and light the actors faces in our dark sets."
Michelle Clapton for 'Game Of Thrones' (Beyond the Wall)
"Dany's (Emilia Clarke) white coat: I wanted to create something practical — it would surely be cold flying a dragon north — and white, suggesting a sense of purity and selflessness in her mission to save Jon Snow (Kit Harrington) and to appear like a descending angel in the rescue. Whilst relatively easy to design, it was incredibly difficult to make and took a lot of prototyping and collaboration between departments within costume. We created the 'fabric' by stitching lengths of leather, faux leather, short white faux fur and long fine dark faux fur together. Once we found the most effective way to do this, each panel of the coat was created and then molded onto a base for strength. This whole structure was then mounted on to a corset, like a base, to make it secure and flattering. It's essential that a costume fit the actor perfectly and allow them to move with ease. It's incredibly physical work for Emilia to perform on the dragon rig and can take days. The back panel was faux fur that we cut into to create the idea of a dragons back. It all took a very long time."
Ane Crabtree for 'The Handmaid's Tale' (Seeds)
"The important moments for me, and why I picked this episode, is that it's a visual culmination of season one and season two: 'what happens in Gilead and why.' Beyond this, the symbolism was hugely inspiration through the story. I began with the notion of white, a cleansing palette to use as a weigh-station metaphor; a nothingness between the bold reds, teals, browns and moss greens that the eye is used to seeing. White is birth and also death in Japan and white is a resting moment for the eyes. White is also a bit of a visual poem for me in this episode. One that shows two weddings (one in Gilead, and one in the Colonies), a funeral (in the Colonies) and a near-death/miscarriage of Offred (Elisabeth Moss), leading to the conclusion that her baby is still alive, and will be okay. The ending is a perfect quiet victory between mother and child: the promise of freedom. Through the episode, white connects the story of Gilead, the thought process of society and how it works and how it came to be. In this episode, the costumes help inform the audience as to the why of Gilead and of the colonies."
Cynthia Summers for 'A Series Of Unfortunate Events' (The Vile Village: Part 1)
"The most difficult costume was definitely Count Olaf (Neil Patrick Harris)'s disguise as Detective Dupin. His is a scat-singing, slimy detective in a childless, period Western town with religious overtones and creepy elders that wear dead crows on their heads. Although all of his other disguises for season two came a lot more easily, this costume did not gel for us until two days to camera! And we had to build and breakdown seven of them for day one of shooting. I didn't sleep for 72 hours and, as it turned out, Detective is my favorite disguise of Count Olaf's in season two."
Sharen Davis for 'Westworld' (Akane No Mai)
"'Westworld' in the established Western mode is riveting enough with surprise guests and last-minute costume concepts on the cast. Designing 'Akane No Mai' was an experience I don't know how to put into context. It was an endeavor that amped me up 100 percent creatively. The twist in this 'Edo' period inspired episode was to have subtle colors and silhouettes of the 'Westworld' main characters. Designing the costumes was definitely exciting, but challenging due to the number of multiples needed for each character. My crew and I sourced courageously to find fabric patterns and textures to match the Western clothing that was being mirrored and to inspire Japanese Kimono fabrics.'"
Outstanding Costumes for Variety, Non-Fiction or Reality Programming
Daniela Gschwendtner and Steven Lee for 'Dancing With The Stars' (Disney Night)
"Being a live show — and less than a week turnaround to build costumes for an episode — already has its own challenges. But when episodes have a specific theme, it adds another element to designing. The most difficult part in designing for 'Disney Night' is turning costumes that were originally animated characters on film into costumes that come to life. One example was creatively designing costumes for Val [Chmerkovskiy] and Victoria [Arlen] who had Mickey Mouse's 'Steam Boat Willie' theme. We designed the costumes in black and white as homage to the original cartoon, but because of the nature of our show, we also have to consider the style of dance and movements in the costumes. 'Disney Week' is always creative for us — there's always a huge opening number with Mickey and Minnie — and we love the challenges bringing these cartoon animations to life."
Paul Tazewell for 'Jesus Christ Superstar Live!'
"Because this is a production that was originally done in the '70s, [it was most challenging] to figure out a way to make it relevant and feel appealing for modern audiences. There are expectations going into the production of 'Jesus Christ Superstar' that it might feel slightly dated, as far as the look, but we were able to arrive at a modern look and take, overall, that seemed to be really appealing to the television audience. We combed stores, fashion showrooms, we made custom-made a bunch of pieces. It really was a tour de force of pulling all of these looks together. Once we arrived at the design with David Leveaux, the director, we went about making it happen like any other Broadway production or musical that he might do. We were able to purchase a lot, but it still meant that we were styling looks that specific to each of the principles and the ensemble. It was challenging, but it was a lot of fun, as well."
Zaldy Goco for 'RuPaul's Drag Race' (RuPaul's gowns for 10s Across The Board)
"The making of the look for '10's Across the Board' was a bit challenging, as I happened to be at Burning Man as part of a future project. As a 'virgin Burner,' I was already feeling out of my element and comfort zone, and if anyone has been or knows about Burning Man, attitudes towards outside-world problems — cell phones, Wifi, work — is all sort of frowned upon, and people will let you know with pleasure! But there I was, sneaking away to my Airstream to sketch this look and trying to send screen shots and mark-ups back and forth with the studio. I was literally running around the Playa trying to find a signal to make sure files sent! It was ridiculous and frustrating and I felt naughty for working, but this was an important look, especially as the first look of season 10... season 10!"
Tom Broecker and Eric Justian for 'Saturday Night Live' (Natalie Portman-hosted episode)
"I would have to say, the most difficult costume from this past season wasn't from our Natalie Portman show, but from the season finale, when we had to recreate the Royal Wedding in nine hours. Basically, all of us frantically woke up Saturday at 4:30 a.m. [to watch the wedding] and everyone was assigned a task early in the morning. When you're recreating something, you have to get it as close as you can, because [now the media does] the 'side-by-side.' They end up putting our costumes next to the original and it just puts more pressure on us to get it right. 
I found a great floral dress for the Queen, but it had a deep plunging V in the front and I thought, 'Wait, if we turn it backwards, then it becomes a jewel-neck.' We put three strands of pearls and some gloves on her and someone spent the whole day making her chartreuse jacket. We had the right shaped hat, and then someone had to go and dye it, spray with overlay and put all the flowers on it. We have an amazing milliner, and he spent six hours making the hats because they were so specific. The challenge was pretty nerve-wracking. Thank God we didn't have to make [Meghan Markle's wedding] dress. Even though it was simple, trying to make the wedding dress in an hour would be something that would have broken us."
*Also nominated: Helen Woolfenden for 'Tracy Ullman's Show' (Episode 1)

The above interviews have been edited and condensed for clarity.
Homepage image from "Game of Thrones": Courtesy of HBO
Never miss the latest fashion industry news. Sign up for the Fashionista daily newsletter.