Alexa Chung Makes Her Official London Fashion Week Debut for Spring 2019
The It Girl has gone from the front row to taking a bow.
Ever since her debut on the scene as a model-turned-TV-host-turned-It-Girl, Alexa Chung has built a strong base of fans who take note of her every style move. So it only made good business sense that, following hit collaborations with the likes of Madewell and AG Jeans, Chung would put together a line of her own. Alexa Chung, the brand, debuted in May 2017 with a runway for friends and family, and Chung spent several seasons building her line slowly with intimate presentations and parties. On Saturday, however, she made the leap to being an official London Fashion Week designer, putting on her first runway show on the calendar.
To say it was highly anticipated would be something of an understatement. The lines outside her Victoria House venue were packed, with major editors, friends and fellow It Girls like Daisy Lowe, and, somewhat randomly, Steve Coogan appearing in the front row. (There were rumors swirling that none other than Harry Styles would be attending, but he never showed.) The Spring 2019 collection and presentation — which opened with the models skulking around inside wooden structures with windows cut out, calling to mind '70s horror films — certainly seemed to go down a treat with the audience.
Ultimately, though, it's fans of the brand who will be snapping up these pieces come spring. Chung was inspired by travels — fitting, considering the show was sponsored by American Express Platinum — and she came up with "AC World Travel Inc," presenting pieces ready for any vacation buyers can dream up. It was packed with plenty of Chung staples: Think vinyl rain macs, silky pastel dresses with vintage details, prints featuring bunnies or postcard motifs, and plenty of callbacks to the '70s and the '90s, like a mustard suit paired with a burnt orange silk shirt, or bucket hats and jelly sandals. A brown suede trench is guaranteed to be a hit item. Sexier elements — like a sequined dress slit high up the thigh, or a black silk slipdress with rhinestone straps — were cut with quirkier pieces to add in that Chung styling vibe. 
Chung partnered with JuJu Footwear, Pacific Tote Co and Superga on shoes and bags featured in the show, but as she only grows stronger as a designer, one wonders how much longer she'll need to collaborate with anyone. 
See every look from Alexa Chung's Spring 2019 collection in the gallery below.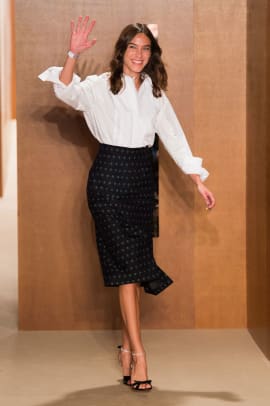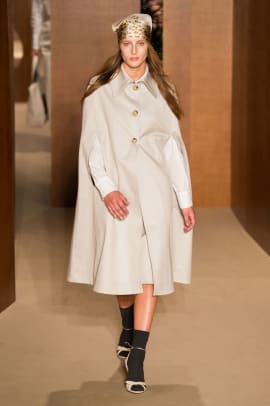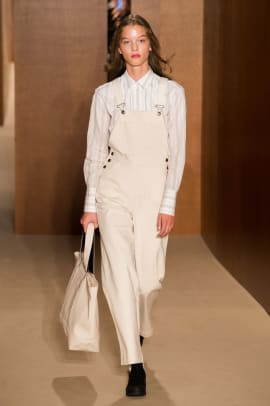 Disclosure: The BFC covered Fashionista's travel and accommodations to cover London Fashion Week. 
Stay current on the latest trends, news and people shaping the fashion industry. Sign up for our daily newsletter.