Altuzarra Captures the Sensuality and Excitement of Young Love for Spring 2019
Paging Timothée Chalamet.
For decades, both fashion and film have mined hazy Italian summer nights for inspiration — and one must only look to the recent obsession over "Call Me By Your Name" to know that this particular well will never run dry.
But making these Mediterranean waters feel fresh is another undertaking altogether, one which Joseph Altuzarra tackled for his Spring 2019 collection. His show notes referenced films like the aforementioned heartbreaking Timothée Chalamet-led hit, but it was also about remembering his own summers spent in Italy as a teenager — the kinds of memories that evoke a feeling more than they do any concrete details. Thus nothing about the collection felt too literal, despite the fact that Altuzarra presented bags inspired by fisherman's nets and belts gently laden with seashells.
That's because Altuzarra never veers into costume territory. Though his models (including the opening trio of superstars Isabeli Fontana, Toni Garrn and Tasha Tilberg) emerged with sun-kissed makeup and wet, slicked-back hair, their clothes suggested a level of sophistication beyond a dip in the sea. There were undone cardigan and shell sets designed to button — or alluringly unbutton — at the shoulders; cropped shirts and jackets in sun-washed, brightly colored plaids paired with Altuzarra's signature sexy skirts; embroidered lingerie detailing on slips and pearls dangling from gold seashell earrings; piecework leather coats and cropped leather tops which felt sexy without trying too hard; sandals which wrapped around the ankle, from flat and easy to sensual stiletto heights. Clothes were cut away to reveal less-obvious swaths of flesh, like the sternum.
The show closed with a stunning series of five looks covered in paillette work designed to imitate floral prints. They too captured that feeling of young love, but still felt womanly and grown up in their execution. It was the kind of fashion trick Altuzarra has proved himself capable of pulling off time and time again.
See every look from the Altuzarra Spring 2019 collection in the gallery below.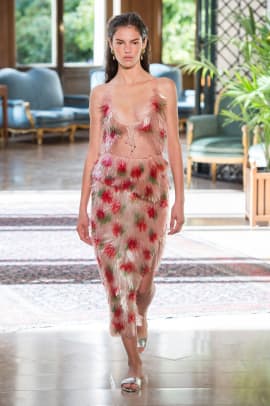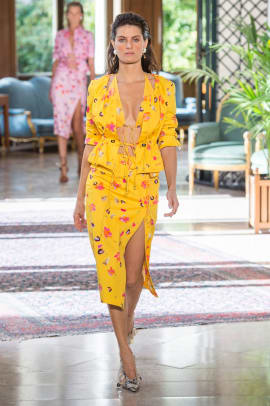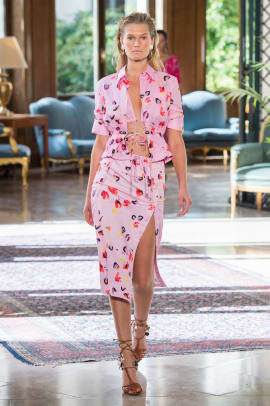 Want the latest fashion industry news first? Sign up for our daily newsletter.