Balenciaga Bets Big on Its Basics for Spring 2019
The French house continues to dial it back.
Back in May, Balenciaga CEO Cedric Charbit revealed that the French house is now Kering's fastest-growing brand. This news was widely, almost virally shared, including on this very website, for reasons largely having to do with the fact that Balenciaga was even outpacing Gucci. Let's not forget, Gucci began the year with 49 percent sales growth. And now Balenciaga was even doing better than that?
We shouldn't have been so surprised. In a landscape that prioritizes — fawns over — millennial- and Generation Z-aged shoppers, Demna Gvasalia's Balenciaga satisfies both the nostalgia- and logo-hungry cool-kid and the more sharply-suited fashion executive. A consumer can look both like a dad on a family vacation in 1998, but also like they just stepped out of the Matrix — sometimes within the same look. 
On Sunday morning in Paris, Balenciaga loaded showgoers into a windowless, winding tube for its Spring 2019 women's and men's runway presentation. Just one row of seating lined either side of the tunnel, its floors and curved walls covered almost entirely with trippy projections of simulations like rushing water, swallowing flames or lines and lines of program code. The immersion was not for the faint of heart (and, perhaps, not for those simply wishing to view a runway show in the open air, flush with natural light — but what's the fun in that?).
The clothes themselves were a continuation of the dialed-back wares Balenciaga presented last season, like razor-sharp suiting, silky wrap dresses and glammed-up jumpsuits in a spectrum monochromatic jewel tones. Retro-looking denim, of course, cropped up across Canadian tuxedos (styled with square-buckle belts and wallet chains) and ruffled midi skirts. 
The more distinctively Gvasalia goods came later, with enormously oversized tops and blouses tucked into light-wash jean skirts or glossy patent leather. Deck-of-card motifs also appeared throughout, on several silk button-down shirts for men, long- and short-sleeved, and turtleneck mini dresses for women. The lineup concluded with a remarkable dress of Comme des Garçons proportions, with layers on layers of logo-adorned fabric piled high on the bodice. We can also look forward to the accessories — particularly a pair of two-strap, grommet-embellished heels — which are sure to flood the street style galleries come March.
Were there pieces and head-to-toe looks that appease both the aforementioned father-on-holiday and Neo-cosplay extremes of the current fashion spectrum? You bet. But what about the rest of us who live somewhere in between, who don't necessary abide by one such aesthetic archetype? Clearly, those in the middle-ground feel catered to, as well — otherwise, Balenciaga wouldn't be selling with such a bang.
Click through the gallery below to see Balenciaga's Spring 2019 collection in full.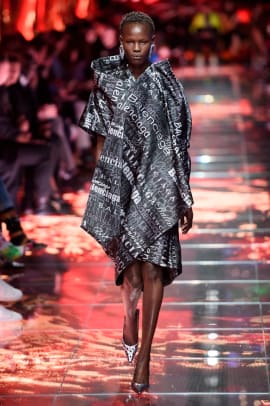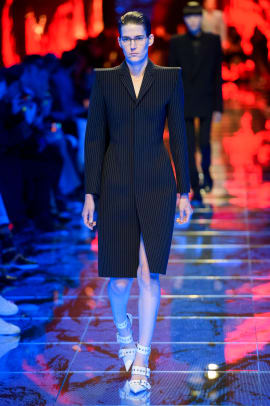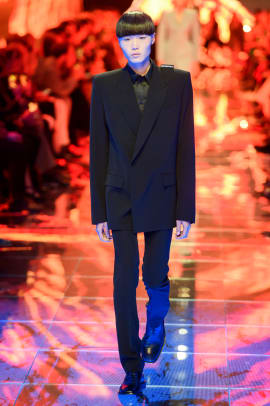 Sign up for our daily newsletter and get the latest industry news in your inbox every day.