Balmain Is Still Stuck in the '80s for Spring 2019
Olivier Rousteing's latest collection was a hodgepodge of the decade's loudest, most high-gloss reference points.
Balmain's last several seasons have been — considering the usual excess around which Olivier Rousteing has built his tenure at the French house — quite understated. Where Spring 2018 was a "wearable" (whatever that means these days) exercise in refinement, Fall 2018 was brighter (with iridescence and neons galore), but in that, somewhat restrained, with much to be desired. Balmain is still, of course, a brand with a richly '80s-centric history, and the larger-than-life reference points of that era — exaggerated shoulders, roomy trousers, shiny embellishments, knife-edged blazers — can make even the most simplistic of collections appear flamboyant.
For Rousteing's Spring 2019 Balmain offering, there was no such air of delicacy as in the aforementioned collections. This time, the bigger, the louder, the brighter, the zoomier, the chunkier, the better — from the casting to the silhouettes that may have been plucked straight from the flashiest MTV video block (or from Balmain's own late-aughts heyday, with broad shouldered blazers calling back to Christophe Decarnin's once ubiquitous street style-beloved jackets). 
The presentation opened with Cara Delevingne — actress-no-longer-model Cara Delevingne! — walking and simultaneously lip-syncing to Prince's "When Doves Cry." (She also closed the show and cozied up right next to Rousteing at the end of the runway for a full-cast Kodak moment.) The music — pulled from the prime "Flashdance" years of 1980-1993 — set the tone: Prince segued into Queen's "Another One Bites the Dust," followed, for starters, by Chaka Khan's "Ain't Nobody," INXS's "Original Sin" and rounding out with Duran Duran's "Come Undone." 
The clothes, too, came out in blocks. A series of all-white, silver-accented and ornately detailed looks coincided with "When Doves Cry," succeeded by a smattering of eccentric black prints — paint splatters, triangular patterns and even some verging on a hieroglyphic style — to "Another One Bites the Dust." Pieces featuring broken-glass flourishes led into candy-colored pastels and later, tuxedo-esque suiting. 
For all the nostalgia-tinged '80s homages (some more overt than others), there were a slew of contemporary, trend-driven references, like the number of bags that came enclosed in see-through lucite casing and the baggy, almost-hip-high boots that came paired with mini-dresses and acid-wash denim jackets.
As always, this collection will not be for everybody — but it had so, so, so much to offer that it certainly has something for... somebody. Especially if that somebody loves, say, Cyndi Lauper.
Click through the gallery below to see Balmain's Spring 2019 collection in full.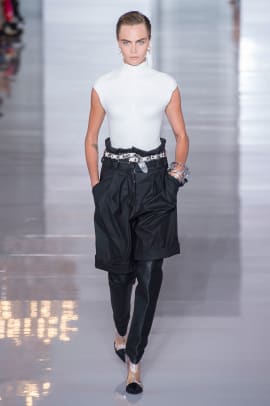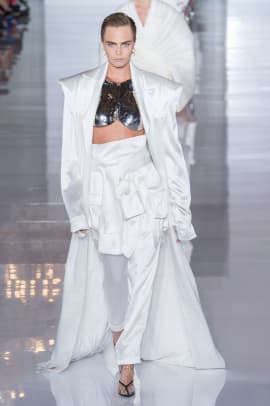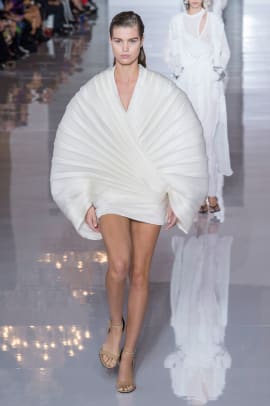 Sign up for our daily newsletter and get the latest industry news in your inbox every day.