Brandon Maxwell Gave Us a High-End Taste of the Lone Star State for Spring 2019
Texas forever.
Plenty of international brands have proven their fascination with both cowboy culture and the American Southwest in recent seasons, thanks to a laundry list of factors that include the region's picturesque landscapes, a nostalgic romanticization of a retro, rugged way of American life and, finally, a reaction to the U.S.'s current political climate. But for Brandon Maxwell, a born-and-bred Texan, the Southwest is simply where he calls home, and a place that's been woven into his brand ethos from the beginning.
When designing his Spring 2019 collection, Maxwell and his team took up residency in the desert city of Marfa, Texas — a community of artists most well-known in fashion circles (and on Instagram) for its permanently installed sculpture of a faux Prada storefront — interacting with and learning from local creators. The resulting range exhibited unabashed pride for the Lone Star State, with everything from the country soundtrack (Bonnie Raitt, Taylor Swift, Reba McEntire) to the tailgate-inspired seating (a front row of bubblegum-pink coolers; lawn chairs lined up in the backs of pickup trucks) to the set details (local Shiner beer, a sunset backdrop and a Texas flag at the end of the runway) coming together for a highly glamorous homecoming.
Maxwell has a knack for making women — including the diverse models who walk his shows — feel like a million bucks, and since everything's bigger in Texas, so was the swagger this season. With their voluminous hair, flawlessly done makeup, knee-high boots, translucent boxes toting cowboy hats, neck scarves and, in some cases, pageant-worthy ball gowns, the models smiled, waved and winked as they strutted down the runway, as if they were competing for the Miss Texas title. 
The opening hot pink mini-dresses and short-shorts were fit for a stereotypical, "Southern Belle Barbie"-type, but the pieces that followed were appropriate for Maxwell's loyal customers of all ages and sizes — as long as they have deep pockets. Crisp white shirts with popped collars were paired with silky trousers and shorts in an array of cheerful colors; casual staples like shirt-dresses were given a decidedly un-casual spin, thanks to golden hardware and sharp tailoring; the power-suiting was worthy of any woman hitting the boardroom or the campaign trail; and the eveningwear, which has become Maxwell's claim to fame, could just as likely be found at a Dallas country club cotillion or charity fundraiser as it would on a red carpet. These clothes were conservative enough to appeal to a wide audience all over the country, but certainly didn't lack sex appeal for those whose aesthetic isn't as buttoned-up or traditional.
After the finale walked, models gathered around as Maxwell brought out his design team and took his bow alongside his lifelong muse and star of his Fall 2018 ad campaign, his grandmother. And, in a final nod to his home state, his show notes reveal that he's partnered with several sponsors to make a donation to the Marfa school system, as he found that the community he fell in love with over the past several months is in desperate need of economic funding. As the great Tim Riggins of "Friday Night Lights" once said, Texas forever.
See Brandon Maxwell's full Spring 2019 collection in the gallery below.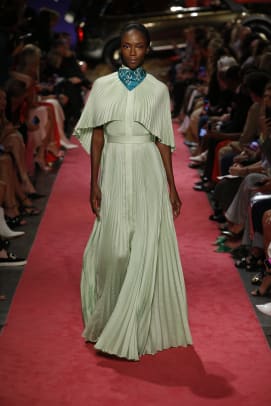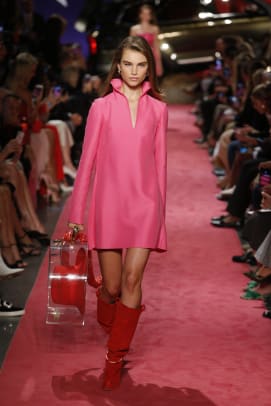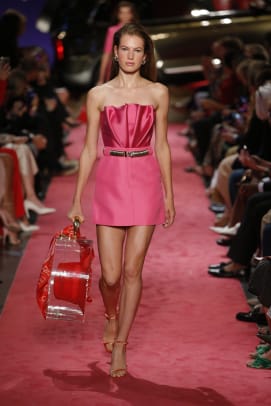 Want the latest fashion industry news first? Sign up for our daily newsletter.