Riccardo Tisci Ushers in a New Era at Burberry for Spring 2019
Without wiping the slate entirely clean, the Italian designer is already making his mark on the heritage brand.
All week in London, from the front rows to the after-parties, there was only one thing on people's minds: Riccardo Tisci's impending debut at Burberry. There was chatter about what to expect from the clothes and who would be invited (every single Kardashian! Wait, no, scratch that: Not a single Kardashian, but Justin Bieber! In the end: No VIPs!), but most of the details surrounding the Monday runway show were shrouded in mystery. 
The brand gave thirsty editors and fans a drop of Tisci for Burberry ahead of time — literally, a drop. There were the graphic tees and sweatshirts featuring the new Peter Seville-designed logo, which quickly sold out, and stacks of custom merch in the heritage house's Regent Street flagship: Piles of polo shirts, tees, hoodies and more emblazoned with simply "BURBERRY LONDON ENGLAND" across a square (or, in the case of a pair of black shower slides, "BURBERRY KINGDOM"). 
Speaking of the Regent Street store, it had been cleared out ahead of Tisci's debut and goods for purchase were sparse. Each area of the store featured stacks or racks of one single item — a wall hung with simple trenches or a raw wooden shop fixture piled with pumps in pistachio green (reportedly one of Tisci's favorite colors at the moment), for example — all of which were amongst Tisci's first designs for the brand and which are exclusive to that location. In the center of it all was an interactive installation by British artist Graham Hudson. Burberry fans will be relieved to see that, based on the items available, it doesn't seem like Tisci is trying to wipe out its history altogether; there are still plenty of goods with the classic check, and Tisci merely added sleek updates to existing items like the Belt Bag and unisex loafers.
But as interesting as these changes are, people didn't travel to London to see a flagship store. They came to see a fashion show — and Tisci delivered Monday evening. After several seasons of a "see now, buy now" format which saw collections labeled as September and February delivered in "drops," Burberry is back to the classic fashion calendar with its Spring 2019 collection — and with some 120 looks, there's a guaranteed to be something for everyone.
If anyone was worried that Tisci would goth-ify the British heritage brand, he set them at ease right at the beginning of the show. The first section was stacked with the kinds of classic pieces that will keep hardcore Burberry fans shopping into spring: Plenty of soothing shades of khaki, from classic camel trench coats to sleek leather skirts in chocolate brown. Tisci gave the label's signature pieces a fashion update, like a silky trench worn as a dress or ankle-strap pumps in the check print. These ladylike items were some of the strongest looks in the bunch — a tan car coat with pearls and feathers, for example, or a belt bag in that pistachio green with a gold chain. Men get to keep their sleek Burberry suits, updated with a handy sling for an umbrella, bike chains belted around the waist with a carabiner or a luxe croc briefcase.
It was the middle section which brought the kind of edgy, streetwear-leaning pieces many were expecting from Tisci. There was more experimentation with the codes of the house, from bustier dresses in trench coat material to rain macs rendered in bright-red vinyl. Tisci used a lot of deer print — he must really love Bambi — as well as cow and leopard prints, and both graphic tees and sweatshirts come with somewhat inexplicable phrases like "COW" and "WHY DID THEY KILL BAMBI." (The PETA protestors who were hanging around this weekend's shows aren't likely to line up for those.) There were shades of Raf Simons in the sporty, logo-stamped graphic pieces for men, with the new Thomas Burberry insignia sewn into socks and sweats. It seems unlikely men or women outside the world of fashion editorial will be jumping at the chance to wear shorts with the bottom of the hems cut away or necklaces with giant passport charms, but the knits paired with them seemed perfectly wearable.
The final section felt the most Tisci-for-Givenchy, with a series of black evening dresses which went largely unadorned, save for a draped shoulder or a gold chain-fringed bust line. In the end, Tisci clearly got the chance to throw everything at the wall, from classic daywear to sportswear to eveningwear, to see what might stick. Only time will tell how Tisci's offerings will be received, but in the end, it felt in equal parts classic Burberry and classic Tisci — an exciting start, though perhaps not entirely worth the week's hype.
Those clamoring to get their hands on Tisci's Burberry are in luck: Select pieces will start dropping between now and the collection's retail debut in February. (Stores can't stay emptied out forever, after all.)
See the complete Burberry Spring 2019 collection below: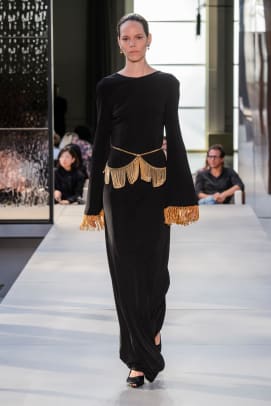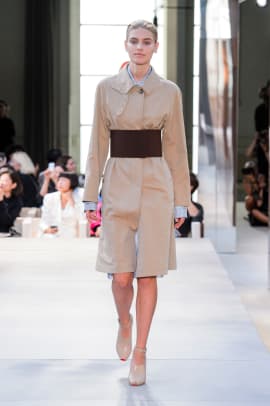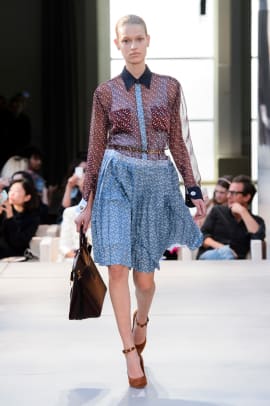 Disclosure: The BFC covered Fashionista's travel and accommodations to cover London Fashion Week.  
Want the latest fashion industry news first? Sign up for our daily newsletter.