Calvin Klein 205W39NYC Goes for a Swim in Shark-Infested Waters for Spring 2019
For Raf Simons, even a day at the beach can take a very dark turn.
It's been less than two years since Raf Simons officially took total creative control at Calvin Klein, but he's made it pretty clear that his feelings regarding his new home stateside are, well, mixed. His collections thus far have touched upon some intense themes, including the immigrant "outsider" experience, the often traumatizing American high school years — complete with references to jocks, cheerleaders and the bloody teen classic "Carrie" — and the actual apocalypse, with models walking the runway in hazmat suits, firemen's coats and mylar accessories. No, Raf Simons's vision for the iconic New York brand has not been what you'd call optimistic, but he did move from Europe in unsettling political times to say the least, making the dark undertones of his offerings a bit easier to digest.
However, there are specific things about America that Simons does seem to like, from western motifs — specifically, cowboy culture — that have become his early signatures, to collegiate themes to horror flicks; and for Spring 2019, the latter made for his primary inspiration once again. When guests arrived at the 39th Street Calvin Klein headquarters for the show on Tuesday night, the bare space was bathed in red light, an indicator that Simons had something sinister up his sleeve. Soon, the runway backdrop lined with screens turned on to reveal a serene seascape, with a soundtrack of waves crashing and a clip of a woman swimming through the deep waters. But of course, the audience was not about to witness a collection fit for a sunny, carefree day at the beach, and before long the jarring, instantly-recognizable "Jaws" theme began to play, just as the first look made its exit.
With their hair dripping wet as if they'd just made a sudden, dramatic escape from the ocean, models were dressed in gear typical of an American beach outing: wetsuits, tie-dye, cotton T-shirts and tank tops, many of which were emblazoned with the "Jaws" promo art. Bags with heavy chain straps recalled bouys that had been cut loose; single earrings on both men and women looked like fishing lures; rubbery, scuba-like harnesses were slung over everything from blazers to prim cocktail dresses; knits included both chunky fisherman-styles and unraveling netted sweaters, as well as Steve Zissou-worthy caps in a "Baywatch" shade of orange-red. The cheerleader fringe that has made appearances in Simons's prior Calvin Klein collections reemerged, strapped around models' necks, shoulders or waists, complete with a blood splatter pattern.
Perhaps the shark attack theme got Simons thinking about a different American pastime, spring break, as several looks were topped with graduation caps and gowns. According to a release from the brand, the designer looked to another classic film, "The Graduate," when conceptualizing the spring collection — particularly the ways different generations within the same family or community choose to dress. This could explain the pleated skirts, bookish cardigans, oversized blazers and prim, brooch-adorned printed dresses that broke up the beach gear. 
Sure, life after school — not unlike life in America in our current political climate — can leave people feeling like they're floating around aimlessly, or maybe even drowning, waiting to be fed to the sharks. But somehow, despite such heavy themes and gory inspiration, there was an air of brightness and whimsy to the collection as a whole, which managed to outweigh the gloom and doom — a simple reminder that even when things get rough in real life, there's still fun to be had.
See every look from the Calvin Klein 205W39NYC Spring 2019 collection in the gallery below.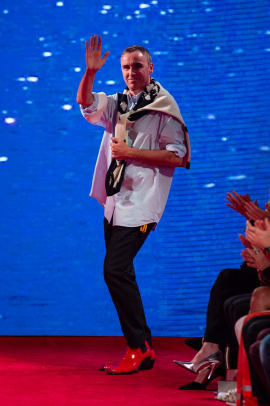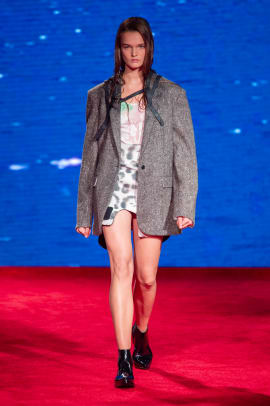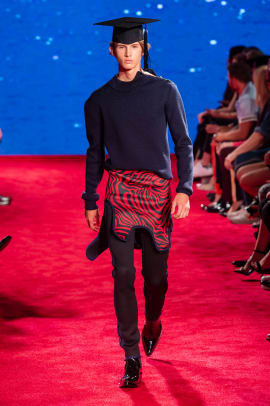 Never miss the latest fashion industry news. Sign up for the Fashionista daily newsletter.