More Fashion Shows Should Be Like Christian Siriano's Spring 2019 Runway
Everyone was happy! Why is that rare?
We don't mean to sound like broken records here, but it's just a fact that Christian Siriano puts on one of the best shows of New York Fashion Week season after season. Perhaps he lacks the blow-out budget of a Ralph Lauren, or the promise of a killer after-party à la Alexander Wang, but he has something so many designers seem to be lacking these days: A happy audience. 
It's hard not to feel optimistic at a Siriano show. He creates beautiful, colorful clothes, he's been pushing diversity on the runway since before it was an industry-wide movement, and even his celebrity front row — which, on Saturday, included the likes of Tiffany Haddish, Kim Petras, Whoopi Goldberg and New York gubernatorial candidate Cynthia Nixon — seem to be genuinely enjoying themselves. Siriano shows are joyous occasions, which provide pretty nice breaks in between the many self-serious moments that make up fashion week.
As for the Spring 2019 runway, it was packed with over 60 looks, most oriented (naturally) towards eveningwear. That's where Siriano really excels; a showstopping slime green gown with a long tulle train, or a black, body-con gown with neon chiffon at the shoulders to create a moment of drama on the catwalk — or on a red carpet, where it will most likely live. But the daywear was good, too. A botanical print played nicely with bold leopard prints on everything from sleek dresses to cigarette pants and crop tops.
Perhaps Siriano isn't paving the way trend-wise — neons and animal prints having already proven themselves on the street style front — but he's aiming to make women (and men, who Siriano put on the runway in the same goods as the female models) look good and feel happy. Sometimes, it seems that's more than most designers can say.
See the full Christian Siriano Spring 2019 collection in the gallery below.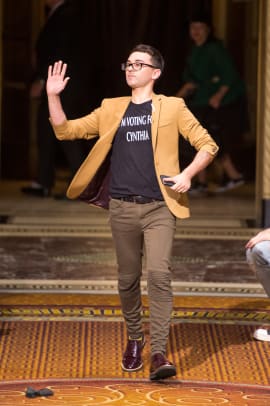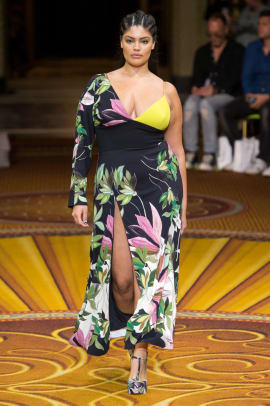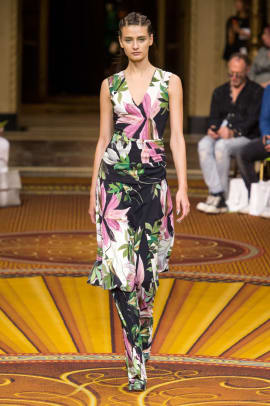 Want the latest fashion industry news first? Sign up for our daily newsletter.