Coach's Western Prairie-Wear Is a Charming Intersection of Fashion's Current Zeitgeist
With some perfectly on-trend Victorian ruffles thrown in, too.
The so-called "prairie" aesthetic — one which might otherwise be found in a Laura Ingalls Wilder biopic — may be trending in fashion right now, but Coach has been ahead of that curve from the beginning. Back in February of 2014, Stuart Vevers's debut ready-to-wear collection for the then-ailing brand (and also Coach's first to show at New York Fashion Week) featured all the vintage-looking, often-floral silhouettes that are today, in 2018, stomping along runway-after-runway; a few seasons later, for Spring 2016, Coach even created its own overgrown, prairie-style grassland along the High Line. 
All of this is to say that Coach has been in this game for long enough now, and it's playing it well. How couldn't it, though, when this '70s-era, Western-style Bohemian-type — that's now en vogue for a slew of majors designers like Raf Simons at Calvin Klein and Maria Grazia Chiuri at Dior — is simply part of Coach's DNA?
But there's always something a little more darkly tinged, more rebellious about Coach's vision. A personal favorite was the runway show the label put on for Spring 2017, a youthful, rockabilly take on Southwestern Americana. I'm often left wanting to learn more about the young person, and the narrative, that Vevers had in mind when designing.
For Coach's Spring 2019 collection, which was presented on Tuesday at an enormous warehouse space on the West Side Highway, the same happened: With such a punky, metal soundtrack (the show opened with L7's "Shitlist") and such frilly clothes, what was the story behind this particular Coach inspiration? "A new, new romantic gang," explained a post-event release. "Dreamers traversing an unravelling prairie landscape in the wake of their revolution, trailing scavenged and salvaged American heirlooms." The actual set played into that "scavenged" landscape, and its tried-and-true abandoned-lot-where-all-the-cool-kids-hang-out tricks, with a gravel floor and a basically-to-scale dinosaur (Rexy, its mascot) constructed out of rusted mechanical parts.
This latest range had its tried-and-true Western elements well-represented, but it also had Victorian collars, baggy, streetwear-friendly hoodies and clompy, boot-style sneakers, as well as patchwork denim and now-ubiquitous cargo pants. An ongoing Disney collaboration brought beloved characters like Bambi and the AristoCats to sweatshirts and tees. The jackets were, as always, a highlight: One particularly oversized and color-blocked fleece was a sure-fire hit for the Patagonia fans in the room. 
Coach is already doing its fair share to perpetuate the prairie craze, but what happens when, eventually, fashion evolves beyond the styles of the late-19th-century Great Plains? Coach is evolving, too — just look at Tapestry — and that's something to look forward to.
See the complete Coach Spring 2019 collection in the gallery below.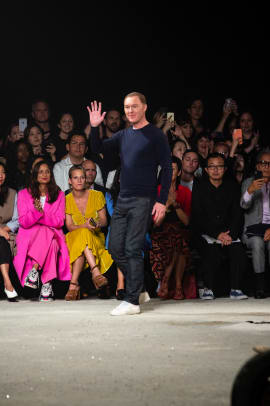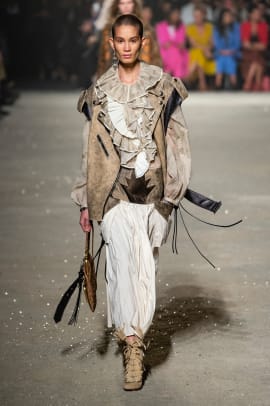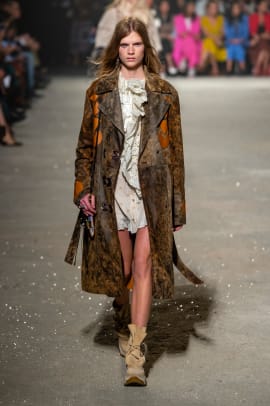 Sign up for our daily newsletter and get the latest industry news in your inbox every day.