Musings on Womanhood, and Motherhood, at Comme des Garçons
There's a lot to say on the subject right now. Rei Kawakubo let us draw our own conclusions.
Comme des Garçons's previous Paris Fashion Week outing was, for lack of more articulate phrasing, just a joy. For Fall 2018, Rei Kawakubo dunked showgoers in a flood of pure fashion escapism — a frilly, Vaudevillian fantasy with earnest musings on imagination and camp. Escapism, right now, is good, needed. And to a certain extent, all of Kawakubo's presentations embody such an evasion, be they jubilant or, well, not. It's also worth spotlighting the stuff that doesn't end in a raucous standing ovation.
Early on Saturday evening, Comme des Garçons constructed a small (or, in industry speak, "intimate") plywood box within the courtyard of Paris's School of Fine Arts. To create more smallness (or intimacy), Kawakubo staged two consecutive shows to choose between. Inside said box, three tidy sections of seating flanked either side of the short runway. There were no vintage stage lights, like last season, nor any other kind of set, really — just some lovely late-afternoon sun flooding through the 19th-century skylight.
Also in stark contrast to last season, this collection was colorless, save for a trio of prints — two sans-serif logo patterns, another featuring inky roses — that appeared on bodysuits and gauzy tights styled beneath the clothing. Otherwise, the collection came in black, white and slate, alongside some navy and a single piece of dark seaweed green, and in fabrications like a shimmery, party-friendly fringe and exquisitely embroidered satin. The shoes were also a delight: There were perfectly cut Chelsea boots with neat slashes just below the pointed toe, as well as clompy Nikes adorned with Comme des Garçons-branded necklace chains. With more conventionally understated silhouettes (including pant and short suits, blazers and a number of disassembled tuxedo-style jackets), this range veered more commercial than what Kawakubo typically puts on her runways. Though, with a number of more commercial brands already being produced under the CDG umbrella, it's unlikely that was a concern of hers.
The styling, though, was where the runway show crossed over into peak conceptual Comme des Garçons territory (aided by its gravelly Tom Waits soundtrack). It communicated that this was, perhaps, a timely-as-ever musing on both womanhood and motherhood. 
Some models were given strap-on pregnant bellies, exaggerating the clothing's inventive proportions. Others had pillow-like protrusions bulging from either side of their hips — to mimic childbirth, maybe — or had the same plush protrusions adjoining their backsides. All models wore silver wigs, split into a middle part and gathered in a low tangle at the napes of their necks. If only we're all able to age this gracefully.
The show's relative quietness made it easier to focus on these possibly symbolic details. Two looks in the middle of the lineup featured chains hanging underneath layers of clothing, dragging just so down the runway. You may not have even known that the chains were there — but Kawakubo made sure that we paid attention.
When the final look disappeared, there was no extended finale, with far fewer showgoers beaming in a childlike stupor. There was a different kind of reaction, a thoughtful, but still emotional one: Whereas last season's show was in many ways a story about girls and the women they became, this season's was about those women decades down the line. 
Click through the gallery below to see Comme des Garçons's Spring 2019 collection in full.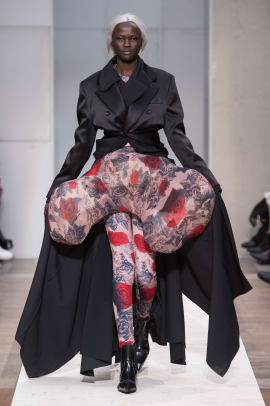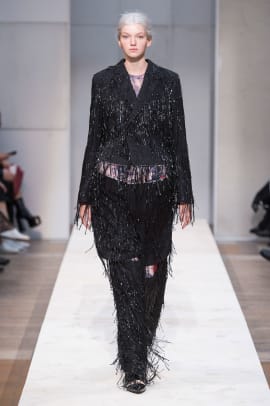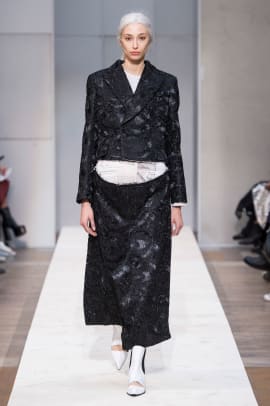 Sign up for our daily newsletter and get the latest industry news in your inbox every day.