Dior Turns to One of Fashion's Favorite Inspirations — Dance — for Spring 2019
Or should we say, "pirouettes" to.
In an industry that's in what seems to be an ever-snowballing state of flux, this much we know: Maria Grazia Chiuri loves a theme at Dior. In the last two years, almost to the day, since Chiuri succeeded Raf Simons as artistic director of the French legacy house, we've learned that she loves, for starters, the American southwest, mod masquerade balls and the landmark 1968 student protests in Paris. But more than that, she also loves, respects and cherishes women, and as the first female creative head of Dior, she certainly takes that responsibility very seriously. 
On Monday as the kickoff to Paris Fashion Week, Chiuri paid homage to her latest set of muses — dancers — with a heavily dance-inspired Spring 2019 collection. As with her previous, sport-adjacent collections (including fencing for Spring 2017, her debut, and "escaramuzas," or female Mexican rodeo riders, for Cruise 2019), this range was also particularly literal. Leotards in shades of putty and slate were layered beneath billowy slips and silk dresses; tutu-esque, tulle midi skirts came under her now-signature structured jackets and utilitarian blazers; netting, part of a ballerina's daily training uniform, was abundant, either worn on its own and letting a triangle bralette peek through, or as part of a more classic silhouette.
There were other signatures that were less costume-oriented. Where Dior's Fall 2018 collection was stocked with Bohemian patchwork, Chiuri's seasonal fabrication this time appeared to be the very on-trend tie-dye. Some of it was more elegant, as in embroidered and almost kaleidoscopic, but other pieces were less precious (and surely catering to the more-informal millennials whom the house is courting these days). 
The colors — blacks, inky blues, sandy browns, soft pewters — weren't what one might expect from a spring collection, but a range of tidier ballet-perfect hues — petal pink, per se — wouldn't have been representative of the dancers to whom Chiuri was looking. As the models walked down the runway, modern dancers in various neutral-toned bodysuit-and-leotard concoctions performed in a piece choreographed by Sharon Eyal, who launched her own dance collective in 2013 after 18 years with the Batsheva Dance Company. Another muse.
Obviously, fashion has long been influenced by dance forms, particularly ballet, and vice versa — and to look to that route is, theoretically, easy. To present a collection so evocative of powerful, modernist garb, however, is another aspiration. Whether logo-hungry consumers will actually shop for such pieces is yet to be seen, but we have to give credit to Dior's woman where credit is due. Chiuri certainly does.
Click through below to see Dior's Spring 2019 collection in full.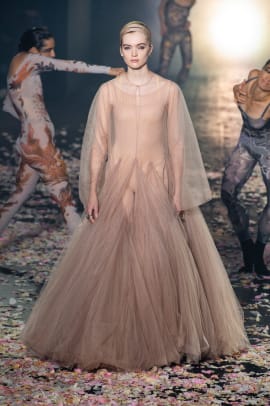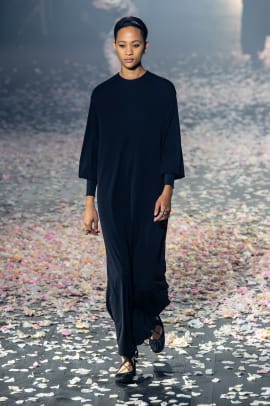 Sign up for our daily newsletter and get the latest industry news in your inbox every day.