Dolce & Gabbana Dive Deep Into Their Brand DNA for Spring 2019
Speaking of DNA, genetically blessed families and supermodels spanning several generations walked the runway hand in hand.
In recent years, Dolce & Gabbana has really doubled down on its commitment to courting the next generation of shoppers. Not only have a crew of social media-savvy youngsters (perhaps better known as the #DGMillennials) replaced traditional models both on the D&G runways and in their high-glass ad campaigns, the Italian house has hand-picked dozens of genetically blessed celebrity offspring like Rafferty Law, Christian Combs, Brandon Thomas Lee, Corinne Fox and Lori Harvey to be among its newest brand ambassadors. Of course, not every customer comes from famous lineage, but that doesn't mean designers Domenico Dolce and Stefano Gabbana value them any less; the idea is that buying into their brand makes you a member of the extended D&G family.
For Spring 2019, the duo dove deep into their brand DNA, presenting a whopping 151 looks that touched upon several D&G signatures: romantic black lace, rich floral prints, baroque fabrics, Sicilian and religious inspiration and sexy, curve-hugging silhouettes. A booklet left on each guest's seat emphasized themes of family, beauty, love, devotion, tradition, innovation and more — all of which were clearly represented in both the runway casting and collection. While the looks that walked weren't a departure from your standard D&G fare, the show was a delightful celebration of what the house has built and the diverse base of international muses, consumers and loyal supporters that helped it get there over the years.
The first models to step out were just about as iconic as they come: 53-year-old Italian actress Monica Bellucci was honored as the opener, followed by '90 supers Eva Herzigova and Helena Christensen. Hollywood royalty Isabella Rossellini walked hand-in-hand with her son Roberto and daughter Elettra Rossellini Wiedemann, as well as her infant grandson Ronin Lane; on the more modern side of the fame spectrum, Vine and YouTube star Cameron Dallas shared the catwalk with his sisters. In the interest of inclusivity, D&G made a real effort to feature women of all ages, races and body types — a move that led the audience to cheer as men and women who looked like them proudly made their exits. A solid crew of Instagram's favorite models rounded out the lineup, including Ashley Graham, Sara Sampaio, Stella Maxwell and Emily Ratajkowski.
Clothing-wise, this season was relatively free of gimmicks like Justin Bieber T-shirts, but the dramatic leopard print pieces, oversized florals, embellished crochet and brilliant rainbow colors complete with pom-poms, rhinestones, fringe and more got a rise out of the front row guests — most notably Cardi B, who was expressively nodding with approval. Every effort the brand put forth to make this show feel like a fun family affair paid off.
See every look from the Dolce & Gabbana Spring 2019 collection in the gallery below.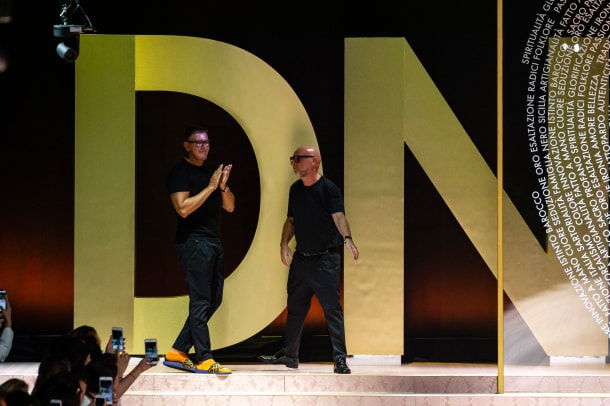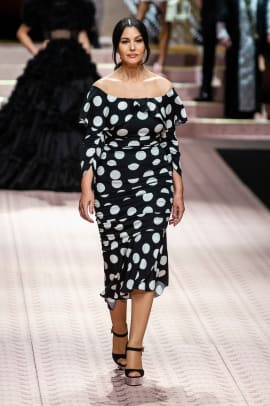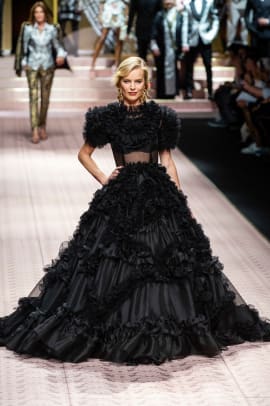 Want the latest fashion industry news first? Sign up for our daily newsletter.