Eckhaus Latta Leans Into Its Strengths for Spring 2019
Playfully sexy clothes, killer casting and unconventional details keep the art-conscious label endeared to fans.
It wasn't all that long ago that Eckhaus Latta was the kind of cult art-kid brand that mainstream fashion people knew about, but didn't necessarily pay all that much attention to. But as New York Fashion Week's ongoing state of flux has meant increasing uncertainty and the loss of some of its cornerstone designers, Eckhaus Latta has quietly emerged as a reliably worthwhile show to attend season after season. 
The seven-year-old brand has done so by implementing a strategy employed by other industry favorites of the moment, like Gucci's Alessandro Michele: finding a visual code that works, and sticking to it. In Eckhaus Latta's case, that's meant establishing a reputation for unconventional knits, sexiness that doesn't take itself too seriously — think almost childishly craft-y beading on a very revealing dress — and playful details on otherwise straightforward pieces, like a tailored suit with a cinched drawstring waist.
Spring 2019 was no exception. It drew both on the actual clothing from past collections as well as presentation, while differing enough to keep things interesting. After having shown for two seasons in a row at a sometimes-wedding venue in Brooklyn called 99 Scott, Eckhaus moved its runway to an industrial building not far off that echoed the spaciousness and natural light of 99 Scott while upping the grit factor. It was the upper floor of an actual car garage, meaning that showgoers in stilettos had to edge by oil-covered men working on machinery in order to get to the freight elevator that took them to the show. 
The casting was as spot-on as ever with an age- and race-diverse mix of models like Paloma Elsesser, artists like Susan Cianciolo and cultural powerhouses like Mission Chinese Food chef Danny Bowien. This season, the playfulness always evident in Mike Eckhaus and Zoe Latta's clothes was made literal by the soundtrack, created by a bunch of children banging on cymbals and yelling to create a frenetic din. 
If Eckhaus Latta mostly stuck to what it knows, however, it didn't mean the collection felt disconnected from the currents showing up everywhere in fashion at the moment. A slew of tie-dyed pieces felt right on-trend, as did knit bike shorts worn under a green-and-orange coat dress. And somehow, the sheer pieces that Eckhaus has been showing for a few seasons still felt anything but old-hat in the brand's latest interpretation. 
See the complete Eckhaus Latta Spring 2019 collection in the gallery below.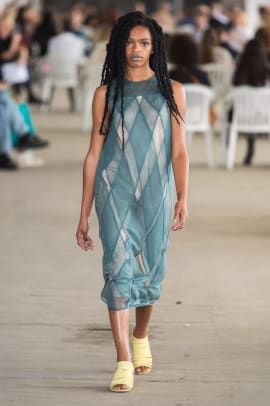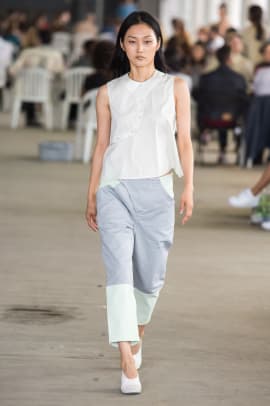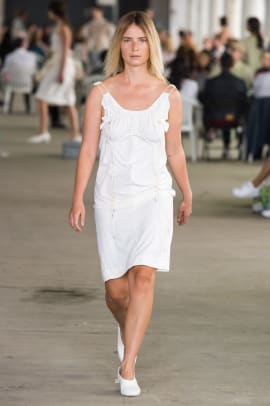 Stay current on the latest trends, news and people shaping the fashion industry. Sign up for our daily newsletter.