Did Jeremy Scott Copy This Emerging Designer in His Spring 2019 Moschino Collection? [Updated]
Or, did the inspiration simply come from the Italian house's archives?
For both his eponymous line and Moschino, designer Jeremy Scott has referenced countless kitschy cultural touch-points: Barbie, Spongebob, Coca-Cola, "The Simpsons," the circus, cowboys, actual trash, paper dolls, "My Little Pony" and McDonald's have all gotten the Jeremy Scott twist. And as is his penchant, those references were often represented quite literally in his designs. Of course, it's one thing to dress up models as fancy fast-food servers, and a very different thing to (allegedly) copy an emerging designer or artist.
Edda Gimnes, a Norwegian womenswear designer based in London, took to Instagram on Friday to accuse Moschino of taking uncredited "inspiration" from her Spring 2016 and Spring 2017 collections for the Italian house's Spring 2019 collection, shown in Milan on Thursday. The similarities between the two collections' "scribbled"-on dresses, hats and bags are striking to say the least. In further evidence that this was not a coincidence, Gimnes says she actually met with someone from Moschino in New York last November and showed that person, whom she does not name, all of her work, including her sketchbooks and ideas.
"Seeing the Moschino show yesterday makes me so sad and I feel so hurt that someone has, the way it looks to me, unquestionably used my SS16 and SS17 collections as inspiration without granting me any credit," she writes. "As a young designer one is so vulnerable and they probably think that this would go unnoticed. I will make sure it doesn't." She includes a slideshow of side-by-side photos tagging Moschino and industry knockoff watchdogs Diet Prada.
Gimnes may be a smaller designer than Moschino, but she's not a total unknown. The London College of Fashion grad has been heralded as one to watch by a number of publications; she's been covered by The New York Times, British Vogue and WWD; won emerging designer awards from the International Fur Federation and SAGA furs; and counts Alber Elbaz as a mentor. She has also dressed celebrities like Gigi Hadid and Lady Gaga, both of whom have been supporters of Scott's, as well. Her design signatures so far appear to be hand illustrations, fun colors and trompe l'oeil details.
It's also not the first time Scott has ended up in hot water due to copying: Graphic artist Jimbo Phillips sued him over prints used in Scott's own Fall 2013 collection, while graffiti artist Joseph Tierney, aka Rime, sued Moschino over its Fall 2016 collection, which featured work from a mural he did.
We've reached out to Gimnes for comment and have yet to hear back.
UPDATE, Monday, Sept. 24, 2018, 3:30 p.m.: Moschino and Jeremy Scott have responded to Gimnes's claims. Scott shared his references for the collection on his personal Instagram Stories, including a number of archival Moschino designs and sketches by the house's founder Franco Moschino that indeed bear resemblance to Spring 2019 pieces. According to a rep for the brand, Scott and his design team never saw Gimnes's designs or sketches. The brand issued the following official statement:
"Trompe-l'œil has been a long standing motif embedded in the Moschino DNA. Jeremy Scott's eponymous line has also depicted sketches and doodles in collections far pre-dating this one. He continues to pay homage to Franco Moschino and was inspired by the conceptualization of a designer's ideas coming to life on the runway in "incomplete forms" ranging from the sketching and design process to the tailoring, pinning and bolts of fabric choices draped on model forms. This collection was Jeremy's love letter to fashion and it his and the brand's greatest wish that it inspires future generations of young creatives to color our world with their dreams too."
You can see Scott's references in the gallery below.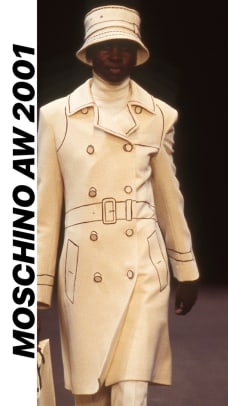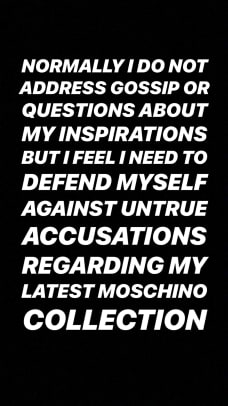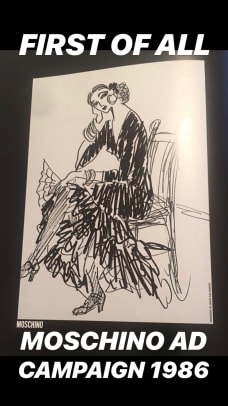 Never miss the latest fashion industry news. Sign up for the Fashionista daily newsletter.