Escada Channels 'Pretty Woman' for Its Spring 2019 Comeback Collection
The brand's new Design Director Niall Sloan found inspiration in Julia Roberts's most famous character.
To say that Escada has had a rough decade or so might be something of an understatement. The once-dominant German fashion brand, established by Margaretha and Wolfgang Ley in the '70s, found itself losing relevance in the early aughts, leading to a bankruptcy filing in 2009. After Megha Mittal acquired the brand, there were a few false starts: Jonathan Saunders jumped into the lead role in 2012, before being replaced internally by Daniel Wingate, who helmed the brand at with an attempted 2015 comeback. 
Still, the brand hasn't found much traction, at least not on the fashion front. But with newly-named Design Director Niall Sloan leading the creative charge, Escada seems ready to change that. On Sunday, the label celebrated its 40th anniversary by staging a runway show at New York Fashion Week. It's a good moment for it, with many other fashion brands tapping into the kind of '80s power woman Escada was known for at its height, and Sloan certainly seemed aware of that.
The show notes indicate that Sloan found inspiration in the brand's founding. When shooting one of their first collections at a racetrack, the Leys saw a horse named — wait for it — Escada in the stalls, and a brand was born. The set mimicked a racetrack, grass runway and all.
But the real source of inspiration appears to be "Pretty Woman," a film shot during Escada's heyday. Several looks could have been plucked right from Vivian Ward's (post-makeover) wardrobe: A suite of pieces in light tan with white polka dots, loose, summer-y suiting, silky separates paired with brogue flats. (It helps, certainly, that iconic clips from the film played over the soundtrack.) Even the makeup and hair, conceptualized by Pat McGrath and Guido Palau, respectively, tapped into Julia Roberts's early '90s beauty look.
While not every woman will rush out to buy a neon colored power suit, tapping into the current vein of nostalgia for Escada-era fashion certainly seems like a smart move on Sloan's part. Better, and perhaps more importantly, it all looked well-made — even some of the more Balenciaga/Vetements-inspired pieces — which bodes well for breaking the look down into a less literal style moment. And seeing as this is the season of tapping into underused brand icons, Sloan took a golden heart motif from an Escada perfume bottle and slapped it on everything from chain belts and oversized bracelets to quilted bags. 
Only time will tell if Sloan can bring Escada back to its former glory, but there was memorable fun about Sunday's runway show. 
See the complete Escada Spring 2019 collection in the gallery below.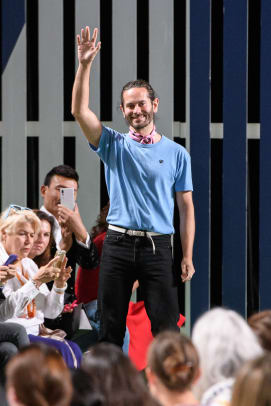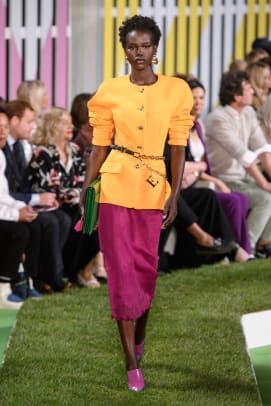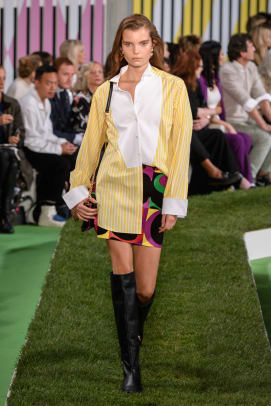 Want the latest fashion industry news first? Sign up for our daily newsletter.