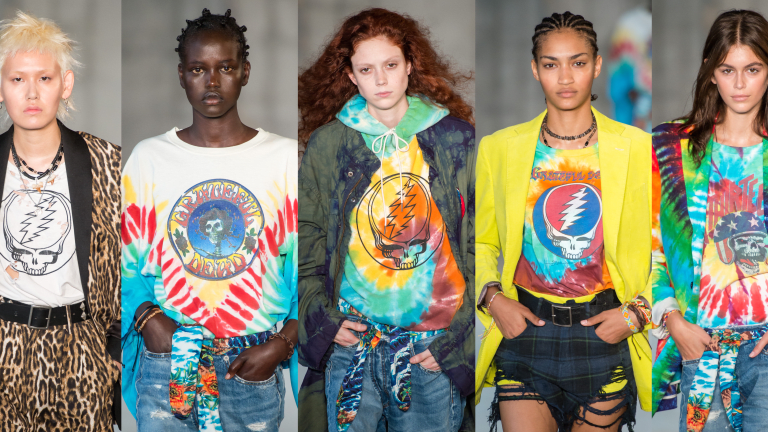 Why, in 2018, Is High Fashion Fixated on the Grateful Dead Aesthetic?
From tie-dye to lightning skulls, the iconic imagery represents a collective sense of nostalgia, as well as the yearning for a more carefree and optimistic time.
From a distance, most vintage rock band T-shirts look about the same: An interchangeable name printed on faded black cotton, bannered over a skull or a rose reminding an onlooker of a foregone era of badassery, where music, the great unifier, reigned supreme.
There are bands whose emblems, however, are recognizable from the stratosphere. The Grateful Dead is one of them, as their iconic 13-point lightning bolt, which, among other band imagery, has found itself recently co-opted by the fashion set. It's gained momentum over the last year and more so this past summer, coinciding with the "sleazecore" aesthetic — greasy hair and a patchy mustache, goofy bowling and Hawaiian shirts, baggy pants — that has found its way into mainstream fashion (much to this writer's dejection), pioneered by Justin Bieber, Pete Davidson and the like.
There wasn't necessarily any news about the band itself (the Grateful Dead disbanded in 1995 after lead singer Jerry Garcia died) that precipitated the onslaught of capsule collections featuring licensed Grateful Dead imagery released since the end of summer. Dead & Company — a band made up of former Grateful Dead members plus noted hypebeast John Mayer — have been touring since 2015. Meanwhile, Amazon Studios released a nearly four-hour long documentary about the band in 2017.
Nearly a year later, several high-end brands including Del Toro shoes, Proenza Schouler, James Perse and R13 (among countless other designers leaning into tie-dye, including luxury houses like Prada) have found a way to capitalize on an undying market, with Grateful Dead skull-stamped shoes, lightning bolt T-shirts and more.
Chris Leba, founder of R13 denim, says his brand's Spring 2019 Grateful Dead merchandise reminds him of summers spent in the Hamptons in the late '80s with his Deadhead friends. "In a way, [the collection] is a reaction to this modern world of social media," Leba tells Fashionista. "It made me yearn for a different time; something authentic, pure, spontaneous and unproduced. A return to a simpler time." (Lest anyone doubt Leba's actual interest in the band, his favorite tunes include "Scarlet Begonias" and "Fire on the Mountain.")
While Leba's fandom manifested itself now, Jessica Pigza, librarian at the University of California Santa Cruz Outreach and Exhibits, says there's virtually never a downturn in interest. "The joke is, 'Deadheads are everywhere, you just don't know it,' but it's true," Pigza, who helped curate a permanent Grateful Dead exhibit and archive that serves as a pseudo-pilgrimage for Deadheads the world over, says.
Perhaps it's parents of the Dead generation passing on their fond memories of acid tripping and communal bonding to their children. Millennials, many of whom only know a world without Garcia, would be discovering the band for the first time — and with it, the marching bears, the Steal Your Face skull. The imagery represents a collective sense of nostalgia, a "laid back, hippie feel," one that seems contemporaneously vintage and new, says Jemma Shin, associate editor of consumer insight at WGSN, a trend forecasting agency. "Picking up a [Grateful Dead] piece has an iconic appeal — you're not just buying the T-shirt, you're buying into the free-minded lifestyle that comes with it," Shin tells Fashionista. "It gives instant access to a more carefree and optimistic time."
One can't help but wonder whether fashion's Grateful Dead collaborations are a reaction against the merch craze dominated primarily by hip-hop and pop musicians (Kanye West, Ariana Grande, Drake and Travis Scott come to mind first), or a complement to it. Shin believes it's the latter. "While streetwear is losing its authenticity by being played out or appropriated by luxury brands, this hippie-sleezecore culture seems to merge into something different," Shin says. "We used to mock this sort of laid-back, sloppy look, but things have changed.
Shin's not the only one who recognizes the fluidity between the musical genres. "There's as much Migos in there as there is Jerry Garcia," John Mayer told The New Yorker in early September, while discussing Online Ceramics's best-selling Dead-inspired T-shirts. "There's Post Malone and Houston trap. They're building Online Ceramics iconography rather than Dead iconography."
In any case, fashion doesn't exist in a vacuum (despite what a $3,000 blanket says), which, according to Shin is "why so many designers and brands are now tapping into this cool sense of liberation that the [Grateful Dead] offers," as "anxiety is growing from digital overload and political and economic uncertainty."
Or maybe the Dead trend has caught on because menswear's favorite celebrities are now in on the secret. Jonah Hill, Mayer ("I don't know how hip John Mayer is, but Jonah Hill is definitely hip," Pigza says), Virgil Abloh and Bieber have all, at some point, dressed themselves in a look no less likely to be spotted at a John Elliott show than at Summer Jam 1973.
If the Spring 2019 runways are any indication, streetwear is perhaps becoming passé; the sneakerhead has evolved into a sleazecore bro, Shin says, swapping his Supreme shirt for an Online Ceramics tie-dye piece. Then again, how many consumers in the larger menswear market are religiously following what Jonah Hill wears and what Proenza Schouler offers on the seasonal runways as though it were gospel?
"We've seen before the sense of something that's seemingly a niche cultural thing co-opted by a brand attempting to reach a mass audience," says Jacob Gallagher, men's fashion editor at The Wall Street Journal, who reported on fashion's obsession with the Dead in April. "People who are buying James Perse or Proenza are not necessarily aware of the current moment in fashion, which is that it's super cool among menswear fashion editors and reporters in Brooklyn and Manhattan to be wearing Dead bootlegged T-shirts."
To boot, the price tags assigned to the new crop of Grateful Dead licensed products serve as the antithesis, or evolution, of Deadhead culture, depending on your perspective. Philip Scher, anthropology professor at the University of Oregon who specializes in popular culture, notes that the Grateful Dead was widely known outside of its music for its democratic approach to consumerism.
"Tapers," or folks who smuggled tape recorders into live concerts in order to later flip bootlegged audio on the street, were previously banned from concerts during the 1960s and '70s. But the Grateful Dead were the first band to publicly allow them access to record the shows if they kept a promise to share the music and not sell it for profit. A $385 pair of shoes seems to buck that ideology, especially when compared to a $45 Online Ceramics, Grateful Dead-inspired T-shirt (note: OC's merchandise isn't officially licensed). R13's Leba admits the price point of his brand's Grateful Dead merch "would be out of reach for most Deadheads." Then again, Boomers who listened to the Dead in their first incarnation now have greater spending power than they did back then, when they were taking their first ride through "Anthem of the Sun."
"Every generation of kids has some subset that goes hippie, and those kids aren't generally the ones buying [the luxury Grateful Dead products], since they can get used clothing and tie-dye for way cheaper," says Scher, who, as it so happens, is a casual Grateful Dead fan. "Anyway, it's kind of antithetical to the general ethos to spend a lot of money on the Grateful Dead, no?"
Featured images: R13 Spring 2019/Imaxtree
Sign up for our daily newsletter and get the latest industry news in your inbox every day.