Gucci Takes Over the Historic Le Palace Theatre With a Literal Show for Spring 2019
There was a short film, a live performance and, of course, plenty of maximalist fashion.
By now, designer Alessandro Michele has established himself as a true showman in every sense of the word. But for Gucci's Spring 2019 runway show, he took the fashion show to a quite literal place, staging the runway inside Paris's historic Le Palace theater. 
Originally founded as a theater and dance hall in the 17th century, it was Fabrice Emaer who took over the space in the '70s, turning it into one of the hottest night spots in Paris, mixing 1930s architecture and design with pop culture and fashion (Thierry Mugler designed the waitstaff's uniforms). In other words, a Parisian spot with the cultural references to rival the inside of Michele's mind.
It was the perfect spot to host the third and final Gucci show paying tribute to France, itself a mashup of several difference time periods and references, as is par for the course in Michele's vision for the brand. It opened with a short film by Italian experimental artists Leo de Berardinis and Perla Peragallo; then, models began filing out in sets of two from the back of the theatre, crossing paths at the middle before climbing up to take the stage as one massive group. There was a break halfway through for a performance by none other than Jane Birkin, who performed "Baby Alone in Babylon," earning both a beaming smile from Anna Wintour and a kiss from Michele while taking his bow.
Now, for the clothes: It felt like a continuation of the May '68-inspired collection which kicked off Michele's tribute to France — kids locking themselves up at the cinema, à la "The Dreamers" — but with a '90s-Americana twist, thanks to touches like snakeskin spaghetti strap dresses, sweatsuits and denim jackets emblazoned with Dolly Parton's face. Instead of carrying replicas of their own heads, Gucci continued its high-fashion collaboration with Disney, turning Mickey Mouse's head into pop-art handbags. One model was sent down the runway wearing a live bird on her shoulder; other looks featured brooches or embroidery of flying pigs. There were hints of the fetish world in latex sleeves and leather jockstraps, and plenty of gender play. If you're looking for political messaging, it's right there on the clothes, which featured messages in French such as, "Tailoring for a summer of snow," or, "A dress for winter at Côte d'Azur."
Ultimately, the overall mood of the runway felt more political than we're used to seeing from Michele. Over the backdrop of opera music came the frequent sounds of helicopters and sirens, and as the models took formation on the stage, they were backlit by spotlights. It wasn't as overt as the kind of messaging we've grown accustomed to on big-name runways in New York (Raf Simons's Calvin Klein, in particular), but it's hard to imagine that a cultural sponge like Michele hasn't been observing the world around him as being more than just a backdrop for opulent clothes. 
See Gucci's full Spring 2019 collection in the gallery below.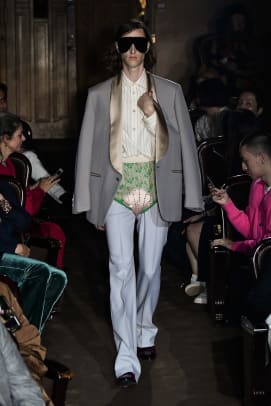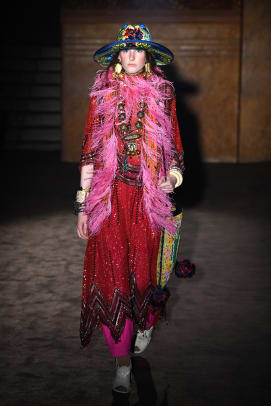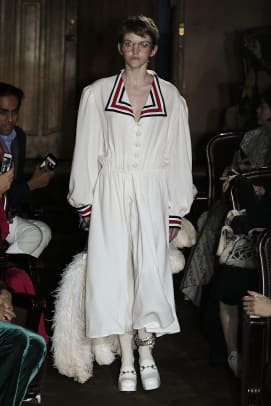 Stay current on the latest trends, news and people shaping the fashion industry. Sign up for our daily newsletter.