Hedi Slimane Brings His One-Trick Pony Act to Celine for Spring 2019
Céline is dead. Long live Celine?
When Hedi Slimane was appointed creative director of French fashion label Celine back in January, fans of the brand worried the designer would bring his very specific type of emaciated rocker-glam along with him — just as he did when he gave Saint Laurent a complete aesthetic overhaul (and dropped the Yves) in 2012. As it turns out, those people were 100 percent correct.
Setting up camp in a custom-built, cavernous room outside Paris's Invalides, Slimane's Celine kicked off with a pair of drummers and mirrored partitions that made way to reveal his opening model: a muse he referred to as a "girl" in an interview published in Business of Fashion. And girls — the extremely slim, size-00 types — were indeed the stars of the evening, alongside "boys" in equally slim measures, the kind that Slimane has borderline fetishized since launching his career with Dior Homme. (It is perhaps also worth mentioning in today's fashion and political climate that Slimane's vision is also largely white, with very few models of color coming into play at any point over the years.)
Of course, his preference for the thinnest of models wasn't the only default Slimane-ism he brought to Celine. No amount of free champagne could disguise the fact that the collection bears more than a passing resemblance to Slimane's rebranded Saint Laurent: It was packed with slim silhouettes for both women and men (this marked Celine's menswear debut) and more than enough black to attend a year's worth of both parties and fashionable funerals (which the Spring 2019 runway almost certainly represented for devoted Celine shoppers). One wondered whether this was just a redux version of Wednesday's strong Anthony Vaccarello-led collection, though to be fair, Saint Laurent's current designer has adapted to the aesthetic blueprint that his predecessor laid out for him. 
There was not much new or innovative in Slimane's offerings. Babydoll dresses with short tulle skirts? Check. Rock'n'roll tuxedo suiting for both men and women? You've got it, in several different silhouettes. Daywear? Perhaps not much, but if you like leather jackets, rainbow sequined jackets or baggy leather trousers, those are available in high numbers. As for accessories, aside from the sleek top-handle bag debuted by Lady Gaga (who sat front row) there were quilted, ladylike flap bags with "C" closures that probably looked quite familiar to front-row guest and Chanel impresario Karl Lagerfeld.
This is all outstanding news for Slimane's own pack of followers, who will no doubt rush to snap up his black studded boots and sequined party dresses — perhaps abandoning any loyalty they had for Slimane's recent rebrand of Saint Laurent in doing so. But what of the women who looked to Celine — particularly, to its former designer Phoebe Philo — for the kind of sophisticated, subtle, artful clothes that made them feel their very best? Those customers will be forced to look elsewhere, as the fashion industry has once again relied upon a man with proven marketing prowess and some exhausted-yet-profitable ideas to help bring in higher sales numbers. Interesting and thoughtful designs are simply not enough to keep even the most beloved business afloat. And if that means there's one less luxury brand carrying beautifully designed clothing for women by a woman, so be it.
Céline is dead. Long live Celine?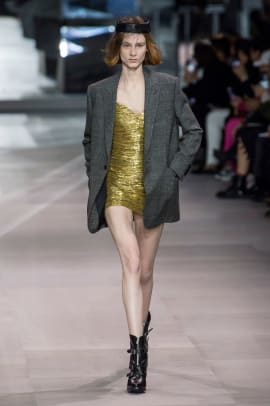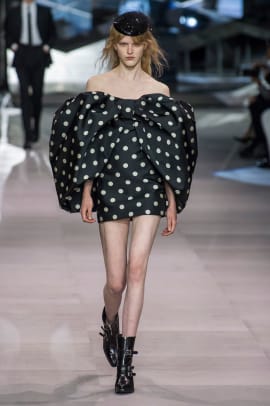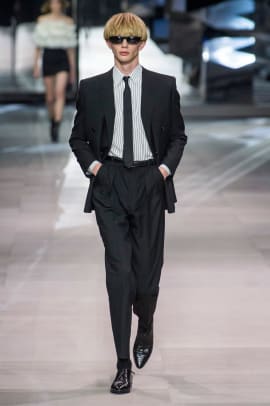 Stay current on the latest trends, news and people shaping the fashion industry. Sign up for our daily newsletter.