Isabel Marant Throws a Sparkling Silver Party for Spring 2019
It's time to let loose.
Isabel Marant has established herself as the go-to designer for a specific type of downtown-cool woman looking for boho-chic clothes with a Parisian edge — not exactly buttoned-up, per se, but definitely not party duds, either.
Well, everyone has to cut loose from time to time, and it looks like Spring 2019 is Marant's turn to let her proverbial hair down. Guests entered the venue, custom-built inside the Tuileries, through a curtain of silver tinsel to find the entire set dressed up in the stuff, with silver mylar balloons packed into the ceiling above the runway as well. 
If you guessed that meant the collection would be full of silver, congratulations! You were correct. It was clear from the bumping soundtrack, the dazzling crystal earrings and the yards upon yards of shiny gunmetal lamé, pewter-foiled leather and steely sequins that Marant was ready to party. But even while indulging in her disco fantasies, Marant kept things grounded in a wearable way — well, depending on how you define "wearable" — by mixing up her metals with acid washed denim, whether in the form of high-waisted hot pants, thigh-high pirate boots or bomber jackets mixed with quilted detailing. Signature Marant details were still present, like a pair of brocade pants, an embroidered bolero or an oversized blazer.
For the men, Marant proposed a slightly more grounded look. There were acid-washed jumpsuits paired with espadrilles, oversized acid-washed vests and paisley-printed shirts — all things which could have been stolen from the ladies, and vice versa. After all, when you're getting ready to go out on the town, who cares which closet the lamé and studded leather come from?
At the end of the show, after Kaia Gerber slunk off the runway in her sequined sweatshirt and Marant took her bow to enthusiastic applause, there was a surprise: The silver tinsel pulled away from the back of the set to reveal a full bar and a dance floor, all the better to celebrate Wanted, the beauty collaboration between Marant and L'Oreal. Too bad showgoers couldn't snatch up some of Marant's party clothes to wear while dancing the night away.
Click through below to see Isabel Marant's Spring 2019 collection in full.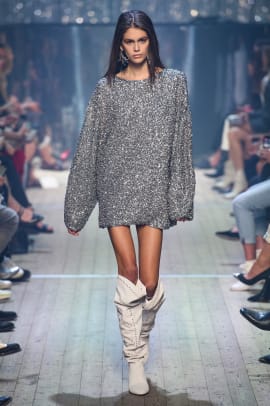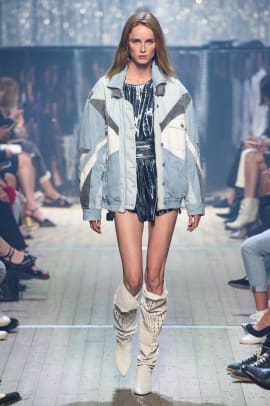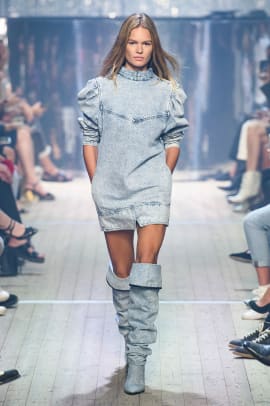 Stay current on the latest trends, news and people shaping the fashion industry. Sign up for our daily newsletter.