Jonathan Simkhai Created a Countryside Utopia for His Spring 2019 Presentation
Models sauntered through a foliage-filled room in garments fit for a prairie queen.
It's been a monumental year for Jonathan Simkhai: The designer got married, had twins (!) and fulfilled his lifelong dream of moving to LA, where he opened his first brick-and-mortar store a few months ago. With all this change and added West Coast sunshine, Simkhai decided to present his latest collection in a completely re-conceptualized format for Spring 2019. Instead of a traditional runway show, the designer invited close friends, family, influencers, buyers and editors to partake in an intimate presentation, which saw models sauntering through a foliage-filled room as soft live music played in the background. 
"I really wanted to be able to connect with the women who've supported the brand and be able to talk to them and hang out," Simkhai said at the presentation. "A lot of times during a fashion show, I'd be in the back, and I never really got to see anyone. I wanted to create an experience for people to be able to come in, have a drink and see the clothes, and to create something really beautiful, fun and different." 
Despite the fullness of the room and general sense of chaos that seems to characterize many New York Fashion Week events, Simkhai's Spring 2019 presentation was rather peaceful and reminiscent of summery, wedding-like celebration of love and life. The designer used the words "escapism" and "rebirth" to describe his warm-weather offering. "It's something really beautiful and fun to wear and something that you can put on and feel amazing in," he added.  
To help us fashion week-goers escape with his clothes, Simkhai created a countryside utopia in a stark, studio space with greenery-covered archways and overgrown floral arrangements throughout. The models looked like ethereal prairie dwellers sprinkled with gingham, tulle and guipure lace. The playful color palette was full of pastel shades like lemonade, cherry blossom and sky blue, with touches of neutral tones done in ecru, spring green and off-white. Frill, which has been a signature of Simkhai's collections, was noticeably absent, though he continued to embrace Victorian-era romantic detailing. He used broderie anglaise, layered tulle and trimmed plissé in silk chiffon to lend airy frocks a dreamlike quality; he also experimented with a new technique that involved hand crochet on cotton percale and soutache on drapery and seam closures. 
But it wasn't all a light rainbow assortment of what could very well be chic bridesmaids dresses: Military parachute pants, corset tops, a sleeveless trench dress worn over belted trousers and a pair of overalls all made appearances. The show notes referred to these garments as "what people wear to a rave-like dance in this fanciful world." 
Though it is unclear if Simkhai is likening his new home in California to this "fanciful world" he dreamed up for Spring 2019, his move has definitely refreshed his vision and energized his designs. "The sunshine gives you so much energy," he said as he admired the general splendor of the presentation. 
Everyone in the space was eager to capture and take part in his dream, which may not have been as easily achieved had the garments walked alone down a catwalk. "I think it's really fun," Simkhai said of this new format. "People can take pictures and really see the clothes. Imagery is so important right now."
See exclusive backstage images from Jonathan Simkhai's Spring 2019 presentation shot by Lee Oliviera in the gallery below.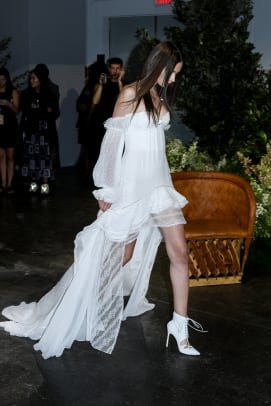 Stay current on the latest trends, news and people shaping the fashion industry. Sign up for our daily newsletter.