Kith Debuted Upcoming Versace Collaboration at Its 'Kith Park' Runway Show
Ronnie Fieg and Donatella Versace, two unstoppable industry forces from different generations and markets, have come together for a collection that both hypebeasts and high-fashion fanatics will freak over.
While brands on both ends of the market today are desperately fighting to raise their cultural capital — whether through the excessive use of logos, partnerships with influencers, celebrities and Instagram personalities, preying on customer nostalgia, hiring Virgil Abloh to design literally anything or another tactic altogether — certain companies are sitting pretty at the top of the clout pyramid, watching the hypebeasts await each next drop with bated breath. 
Two such brands are Kith, the streetwear mega-retailer that produces an eponymous collection of clothing and accessories, and Versace, the 40-year-old Italian luxury house that's been a pop culture mainstay for decades, but is increasingly relevant to younger consumers thanks to constant references in rap lyrics, "It" girl campaign stars like the Hadid sisters and Kaia Gerber and an impressive amount of red carpet and street style visibility — with most of the photos ending up on social media for millions to see.
On Thursday night at the Brooklyn Navy Yard, Kith and Versace — companies that, from the outside, couldn't appear more different from a brand-strategy perspective — debuted their upcoming collaboration on the runway at "Kith Park," a highly produced, stadium-style presentation experience that previewed what Kith has coming down the pipeline for Fall 2018. The four-part show kicked off with Kith's in-house collection (which included exclusive product collabs with the likes of Columbia, Ugg, Bergdorf Goodman, MISBHV, New Balance, Oakley, Vans, Levi's and more), followed by the official unveiling of both Kith for Tommy Hilfiger — a preppy, all-American delight — and Kith for Greg Lauren.
For the final scene, a gate recalling that of the Versace Mansion in Miami — complete with the Versace Medusa logo intersected by the Kith name — rolled out before the audience, with robed models lined up behind it, their clothing concealed. One by one, starting with Versace house muse Bella Hadid, the 24 sporty looks were revealed, each containing iconic Versace motifs and iconography (Greek key patterns, golden Baroque prints, heavy gold hardware and, of course, logos galore) while upholding the streetwise Kith aesthetic. Key pieces include puffer coats, branded track and sweatsuits, biker shorts, hats (of the bucket and baseball variety) and both denim and fur jackets, as well as plenty of lightweight tees and tops for layering as fall transitions into winter.
Because this is Kith we're talking about, we're sure the price points will be higher than, say, Versace's 2011 collaboration with H&M, but below those of Versace's main label. There's no word yet as to when this joint collection will drop, but since anything either Ronnie Fieg or Donatella Versace touches seems to turn to gold, we suggest you start strategizing now — unless you're willing to pay actual Versace-level prices on the resale market.
See every look from the forthcoming Kith for Versace collection in the gallery below.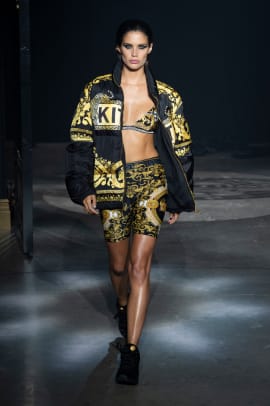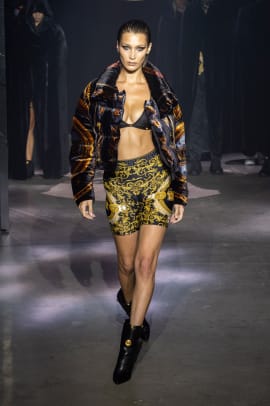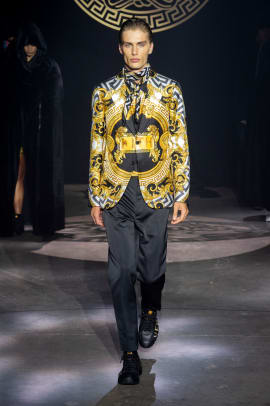 Want the latest fashion industry news first? Sign up for our daily newsletter.