Marc Jacobs's Spring 2019 Show Was a Dramafest in Every Sense of the Word
After a 90-minute start-time delay came a runway full of beautiful clothes — and a whole lot of rumors.
Every New York Fashion Week, the Marc Jacobs show is seen as the proverbial finish line. It's the closing event on the calendar, it always starts right on time (after the designer was critically panned for a two-hour delay in 2007) and for those who aren't running to catch a late-night flight to London, it means that, once the final look comes down the runway, there's the chance to catch your breath, put on comfortable clothing and trade a squished-in front-of-house seat for one on the couch. 
Alas, such was not the case for the Spring 2019 season. Guests were tipped off that something was awry about an hour before the show was set to begin, with an email from the Marc Jacobs team that they were running 30 minutes behind schedule. But when the notoriously prompt designer still hadn't sent out the first look an hour after the original start time, rumors began to fly. Some audience members were told that the collection was still en route; others heard that sewing machines were being delivered backstage as certain garments weren't even finished. 
In the most dramatic, high-school version of this fashion week scenario, word started to spread that Jacobs wasn't having any technical issues at all. In fact, he was holding the show on purpose to spite Rihanna, who dared to slate her first presentation for Savage x Fenty after his, usurping his coveted closing time slot. And since Jacobs knew every big-name editor, buyer and influencer was sitting patiently in his front row, RiRi would be forced to begin her Brooklyn lingerie extravaganza without them.
Not so fast! As the 75-minute-late mark approached, people needing to head to the airport or to another firm commitment started to trickle out of the Park Avenue Armory. Anna Wintour, the Only Show Guest Who Matters, was pacing around out of sight, causing a whispered game of "will she or won't she?" regarding whether the Vogue editor would exit for good. (Sound familiar?) Celebrities and friends of the brand like Nicki Minaj, Emily Ratajkowski, Sofia Coppola and Karen Elson gladly stuck it out, staying put until finally, 90 minutes later and without explanation, the lights went down and the first look came down the runway.
The collection was a feast for the eyes, filled with voluminous, pastel-hued confections rich in texture, thanks to the plentiful use of tweed, latex, feathers, sequins, lamé and more. As was the case with his Fall 2018 collection, Jacobs's spring offering was a blast from the past, referencing the likes of Barbra Streisand as inspiration, with '50s- and '60s-era silhouettes and details aplenty, like short driving gloves, headscarves, giant bows and veils. 
Proportions came oversize and dramatic — particularly the eveningwear that, in all of its ruffled glory, you could see from a mile away. Some dresses were adorned with rosettes, while others were tiered, trimmed with feathers or done up in glittering fabrics. Aside from sartorial risk-takers like the aforementioned Minaj, these were pieces more suited for editorial than red-carpet-wear, save for a few — like an airy chiffon number in sunset shades of pink and orange that seemed to float down the runway, or perhaps the sequined, high-waisted, slouchy tuxedo pants that came in nearly every color of the rainbow. The outerwear was a highlight, as well, thanks to a mix of both fantastical (a fully feathered hot pink coat) and practical (a classic lightweight trench that came belted at the waist) options. 
The general consensus at the end of the show was that this was fashion worth waiting over an hour — and most likely missing Rihanna — for, and on account of the stunning colors, casting and craftsmanship, I am inclined to agree. However, in an industry that's increasingly dominated by Instagram brands, influencer marketing over traditional in-book ad campaigns, streetwear over couture and instant gratification over, well, waiting, Jacobs made himself the center of chatter and attention for all of the wrong reasons. 
Rihanna's Fenty Beauty reportedly earned $72 million within a month of launch — and her Savage x Fenty lingerie line was immediately available to shop online Wednesday night — while LVMH CEO Bernard Arnault infamously told investors in 2017 that he's "more concerned about Marc Jacobs than the U.S. president" from a business standpoint. Jacobs is and will always be a legendary talent both in and outside of industry circles, as well as a pop cultural force. But if he truly wanted to take down RiRi, it's a battle he was never equipped to win.
UPDATE, Fri. Sept. 14, 2018, 9:00 a.m.: On Thursday night, Marc Jacobs addressed the showgoers he inconvenienced at his Spring 2019 runway show with a lengthy apology on his personal Instagram account. You can read it in full here.
See every look from Marc Jacobs's Spring 2019 collection in the gallery below.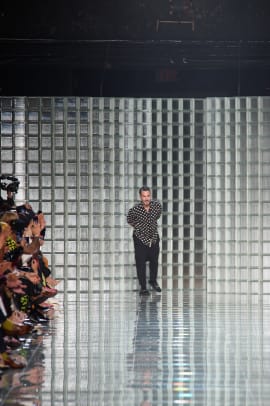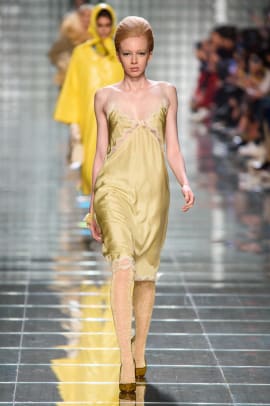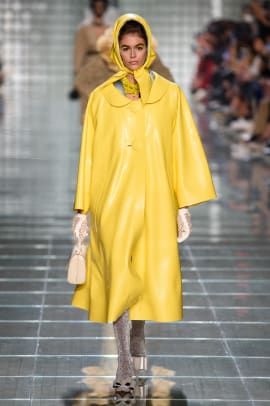 Sign up for our daily newsletter and get the latest industry news in your inbox every day.