Monse Goes Unisex for Spring 2019
Make room in your closets, boys.
The womenswear market may be facing its fair share of struggles, but as it stands right now, it seems like things are only looking up on the menswear side of the business — and brands are eager to get in on the action. From luxury (The Row, Sies Marjan) to mass (Madewell), every week brings news of another label launching a menswear line.
While Monse isn't going quite that far, there's no question their Spring 2019 collection is bringing something for the #MonseGirls and the #MonseBoys. Designers Fernando Garcia and Laura Kim spent the days leading up to Friday's runway teasing the addition of menswear to the lineup, complete with a song written for the occasion by none other than Nicki Minaj.
But Monse is going a slightly different route than those other menswear-neophytes, touting the new collection as being unisex. Fortunately, Monse's signature styles — unbuttoned, asymmetrical shirting and loose knits — lend themselves quite easily to people of all genders, and the Spring 2019 collection is packed full of those pieces. Garcia and Kim tapped a nautical source of inspiration for the runway, snaking ropes and chains across the backs of dresses and as the straps of rucksacks.
Preppy plaids, sailors' knots and plenty of stripes provided pattern to break up a large sea of navy and hunter green, occasionally punctuated by shots of fisherman orange. And though the color scheme may have been largely simple, the accents — a string of pearls here, a scarf-tied sandal there — brought in layers of texture. Draped satin dresses felt particularly summer-elegant thanks to the thick rope snaking across the backs — though, curiously, none of those garments were worn by the male models in the show. Perhaps they aren't intended to be unisex? Maybe next time.
See the complete Monse Spring 2019 collection in the gallery below.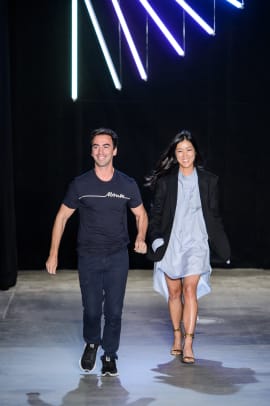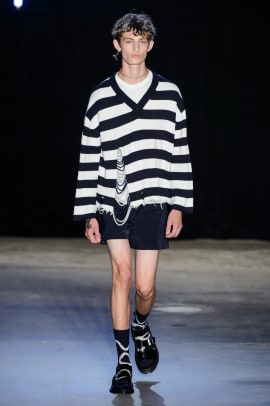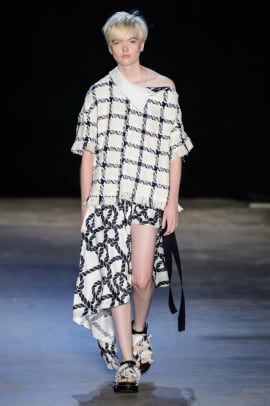 Want the latest fashion industry news first? Sign up for our daily newsletter.