Nicola Glass Is Making Over Kate Spade New York, One Spade Motif at a Time
The creative director made her official runway debut with the brand's Spring 2019 collection.
There are big changes on the way to Kate Spade New York.
The first sign is that, walking into the company's Park Avenue offices, everything from the entryway to the showrooms has been completely redecorated — to the point that, when I was walking in just a week before new creative director Nicola Glass was set to make her official runway debut, I was sure I was in the wrong building. It still feels very much within the Kate Spade world, but the colors are slightly more muted, the furnishings less mid-century modern and more Instagram-friendly, an extreme makeover the in-house team pulled off in fewer than six weeks.
The second sign is the Spring 2019 collection, Glass's first, lining the racks. Again, it still feels firmly within the Kate Spade world, but as though someone's cooler, younger sister had come through to tweak some things and make everything a little less precious. Staying true to the brand's roots, Glass was inspired by vintage clothing, tapping into a '40s-via-'70s silhouette for her first ready-to-wear line. There's no question that the brand is courting a more fashion-oriented audience. While there are still plenty of swinging, feminine dresses, the shapes feel slightly less retro, and Glass is mixing in trendier silhouettes, like wide-legged pants and cropped knits. 
"I didn't want to come from a very thematic approach with the collection; it was looking at some of those key foundations of the color, the silhouette, but in a way that we wanted to make feel very modern and not vintage-y in any way," the soft-spoken Glass says in her newly redecorated office. "I really wanted this feeling of lightness and fluidity with the clothing as well, so going back to that easiness to wear and also having a little bit of tension where, yes, there's feminine details, but there also — whether it's a bit of an element of cool or some thing that feels sophisticated — there's also a youthful spirit to it as well."
Fans of the brand needn't worry, though: Glass is keeping everything for which the brand is known — a love of color, a playful sense of quirk — and taking it in a more modern direction. That means experimenting with new colors in different combinations, like a dusty lilac mixed with a chartreuse yellow, and toning down the more eccentric pieces so that they're noticeable when you're standing next to someone (think: an abstract matchstick print, or a matchstick zipper pull) rather than from across a room.
"The brand was always known for having these fun, novelty items and that's definitely something we're not walking away from," Glass says. "But for me, it was important that there's this sense of discovery around the novelty; I wanted to make the novelty a little bit less literal and more something for the customer to discover."
The idea overall is to bring new customers into the fold while still keeping those die-hard Kate Spade fans happy. It's a high-wire balancing act, to be sure, but Glass is up for the task. And while her runway debut only officially happened on Friday, Kate Spade is releasing a limited capsule collection of Glass's first accessories for the brand: Handbags in two key new shapes and scarves with the new print.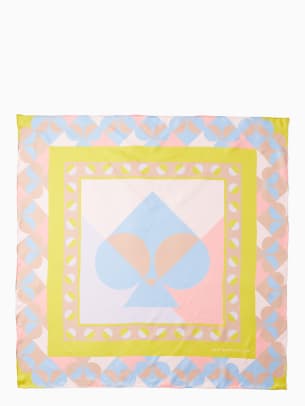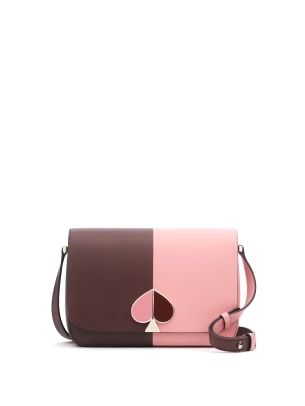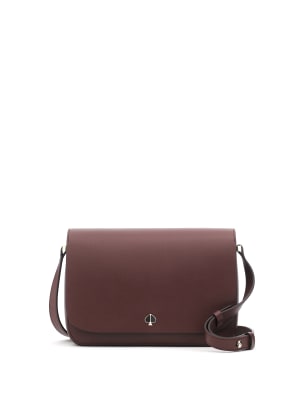 Speaking of the handbags and accessories, which are a cornerstone of the Kate Spade business, Glass has found a way to make those over in ways customers might not even immediately notice. The quality of everything from the materials, like leathers, to the finishings has been upgraded — without bringing along a change in price. A key motif across all categories is the spade, which Glass has splashed across knits and sprinkled over handbags; one purse style utilizes the shape as a clever turnlock. The shape is also reflected in contrasting bag linings and interlocking pieces which form bucket bags.
"One of the things I really started with was the spade itself, because I think so many brands look for a symbol to identify them away from the name of the brand," she says. "I think it's such a great shape, so I looked at really modernizing it and playing with it in a way that could be both subtle and bold."
It's hardly surprising that Glass's starting point for the brand was in the handbags, given that her own background is in leather goods and jewelry design. But Glass was equally excited to get her hands on categories like ready-to-wear and home goods, and wasn't intimidated to take on such a broad range of design. For one, she notes, she "inherited a great team" of people who are passionate about the brand; for another, she feels that her design concepts have been informing each other.
"For me, it's been quite seamless in a way," she explains. "We developed, for example, a pattern that could have been for print and ready-to-wear, and then we looked at it [and realized] actually it could make a great foil embossed wallpaper for a store."
RELATED ARTICLES
Glass notes that the idea of using clear resin for shoe heels came from an idea for visual merchandising blocks for store design — which she is also in charge of making over — which then became handle details for a cocktail set. "I think there's been a great cross pollination of ideas between the design team," she says. "Being given the opportunity to oversee all the product categories, and be able to make a very cohesive vision, whether it's color, sensibility or hardware elements, and make sure that it all works together — that was really exciting."
And, like so many fans of the brand, Glass came in with respect for what the late Kate Spade built with her then-husband Andy. "The brand has always, in a very authentic way, encouraged women to express themselves through fashion and in their own way," she says, noting that, after the passing of Spade, she was struck by how much nostalgia there still is for the brand. While she isn't mining that nostalgia like so many other contemporary brands, she isn't ignoring it, either, tying in links to the past by adding in details like an updated embroidered tag to the classic Sam bag.
Ultimately, being handed the reins of a big lifestyle brand like Kate Spade is a tremendous responsibility, but it's clear that Glass has jumped in with both feet first. Her biggest hope is that the brand's loyal fanbase will follow her as she continues to push Kate Spade forward.
"I feel like we've only just scratched the surface on starting to define the new print language or the new color language or even these elements with the spade," Glass says. "I feel like there's endless possibilities to keep pushing them, and really we're just at the very beginning of the journey. I want it to feel like an organic transition through to the next seasons."
See the complete Kate Spade New York Spring 2019 collection here: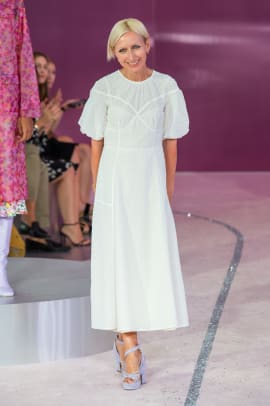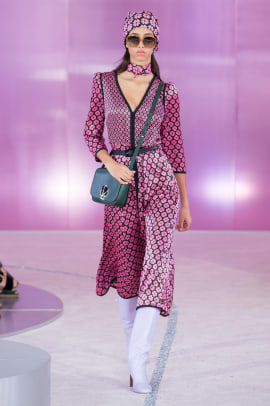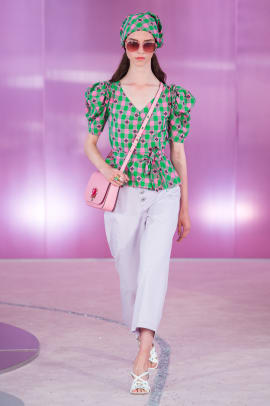 Want the latest fashion industry news first? Sign up for our daily newsletter.