28 Manicures From New York Fashion Week That Will Convince You to Start Wearing Nail Art Again
From fashionably chipped manis to blinged-out tips.
Nails at New York Fashion Week's Spring 2019 season were notably nostalgic, as manicurists traded in the crisp minimalism we've seen in recent seasons, instead experimenting with fashionably chipped looks and blinged-out tips. Some manicures that appeared on the runways were evocative of DIY-style art projects from our summer camp days and the sloppy (but fun!) manis of elementary school slumber parties. Kitsch was also dialed up to the extreme, with notable nail artists finding creative ways to mimick the vivid prints and textured details of the warm-weather collections on the hands of models all over New York.
At Tibi, manicurist Jin Soon Choi used a green, yellow and red polish to unevenly paint the nail, leaving the outer edges untouched for a purposefully chipped look. She then gave each model one chipped glitter accent nail. Kate Spade also took a shimmery route: Julie Kandalec (for Essie) drew from the late designer's own quote, "She left a little sparkle wherever she went," accenting clear-polished nails by adding small flecks of glitter to each one. 
Elsewhere, tips were artful, architectural and in some cases even 3-D. Lead artist Eichi Matsunaga (for Morgan Taylor) matched Rodarte's whimsical aesthetic with silver-and-gold metallic manicures embellished with colorful crystals. Similarly, CND nail leads Shelena Robinson and Heather Reynosa complemented the antique-inspired pastel prints and fine needle-point embroidery of Libertine's Spring collection with ornate and vintage-looking designs: They decorated nails with tiny pearls, gold beads and '70s wallpaper-style florals. Fingers were also front and center at Adeam, where colorful gemstones bedazzled freshly buffed tips. 
More graphic designs made appearances at Oscar de la Renta and Jeremy Scott, where Miss Pop (for Zoya and Essie, respectively) crafted interestingly placed stripes to throw cool, modern punches. It was a trend that appeared at Kith as well, where Alicia Torello (for Essie) did a cool twist on emblematic hallmarks of brands that the hype retailer collaborated with this season. 
So, there you have it: plenty of runway proof that the louder the manicure, the better. Click through the gallery below for a closer look at the most stand-out nails from the Spring 2019 runways.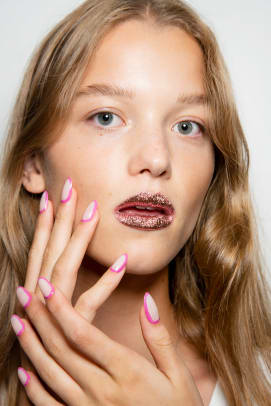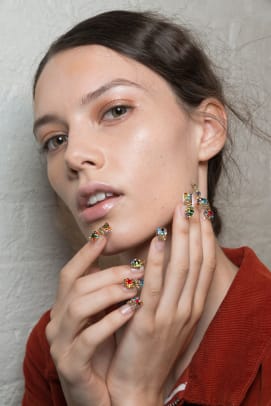 Stay current on the latest trends, news and people shaping the fashion industry. Sign up for our daily newsletter.