New York Designers Are Taking the Whole 'Back to School' Thing Seriously this Fashion Week
Showgoers went to cafeterias, libraries and high school rooftops to see what's in store for Spring 2019.
It's time to load up your backpacks with freshly sharpened pencils and an apple for the teacher, because designers at New York Fashion Week are bringing us back to the hallowed halls of high school, literally. Not only did an assortment of labels offer up preppy varsity jackets, graduation caps and gowns and cheerleader uniforms for Spring 2019, but some took the whole "back to school" thing very seriously and presented their collections in cafeterias and libraries. 

For many, the best part of high school was completing it — a moment that's sartorially marked by a medieval-looking robe and a square academic cap. Raf Simons, whose collection for Calvin Klein referenced "The Graduate," sent models down the runway in looks topped with caps and gowns. Hours before, Vaquera invited guests into a cafeteria filled with public school's finest plastic chairs to present a collection made up of deconstructed high school ensembles: a cheerleader's outfit complete with pompoms, a football uniform, prom king and queen costumes and yet another take on gradation garb. Designers Patric DiCaprio, Claire Sully and Bryn Taubensee, however, gave their diploma recipient a giant Jacquemus straw hat-sized cap and added bright yellow cords. 
Earlier in the week, Kith showed its collaboration with Tommy Hilfiger in a library setting with models sporting logo-heavy pullovers accessorized with denim baseball caps and canvas backpacks. 3.1 Phillip Lim also drew a fashion crowd to a place of learning, when the designer revealed his orange-tinted Spring range on a chain-link fenced roof of a high school. Though it's important to note that bucket hats were used instead of mortarboards. 
See highlights from the school-themed Spring 2019 collections in the gallery below.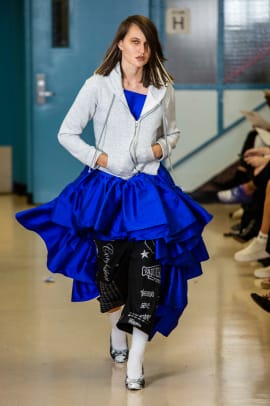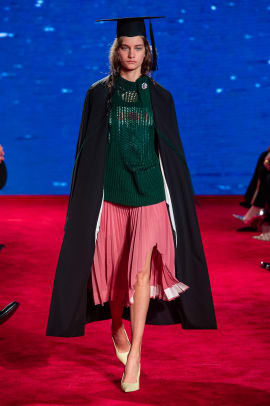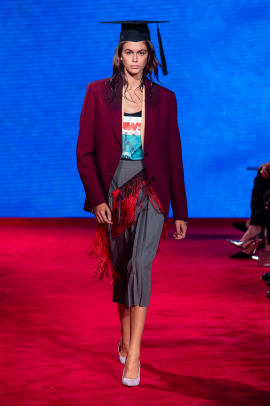 Stay current on the latest trends, news and people shaping the fashion industry. Sign up for our daily newsletter.