The Off-White Spring 2019 Show Highlighted the Inimitable Power and Expression in Sport
Virgil Abloh's track and field-themed spectacle went all in on athleticism — in some ways more literal than others.
Virgil Abloh's chief mission — at both Off-White and Louis Vuitton — is accessibility. Where some designers ban social media imagery even days after a collection has debuted on the runway, Abloh shares not-inconsequential pre-show sneak peeks for his 3 million Instagram followers. It's one small way that Abloh helps to bring those who have been previously unwelcome into his high-fashion fold. The barrier to entry does not exist; all you need, really, is a smartphone. 
The same can be said about both running and the more developed sport of track and field, which so happened to be the theme of Off-White's Spring 2019 runway show on Thursday night in Paris. Practically speaking, running is the most inclusive sport on the planet. All you technically need is a pair of shoes and some open space — the rest is just bells and whistles. Is there a sport more Abloh-ian than that? (Some might argue tennis, given his most recent viral Nike collaboration with Serena Williams.)
The answer, at least for this season, is no. Off-White went all in on the track and field concept: Invites came in the shape of race bibs, complete with paper clips to affix to your finest moisture-wicking gear; showgoers entered the venue — an otherwise discreet garage in Paris's 11th arrondissement — to find a three-lane race track surrounding an overgrown, grassy median; Paris Saint-Germain mega-star (and also, notably, one of the most famous humans on Earth) Neymar had a prime front-row perch on the bleacher-style seating.
Eventually, 45 minutes after the proposed 7:00 p.m. start time, the show began with a voiceover clip from triple gold medal-winning track-and-field champion Wilma Rudolph, a pioneering Black athlete who, at the 1960 Summer Olympics in Rome, won a trio of titles for the 100, 200 and 4 x 100 meters. The quote was as follows:
I always had the worst start in the history of any sprinter because of my size, and I was the tallest sprinter that had come from the U.S. My first 30-40 yards, I was never in the race. The farther I ran, the faster I became, and I could always accelerate at the end. That was the key.
Top-podium Instagirls Kendall Jenner and Bella Hadid, two of Abloh's biggest supporters, opened the show perfectly in stride, followed by next-generation Instagirl Kaia Gerber. A bevy of other "It" models — more all-stars — rounded out the lineup, including Dilone, Jourdan Dunn, Romee Strijd, Grace Elizabeth and Karlie Kloss. But Abloh expanded the community of all-stars this time, casting eight actual all-stars, international track-and-field ones, including American 100-meter dash sprinter English Gardner. As models came down the circular track, some outpacing others, a "scoreboard" displayed a rotating roster of who was on the runway when, next to their respective countries of origin.
Some of the clothing adhered quite literally to the theme, especially those that are part of Abloh's ongoing Nike partnership: sports bras and bodysuits paired with pristinely crisp tutus and white linen skirts, as well as a newly-reworked pair of Vapor Street sneakers. Some shoes featured sneaker-and-sandal hybrids, some sure-fire street-style bait that's going to be the subject of much discussion come March. There was, of course, a smattering of the uniquely elegant pieces — including some high-volume eveningwear — Off-White does best. Even the frothier garments (a delightfully gargantuan yellow-to-white ombre gown, for example) were styled atop a classic white logo tee.
There's no which way around it: Abloh's clothes are pure luxury, if only demonstrated by the craftsmanship of some of the aforementioned gowns. But it's worth noting that Abloh himself and the many "outsiders" for whom he makes himself available are also something else: forces of nature. In Rudolph's earlier words: The farther he ran, the farther he became.
Click through the gallery below to see Off-White's Spring 2019 collection in full.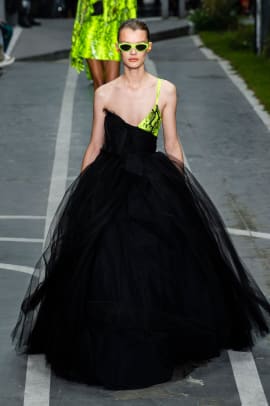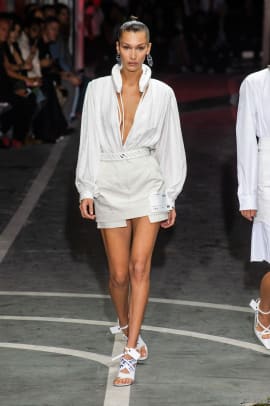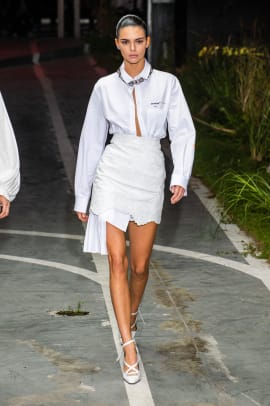 Stay current on the latest trends, news and people shaping the fashion industry. Sign up for our daily newsletter.