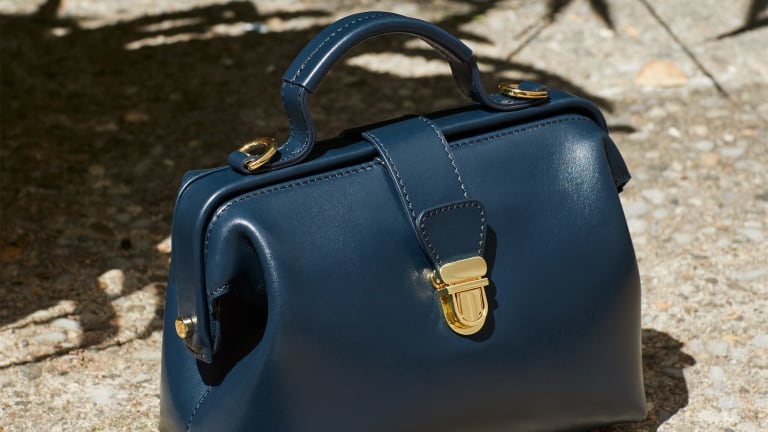 Are Online Waitlists for Fashion Items a Total Scam?
Those that make headlines with thousands of sign-ups serve as a bragging badge for companies — but its purpose is much more than that.
You've probably heard this story before: A cult-favorite brand has a waitlist for a highly anticipated new product, boasting the names of thousands upon thousands of eager customers. "This Bucket Bag Hasn't Even Shipped, But It Has a 2,500-Person Waitlist;" "Frank Body's New Glitter 'Unicorn' Scrub Has a 50,000-Person Waitlist;" or "There Are 40,000 People on the Waitlist for Everlane's New Denim Collection." Brand loyalty serves as a bragging badge for companies — as well as newsy clickbait for publishers and added hype — but it begs the question: Are online waitlists a total scam?
Not quite. As drop culture continues its rise and businesses strive to emulate the outdoor lines and immediate sold-out launches achieved by brands like Supreme, online retailers are using waitlists to stir that same sense of excitement. "Waitlisting product or being a part of the waitlist makes you feel like you're getting something that's very coveted," says Marshal Cohen, chief industry advisor of NPD Group. "In today's world, you can get anything anywhere at any time at any price. There's all kinds of ways to try to raise the bar and take luxury, brand power and desirability into the equation because, frankly, there's so much competition today than there was ever before."
For most brands, especially those in the direct-to-consumer e-commerce space, the traditional waitlist can also help inform a range of business decisions and practices, from merchandising and product development to boosting customer relationships. 
RELATED ARTICLES
"It's a way to engage directly with the consumer," says Lori Coulter, who co-founded the direct-to-consumer swimwear label Summersalt with Reshma Chamberlin which launched about 15 months ago. "You have the ability to create and benefit from waitlists, both from the consumer perspective, as well as the business — as opposed to a brand that's sold through the traditional wholesale model where you don't have that direct relationship. You just can't get that feedback as quickly."
What inspired Coulter and Chamberlin to implement a waitlist functionality were the numerous emails from customers inquiring about waitlists for items that were sold out. The new feature was added to Summersalt's most popular product pages, such as its Sidestroke one-piece suit, which has garnered record-high sales month after month, as well as a waitlist of 7,200-plus customers. Meanwhile, the company's factories are working overtime to produce those garments in order to be delivered in a timely manner.
Though Summersalt's primary focus is servicing customers' needs and wants, a secondary benefit from waitlists is its breadth of data and getting a read on what colors, styles and trends are performing best. "There are some clear winners as far as the waitlist goes," says Coulter. "It can inform both merchandising decisions going forward, as well as our current buys."
When Arjé's Bessie Afnaim Corral and Oliver Corral released its winter collection last year, their shearling jacket received much more demand than they expected, selling the entire inventory (and a restock) through January. After, the requests kept coming in. Rather than making more pieces, the two decided to actually put a hold on the hit jacket's production, instead launching a waitlist to strategize how they can best optimize the continued demand for their shearling designs.
"We really allowed ourselves to push the brand," says Afnaim Corral. "If shearling is going to be such a winner, let's give the customer what they want in a bigger way instead of just one style, which we have seen from other brands and often it becomes very tiresome to overdo a good thing." According to Corral, the brand still received almost 200 online requests for its shearling jacket. "The strategy is creating this desire, exclusivity," he says.
The waitlist also helps refine Arjé's brand identity. "If a collection is overstock, you lose sight of what is a bestseller. You just have a lot of product," says Corral. "Even if we keep using shearling, we can do it because it becomes a part of our identity. But we don't repeat the style usually. It comes with a little trick, like a slow, beautiful evolution. It's one more treat for that desire. I miss this one but this new one is cool or even better."
For Linjer, generating that same sense of desire and exclusivity has been the impetus behind its waitlist ahead of a new product. Having already built a strong community of devoted customers since launching leather goods in 2014, co-founders Jennifer Chong and Roman Khan's expansion into handbags became an instant success: Their first-ever launch, a $425 bucket bag called the Tulip, garnered close to 3,000 waitlist sign-ups and a total of $600,000 in pre-order sales.
"All of our growth is attributed to our customers, so we really value that relationship," says Chong, who, along with Khan, launched Linjer with their own savings and fundraising via Indiegogo. "A lot of bags sell out really quickly and we always want to give [our customers] preferential treatment. With the waitlist, we can kind of segment who gets to see the bag, who gets access to the bag when and we always want to give our community access before everybody else."
That tactic has been applied to Linjer's newest launch, the Doctor's Bag. Select visitors to the website could access a waitlist for only 100 units of the bag's first limited-production run ahead of its official debut at the end of September. The list acquired more than 3,000 customers signing up and the bag is expected to sell out by the end of the week.
One of the benefits of being a direct-to-consumer brand is applying the data behind your customers' purchases towards future unit buys, inventory and the merchandising process. The strategy has helped Jeff Johnson, co-founder and creative director of The Arrivals, but when his team implemented a waitlist functionality in 2016 — boasting hundreds of emails for a product that was out of stock at the time — they realized they had the opportunity to create a bigger sense of customer loyalty.
The sold-out product was replenished but with an improved design across its hardware, fit and leather, resulting in a price uptick from $1,095 to $1,195. Those who signed up for the product's waitlist were notified of the restock and given one week to purchase it at last year's price before it went live to the public.
"That was something where we saw this insane conversion rate," recalls Johnson. "If everything we ever launched had this direct customer loyalty to it, we would have this secret potion. For us, that was the first waitlist that showed the value of building that customer attention, offering something special and then: How do you capitalize it by being able to stay true to your word?"
From there, The Arrivals offered a waitlist for a handful of products that the team had high confidence in, including its new fall collection's Teddy and Moya pieces. Signing up would give those customers early access — from one week to 48 hours — to purchase the product before everyone else.
"The waitlist guarantees you have the opportunity to shop it because we don't know necessarily the quantities that are going to sell the first couple of days, so this is kind of a no-risk way," explains Johnson. "We basically are able to see — two weeks prior to the Moya launch, or six weeks prior to the Teddy launch — we gathered three more times the emails than what we've actually produced units for. That's a good indicator that we should be gearing up the wheels to produce for a restock probably within the first week that that product goes live."
Of course, the waitlist doesn't always promise impressive results, says Johnson. He recalls doing waitlists for items outside of the outerwear category, such as T-shirts, which ended up receiving much lower engagement from customers. "That waitlist was one less accessible conversion in a revenue standpoint," he notes. "But it's still valuable in terms of this compared to our shearling drop, or our teddy drop, is a lower priority. So let's focus all of our team's efforts — merchandising, product development — on those categories instead."
Top image: Linjer's Doctor's Bag. Photo: Linjer
Sign up for our daily newsletter and get the latest industry news in your inbox every day.