Ralph Lauren's 50th Anniversary Blowout Was An Insanely Fabulous Tribute to New York
The doyen of all-American glamour outdid himself, with a little help from his stable of celebrity admirers and Central Park's Bethesda Terrace.
Ralph Lauren, both the man and the iconic all-American design house he founded in 1968, have a penchant for outdoing himself, and itself — during New York Fashion Week, anyway. The brand was an early adopter of the "see now, buy now" runway show format, debuting its first instantly shoppable collection in Sept. 2016 outside of its Madison Avenue flagship. A year later, it showed at Lauren's personal garage in Bedford, N.Y., and last season, transformed its venue into a luxurious Caribbean hideaway, where models walked barefoot. Whatever Lauren had planned for his 50th anniversary spectacular this September, held on Friday evening before a bevy of celebrity admirers, was sure to be just that: spectacular. And, obviously, it was. 
When he began the Ralph Lauren Corporation with a line of men's ties, Lauren was 28 years old and worked out of a single "drawer" from a showroom in the Empire State Building. He made deliveries to stores himself. On Friday, half a century later, he transformed Central Park's Bethesda Terrace into his own private banquet hall, showing five separate collections — more than 100 looks in total — before a crowd that included the likes of Oprah, Kanye West (who's frequently cited Lauren as his idol) and Hillary Clinton, who was seated beside Anna Wintour. Business of Fashion reported that the steaks for the dinner portion of the evening had been flown in from Lauren's own ranch in Colorado. 
In a release, Lauren discussed that his "inspiration" for the collections, as it's often worded in a designer's show notes, was, of course, New York, where it all began. "For my 50th anniversary, I wanted to create and share a runway experience that was deeply personal and a summation of the style I've always believed in: personal, authentic, and forever, in a place so quintessentially New York and so special to me — Central Park," he said. 
It's difficult to separate New York, the city he's worked in and the fashion of which he's helped define, from the work he's done personally. All five collections (women's Collection, men's Double RL and men's, women's and children's Polo Ralph Lauren) were "timeless" — luxe suiting and sporty craftiness for women, utilitarian workwear and traditional tailoring for men. With prep staging a comeback this season, the clothes likely would have struck a chord anyway, even if they weren't themselves remarkable. But they were.
During over-the-top runway shows, clothes can often seem like an afterthought — I find this to be such a shame, especially if the designs are worth poring over. Though in this case, the clothing's significance was not lost on Lauren's stable of movie stars, music industry scions, editors-in-chief, presidential contenders and fellow American design icons, including Calvin Klein, Donna Karan, Diane von Furstenberg and Tommy Hilfiger. The clothing was the significance. It's what I'd like to think is exactly the kind of fantasy a 28-year-old Lauren would've carried with him, bent over a sewing machine in a windowless studio on 34th Street, dreaming about Central Park.
See Ralph Lauren's full Fall 2018 collection in the gallery below.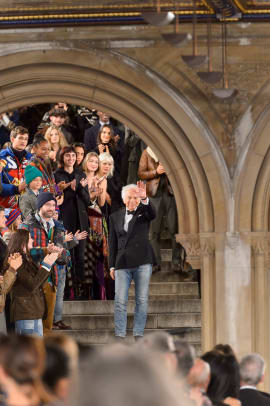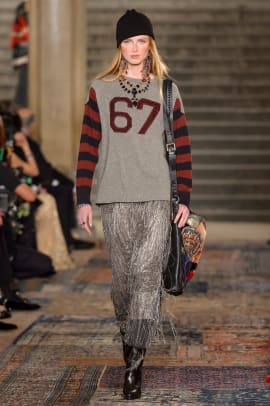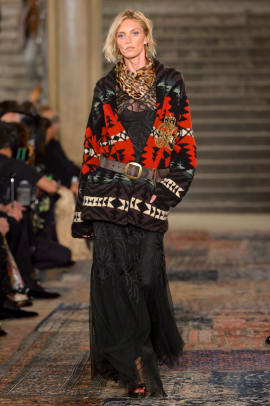 Sign up for our daily newsletter and get the latest industry news in your inbox every day.