Rick Owens's Spring 2019 Show, Like The World, Was Literally on Fire
Models encircled the flames in clothing made for surviving in this dark world.
"Burn it all down, Rick Owens," tweeted New York Times critic Vanessa Friedman from the front row at Paris Fashion Week. She was referencing the literal burning tower at the center of "Lord of Darkness" Rick Owens's runway, but also undoubtedly expressing the sentiment of many, many American fashion professionals trying to stay focused on shows in Paris while the political drama that is the Kavanaugh hearings played out in real time. 
When events with such historical and political significance are happening, it can be hard to care all that much about the cut of a dress or the lining of a coat, but at least what Rick Owens sent down the runway felt appropriately apocalyptic. Owens's vision is consistently something along the lines of "the world is dark; here are some clothes to survive it in," and on Thursday, that vision felt more appropriate than ever. Otherworldly silhouettes created by pillow-like protrusions, pieced-together bodices that looked like armor and plenty of somber black, brown and gray marked the clothing.
See Rick Owens's full Spring 2019 collection in the gallery below.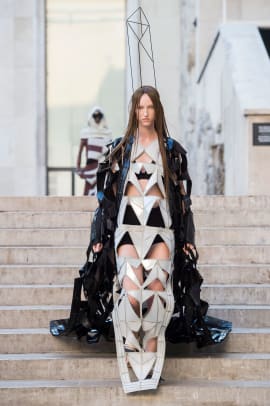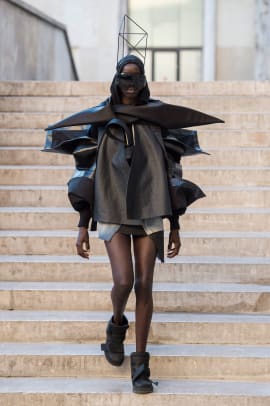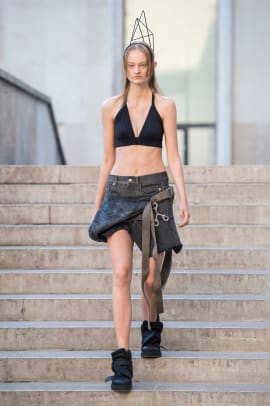 Stay current on the latest trends, news and people shaping the fashion industry. Sign up for our daily newsletter.