Rodarte Staged a Romantic Return to New York in a Rainy Graveyard
Designers Kate and Laura Mulleavy presented their fairy tale-worthy wares in a torrential downpour, which only added to the magic.
In recent seasons, the New York Fashion Week calendar has suffered the loss of several of its most promising talents, with Kate and Laura Mulleavy's dreamy label Rodarte among them. After a two-year absence, during which the design duo opted to present in Paris during Couture Week, the sisters staged a stateside comeback in the best way they knew how, with an eerily romantic runway show in the East Village's New York Marble Cemetery — which also just so happened to take place in the middle of a torrential downpour.
While guests were not thrilled about the conditions that left them soaked and chilled to the bone, the weather created an atmosphere that somehow made the brilliantly colored and richly textured collection seem more magical. Neon lights were dispersed throughout the graveyard's lush greenery, and the sound of the falling rain paired with an already moody soundtrack made for a surreal ambiance that no set designer could achieve on their own. Models walked slowly with extra care, allowing the audience of all front-row seats to closely inspect the intricate clothing and beauty looks — certainly not a bad thing, considering that Rodarte's pieces are all about the frills, details and fabrications. 
The brand stayed true to form with a crafty, colorful range for spring. There were ruffles and bows galore, tiered and crochet dresses with and without sleeves, richly embroidered floral gowns with dramatic swathes of tulle at the shoulders, metallic dresses in silver, gold and fuchsia that were an '80s blast from the past and, of course, a selection of elegant, form-fitting designs that will surely be red carpet hits come award season. 
In all, it was another divine showing from the Los Angeles-bases sisters, who've built a brand on their singular, haunting aesthetic. Hopefully, they won't ghost on us in favor of Paris again.
See Rodarte's full Spring 2019 collection in the gallery below.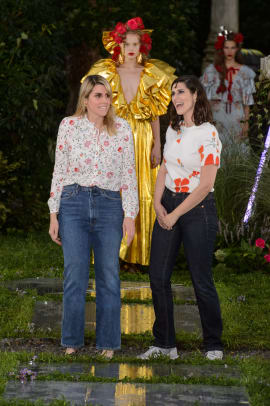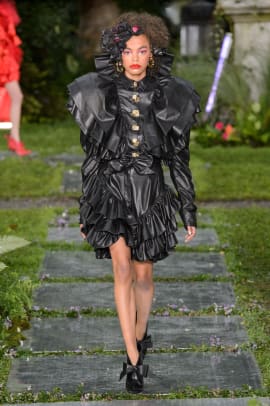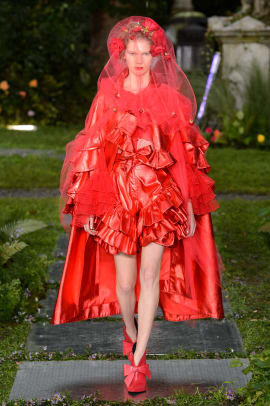 Stay current on the latest trends, news and people shaping the fashion industry. Sign up for our daily newsletter.