Anthony Vaccarello's Glam-Rockers Walk on Water at Saint Laurent
The French house's Spring 2019 collection offered wares fit for a '60-era Mick Jagger — if Mick Jagger had worn hot pants.
It's not like Saint Laurent hasn't always been a label for rock 'n' roll icons as we know them now, and for those looking to dress like them. In 1961, Yves Saint Laurent, the man, launched his namesake label, at the same time that "It" Brit royalty like Mick Jagger and David Bowie, albeit a few years later, were hitting their rockstar stride. But Saint Laurent dressed other varieties of groovy, cool-kid icons beyond just musicians.
The classic "rocker" aesthetic — loud, sexy, Bohemian and often influenced by the decade in which Mr. Saint Laurent launched his brand — is part of the Saint Laurent DNA. In the four years that Hedi Slimane served as design head, that look became a central one for the brand. The tighter the pants, the closer to rock music's heyday. Current Creative Director Anthony Vaccarello adopted a similar mindset upon his appointment in 2016, only shifting his focus toward an absolutely itty-bitty hem length. There's a definite rocker appeal to Vaccarello's Saint Laurent: The devil-may-care swagger of a proper glam-rocker is only made more alluring when it pushes a few, or a switchboard's worth of, buttons.
Saint Laurent's Spring 2019 runway event took place in its now-traditional show location — the Trocadero Fountain, just beneath the Eiffel Tower — complete with a shallow wading pool and a series of stark-white palm trees. (Regarding the latter, posited Alyssa, is it simply a coincidence that these were featured in the set just days before Slimane, a famous Angeleno, makes his Paris Fashion Week return?) A bandstand of seating was set up on one side of the pool, opposite the street and, behind it, an audience of onlookers pressed up against a fence. At precisely 8:00 p.m., the Eiffel Tower light show began, and at precisely 8:05 p.m., the first look appeared on the runway, walking on water. 
It wouldn't be difficult for a moment like this to have overshadowed the actual clothes. And isn't that a concern for every blow-out spectacle these days? But as the looks turned onto the basin and the bass thumped louder, the clothes held their own. At a rock concert, you're of course there for the music, but you're also there for the pageantry of it all, which clothes feed right into.
This season, those clothes were more literally late-'60s, early-'70s — we're talking "Sticky Fingers" here — than they've been in previous collections. Even just speaking for accessories, a vast majority of the 95 looks featured either velvet neck-scarves or forehead bands. Others included witchy, Stevie Nicks-style felt hats or billowing puff-sleeve blouses, like one worn by Kaia Gerber with cropped cigarette pants, a red suede military jacket and a leopard necktie. A series of star-adored items, including a sensational blue minidress with a giant bow at the back, were fit for any Bowie aficionado. 
Lest we forget the Vaccarello staples — leather hot pants, ultra-mini dresses, gravity-defying bodysuits — because those were out in full force, too, though many of his ultra-sexy items came styled with something less so, be it a hip-length velvet tunic or a tidy school-girl collar.
The commercial possibilities of this range are significant, and that's to the benefit of the more deep-pocketed consumers watching the show unfold on the other side of the runway. But that's obviously not the only metric by which collections are measured. Do consumers, editors, celebrities and the like wish to buy into a brand that highlights the rock 'n' roll  attitude in all of us? To that I say, it's been working for Saint Laurent since the very beginning.
Click through below to see Saint Laurent's Spring 2019 collection in full.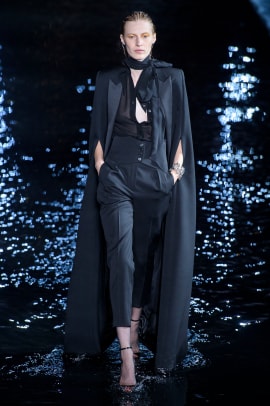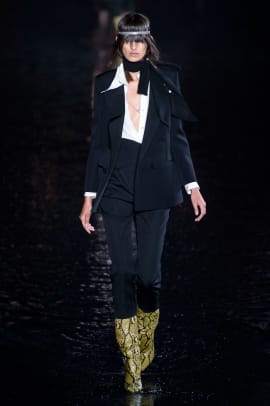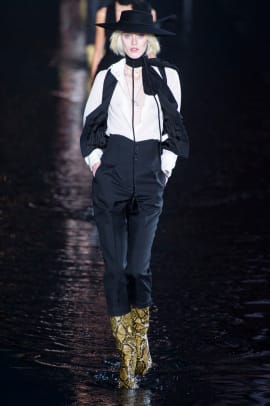 Stay current on the latest trends, news and people shaping the fashion industry. Sign up for our daily newsletter.