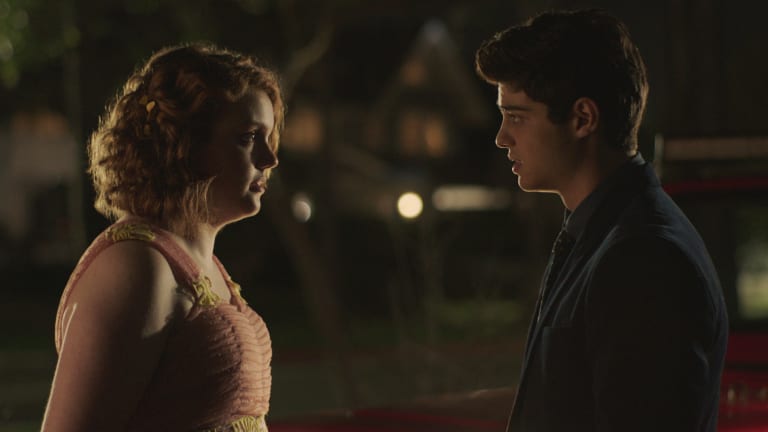 The Costumes in 'Sierra Burgess Is a Loser' Pay Homage to Teen Classics 'Clueless' and 'Pretty in Pink'
And Noah Centineo (aka your boyfriend Peter Kavinsky) is the jock version of "Blane" in Netflix's latest rom-com.
Warning: Mild spoilers for "Sierra Burgess Is a Loser" below.
Forever-teens dying for a weekend rom-com following the internet-breaking hit "To All the Boys I've Loved Before," and desperately in need of their Peter Kavinsky fix, fear not: The Netflix movie machine now presents "Sierra Burgess Is a Loser." (And, yes, everyone, Noah Centineo is back being your dreamy high school boyfriend, emoting with his expressive eyebrows while snapping selfies and adorably playing with younger siblings — co-starring popcorn — but more on that in a bit.)
Even though "Sierra Burgess" is a Gen Z update of the classic "Cyrano de Bergerac" tale, the movie does turn one classic teen trope on its head. The band geek — and proud of it! — titular lead, played by Shannon Purser (Barb in "Stranger Things" and Ethel Muggs on "Riverdale"), doesn't undergo a makeover, à la Laney Boggs in "She's All That" or Josie Geller in "Never Been Kissed."
"In this day and age, it makes more sense to reject [the trope] than just to follow it," says costume designer Romy Itzigsohn on a call with Fashionista. "The stronger a character is when you meet them — and the stronger they get throughout the story — to me, would mean they end up looking exactly the same."
Itzigsohn — who previously costume designed the Andy Samberg Tour de France mockumentary "Tour de Pharmacy" and styled Taylor Swift's "Everything Has Changed" video — kept Sierra's slouchy floral cardigans and animal-themed tops consistent. She thrifted a couple particularly standout pieces: an '80s-era pink sweatshirt covered in cuddly sheep (above) and a fuzzy, canine-embellished top from the '90s, which proved both functional and aesthetically-ideal for performing keg stands.
"A classic movie nerd would have those pieces on," laughs Itzigsohn. "We were all really excited about the idea that someone would go to a party in a poodle shirt. That was a big win for the movie."
For Sierra's overall soft, muted pastel palette, the costume designer happily followed the director Ian Samuels's inspiration: the Molly Ringwald-starring "Pretty in Pink." Apparently, the director and his team had the movie "on loop" in the production office for reference points. (Costume-unrelated aside: The casting also gives a wink-wink to the long-lasting teenage movie genre. Sierra's parents are played by Alan Ruck, aka Cameron from "Ferris Bueller's Day Off" and Lea Thompson, aka Amanda in "Some Kind of Wonderful" — and Zoey Deutch's mom IRL.)
"It's obviously a contemporary movie, but we wanted it to feel a little bit more classic," explains Itzigsohn. Of course, as teen movie trajectories do tend to go, "Sierra Burgess" culminates in the ultimate dance — homecoming, in this case — which probably paid the most significant homage to the John Hughes-directed prom classic.
"Ian wanted that 'Pretty in Pink' moment for her," says Itzigsohn, about Sierra's '50s-style peachy polka-dotted dress detailed with sunflower-yellow butterflies (above). The costume designer custom-built the tulle confection to be authentic to the character, but heightened just enough — and not a "makeover," by any means. "We wanted it to feel like something Sierra bought at a mall, felt a connection to it and put it on and it was perfect, but without too much of the fantasy," she adds.
RELATED ARTICLES
To introduce head cheerleader and HBIC, Veronica (Kristine Froseth) — the Christian to Sierra's Cyrano — plus her two meaner girl minions, Itzigsohn looked to another enduring teen classic, this time from the '90s. 
"A 'Clueless' moment with those girls was always going to be my first instinct," she laughs, referencing the trio's coordinating palettes of "sharper colors and silhouettes," in contrast to Sierra's slouchier pinks and blues. Although, while watching the girls rule the high school hallway in their matching 'fits, I immediately thought of The Plastics from "Mean Girls." Like, "on Wednesdays, we wear cranberry (or black and cream)."
For Veronica and co.'s costumes, Itzigsohn shopped at places real teens would frequent, like Forever 21, H&M and Zara, plus scoured vintage stores for pieces to rework into more contemporary shapes and styles. She also wanted the clothing to reflect the economic backgrounds of each character, as Veronica, raised by her single pageant mom, played by Chrissy Metz from "This Is Us," probably wouldn't be shopping in Bel Air with Cher Horowitz.
Speaking of classic movie references, Sierra's BFF Dan (R.J. Cyler) is clearly the Duckie of the film, fashion-wise, with his skillfully mismatched plaids, dots and animal prints, a particularly spectacular '80s-reminiscent track ensemble (complete with a terrycloth headband), as well as his rakish homecoming suiting with a ruffle-front shirt. "Whenever you have someone like R.J. who looks good in everything, it's really important to seize the moment," says Itzigsohn.
And, of course, we need to discuss the Roxane of the update: the hopeless romantic hidden in the form of football jock Jamey, played by a baby-faced Centineo. (The movie was filmed two years ago.) The actor, who notably likes to provide his own input and signature into his work, was happy to stay in the background, costume-wise.
"He definitely knew when something felt good and when something didn't feel right," says Itzigsohn. "For him, it was just not standing out too much, not being feeling like he was in a costume, really, but just [looking like] a comfortable guy who likes sports and chatting on the phone with girls."
Figuratively, to Itzigsohn, Jamey was the Blane, the heartthrob of "Pretty in Pink" (played by Andrew McCarthy). But instead of the '80s rich-kid neutral blazer and trousers uniform, the QB1 wears casual sweats, jeans, T-shirts, a heartbreakingly adorable set of printed flannel pajamas and a respectable dark suit for homecoming, again revisiting that time-honored teen romance storyline of which we'll never grow out.
"We have those [movie classics] ingrained in us," says Itzigsohn. "Since this movie is for the next generation, it's cool to be able to hold onto it. It's like passing it down." Or never letting it go, in most of our cases.
"Sierra Burgess is a Loser" premieres on Friday, Sept. 7 on Netflix.
Homepage photo: Courtesy of Netflix
Never miss the latest fashion industry news. Sign up for the Fashionista daily newsletter.