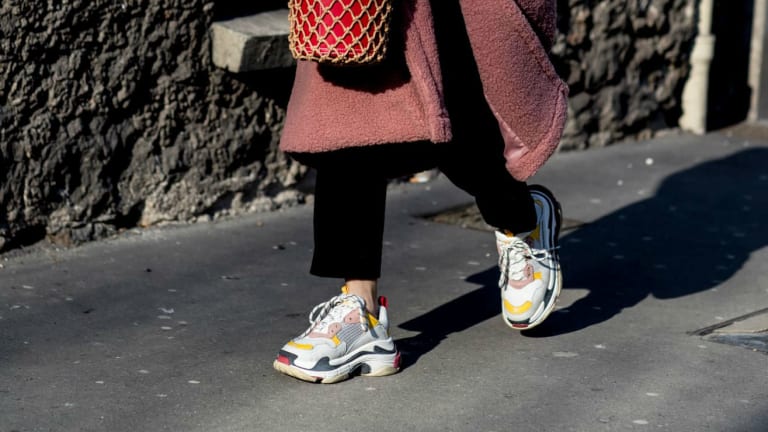 Investors Are Pouring Millions (and Millions) of Dollars Into Streetwear Startups
From a financial standpoint, this hype-driven sector of the market shows no sign of slowing down.
In what has felt like the blink of an eye, "streetwear" — a term that itself has become less and less tethered to one concrete definition — has gone from a niche, underground category of clothing and footwear to a mainstream industry that has shaken up the fashion business as we know it. It's also spurred an ecosystem of exciting, blue-chip companies that are creating, reselling, "dropping" and/or writing about limited-edition T-shirts and sneakers that in the past may have only interested small groups of teenagers.
Over just the past couple of years, investors have poured a collective $179.8 million into streetwear's leading online marketplaces Goat, Grailed, StockX and Stadium Goods (which has a brick-and-mortar component) and media platform Highsnobiety. But there were two events that may have really turned the financial world onto this space: After its infinitely hyped Louis Vuitton collaboration, Supreme was given a reported $1 billion valuation upon selling a minority stake to private equity firm Carlyle Group last fall, and digital media and e-commerce platform Hypebeast filed for a groundbreaking IPO back in 2016. (Louis Vuitton later hired Off-White's Virgil Abloh as its men's artistic director, doubling down on the French house's commitment to the hype model.)
There are a few different business models at play here, but the fact that they are all staples of any sneakerhead or streetwear aficionado's world has no doubt contributed to why investors have flocked to them. But can what some consider to be a fleeting fashion trend — meaning, something that could cycle out as quickly as it cycled in — really be a sound investment? As it goes mainstream, will streetwear still be considered "cool" and inspire the hype and obsession that has made it so successful? And as investors continue to pour millions upon millions into startups that occupy this space, will that create a bubble that will inevitably burst? By simply asking that (at least, at this point in the game), we might be underestimating the potential of some of the companies involved.
Let's start with streetwear's massive secondary market. Over the past several years, many startups outside of the streetwear space have launched with the intention of taking on Ebay by facilitating the buying and selling of secondhand apparel and accessories. Online consignment sites for women's fashion have been an especially hot area for investors: The RealReal, which focuses on selling authentic luxury goods, has raised $288 million to date; Poshmark, a social selling platform, has raised $160 million, and there are several others all with subtle differences raising millions as well.
In menswear — which may be conflated with streetwear to a degree — there has been a similar boom. Leaders included Grailed, which launched in 2013 and has raised $19.1 million to date; StockX, which launched in 2016 and raised $50 million; Goat, which launched in 2015, merged with industry pioneer Flight Club this year and raised $97.6 million; and Stadium Goods, which launched in 2015 and has raised $4.6 million in addition to taking on an investment from LVMH earlier this year, the amount of which remains undisclosed.
They all have their own niches and differing business models. For instance, Grailed is a peer-to-peer marketplace for previously owned shoes and clothes — often hard-to-find items by cult brands including Raf Simons, Supreme, Comme des Garçons and Rick Owens — that has cultivated a sense of community. Index Ventures, which has taken stakes in Net-a-Porter, Farfetch, ASOS and Goat, led its latest funding round.
While Grailed allows users to sell directly to each other, the others do not. Stadium Goods has a brick-and-mortar store in New York and holds all of its own inventory. Goat, which counts Alexis Ohanian and Ashton Kutcher among its investors and only operates via mobile app, acts as a middleman between buyers and sellers in order to vigorously authenticate and ensure the mint condition of each product. StockX, which boasts Mark Wahlberg and Eminem as investors, does the same, but also has a desktop site and does not sell things at a fixed price. Operating as a so-called "stock market of things," items on StockX fluctuate in price based on their perceived value. With sneakers, especially, regularly selling for much more than their retail value due to being released in limited quantities, it pushes the increasingly valid idea that, by shopping, you're not just building a wardrobe, you're making an investment.
"We're two-and-a-half years old and we will very closely be at a billion dollar run rate," says StockX CEO and co-founder Josh Luber. "That, on its own, is unique. We've been trying to figure out where do we fall in terms of the fastest-growing companies in the world or fastest-growing marketplaces ever. We've got to be in the conversation. That alone is certainly reason for investments." He adds that StockX has "been approached by almost every major investment fund in the United States or maybe the world."
Related articles
Roger Lee of Battery Ventures, who co-led StockX's recent $44 million funding round, says he initially found out about StockX through his 14-year-old sneakerhead son. After learning more about it from adults, he realized it was "part of a broader thesis we had in fashion and marketplaces and fit very clearly into two things we'd been looking at internally." One was trust — Ebay's main problem. "They solved the trust problem [with their authentication process] which has been a fundamental handicap to e-commerce for years," he says. The other was "the massive trend around streetwear and sneakers." He analogizes it to hip-hop as something that "started as niche urban trend [which] over time went totally mainstream," such that his "14-year-old son in the suburbs" is engaging with it. "It exists at the intersection of those things: It enabled trading of really beautiful high-end goods by solving this trust problem, and building this brand around those product categories," he says.
Hypebeast's record-breaking IPO in Hong Kong proves that resale is not the only business opportunity in streetwear. The media company, which also has an e-commerce component called HBX, brought in $49 million in revenue in fiscal 2017 — a 76 percent increase over the previous fiscal year. Then there's Highsnobiety, which raised $8.5 million earlier this year in a round led by Felix Capital, which has also invested in Business of Fashion, Farfetch and Goop. According to Highsnobiety COO Juergen Hopfgartner, the company has been profitable for 13 years without outside capital despite fielding plenty of incoming interest from investors, but now felt like the right time to accelerate the growth of the business and expand into e-commerce. 
With all of these businesses, streetwear — and its massive profile — is undoubtedly a significant part of what attracted investors initially. "We are always very interested when we see queues somewhere," says Frederic Court, founder and managing partner at Felix Capital, whose offices are in Soho, London near shops like Supreme and Palace. "It shows there is something important happening."
Luber calls out the 2011 release of the Air Jordan 11 Concord as a turning point: "For the first time in a long time, you had all this press covering a sneaker release. And then in February 2012, you had at the NBA All-Star Weekend, a shoe called the Galaxy Foam released, and all of a sudden... there were stories in the news about riots and people robbing each other for sneakers and all the bad stuff that had come in the early '90s. And that also started alerting the mainstream," he explains.
"At the same time, social media was becoming a big part of this, because Instagram was going through its own growth. You had these three things that were happening that shined a light on this industry for everybody. And of course, investors, like everybody else, are going to be aware of what's hot in this community and what's new, etcetera. So I think that was the start of it."
It's also the fact that these companies have genuinely grabbed the attention of millennials and Gen Z-ers — a notoriously hard-to-capture set of consumers — and built a community around them. "We are super interested in the equation between an offering that could be product, content or services — and the community," explains Court of his investment strategy. "We think of brands as communities." Of the streetwear community specifically, he says, "It's very passionate, and we think it's here to stay."
Investors don't just come on board because of initial success, they have to foresee longterm growth; in many cases, that has to mean growth beyond the streetwear categories these businesses were built around. Their viability seems to depend on their ability to expand, adapt and pivot.
With Highsnobiety, that means expanding into e-commerce, as well as covering more than just streetwear — something it's already doing, as the lines between streetwear, fashion and music continue to blur. "We've branched out into music, high fashion, areas that are defining this whole culture beyond streetwear," explains Hopfgartner of the site's evolving editorial strategy.
In resale, that means expanding into new markets and diversifying into different categories. Grailed launched a women's offshoot site called Heroine, for instance, though recent interviews and staff layoffs suggest it hasn't taken off quite as quickly as they might have hoped. 
"We happened to have started in sneakers and happened to sell a lot of streetwear as well. But that underlying model can be applied to a whole lot of other products and has a whole bigger business that can be built on top of it because of the nature of the model itself," explains Luber of StockX. Regarding its success in getting investors' attention, he wagers, "The initial reaction I'm sure was around sneakers and then our success within it. Then the reason to really dig in and then want to invest was about the bigger idea and the model and about where you can take that."
Indeed, Lee says he sees StockX going into different categories and pointed out how other streetwear companies have been able to widen their scopes, like Supreme offering housewares and other non-clothing items. "It's more of a way of life and a culture as opposed to a clothing category," he notes.
Investors we spoke with seemed a tad reluctant to comment on streetwear's staying power, however. "Everything in fashion is cyclical, but the cycles can last for 10 years or more," says Sucharita Kodali, VP and principal analyst at Forrester Research, noting that the brand Marc Ecko and retailer Karmaloop went bankrupt following their brief heydays in the '90s and '00s, respectively. There's also no reliable estimate for the size of the streetwear market, perhaps because it's so ill-defined. "My hunch is that it is in the $20 billion range in the U.S., including brands like Nike and Adidas that play in the space," she says, adding, "That suggests there is still quite a bit of headroom."
That means there's still room for the companies mentioned to grow — and perhaps even room for a new crop of startups to flourish — but Kodali says she's "nervous" about private equity getting into this space. "I don't think I've ever seen a company go from niche to blockbuster under the ownership of a private equity firm," she says.
It's also worth noting that most of the companies raising venture capital — and this is largely true in fashion outside of streetwear as well — are not brands, but platforms. "It's much harder to invest in a brand," says Court. "What can be the next Supreme? Palace? But if you invest in a platform ... think of Farfetch as a platform. That's the same for Highsnobiety. It's really more about youth culture."
Hopfgartner doesn't see there being space for many more platforms, however. "The economics of platform-driven businesses are usually winner takes all," he says. "I don't think we're going to see many new players." But we might see new money. "Will they need more funding? Yes, probably."
Additional reporting by Steve Dool.
Never miss the latest fashion industry news. Sign up for the Fashionista daily newsletter.