Studio 189's Singing, Dancing Spring 2019 Show Brought a Sense of Joyous Purpose to NYFW
This is a reminder of what fashion is like at its best.
By day four of a fashion week that has been full of trying weather and late nights, it's easy to get a little disillusioned: Even the most enthusiastic fashion fan probably wouldn't choose to sit in the cold rain at an outdoor venue waiting for a show to start. But every once in a while, you'll find yourself at a show that re-energizes its attendees enough to get them through the rest of the week, and on day five, that show was Studio 189.
The collection itself was largely in keeping with what Studio 189 has long been known for — bright colors and patterns featuring artisanal craftsmanship in the form of hand-woven textiles and traditional batik and tie-dye techniques from West Africa. But the format in which it was presented was so lively that it had front-row celebs like Alicia Keys and editors like Nikki Ogunnaike hollering by the end. 
"We celebrate, because there's enough to be upset about," Studio 189 Co-Founder Rosario Dawson said after the show.
The runway show did indeed feel like a celebration, with a vibrant riot of color, pattern, song and dance that featured music by Ghanaian "It" girl Jojo Abot, an Aretha Franklin tribute by former American Idol contestant Frenchie Davis, a Voguing dance troupe led by tweenaged twin girls and a killer model lineup that included amputee activist Mama Cax, musician Lionbabe and model Diandra Forrest.
What's more, the show started out with an informational video about the "why" behind Studio 189, explaining how the sustainable brand was founded by Rosario Dawson and Abrima Erwiah to create long-lasting jobs in West Africa. As a recent winner of the CFDA Lexus Fashion Initiative for its efforts in sustainability, the brand is deeply committed to using fashion to make the world a better place. Its co-founders clearly didn't want that message to be obscured behind the bright lights and glamour of fashion week.
"It's really important to us that you know where your clothes comes from," Erwiah said.
See Studio 189's Spring 2019 collection below.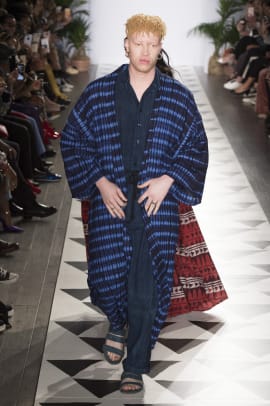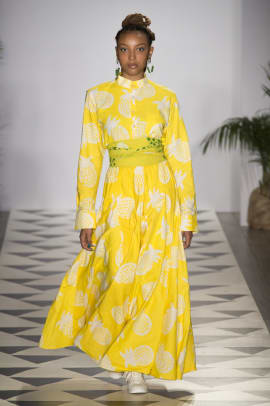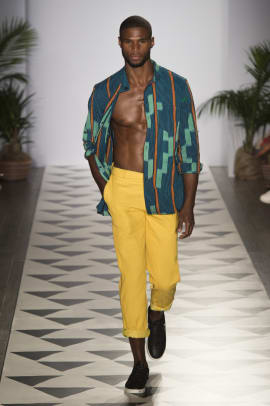 Stay current on the latest trends, news and people shaping the fashion industry. Sign up for our daily newsletter.