With Spring 2019, Telfar Is Laying the Foundation For a Real, Sustainable Business
The loyal community of fans and supporters? They've always been there.
After any good function — even ones that aren't so good — there's what some people call the "let out." Whether it's a performance or just a hot night at a party, attendees come outside the venue and stand around. Savoring the moment, the sense of community, reliving the experience only minutes after having it, they coagulate there, clotting traffic, unaware or uncaring.
Such was the case following the Telfar Spring 2019 show on Sunday afternoon. Next to the Blade Lounge helipad where the show was held, under a bridge, dozens of mostly-Black faces swirled around one another: There were social media influencers, The Clermont Twins, recounting the show's soundtrack with director and public speaker Jamal T. Lewis, rappers Le1f and Junglepussy snapping photos of one another and others just chattering aimlessly, making later plans and clearly just not wanting to leave. That crowd mingled for about 30 minutes before it began to thin out. It felt like community. It felt like family. This was Telfar.
The Telfar show started late and, like last season, it reached capacity — a natural byproduct of a 2017 CFDA/Vogue Fashion Fund win paired with a decade of building up a name in the art and nightlife communities as a bit of a New York City creative legend. Also like last season, live music set the tone for the runway, but this time we were outside, where a drizzle persisted and winds rolled in from the East River, blowing the tent off the top of the chain-link cages the audience was held in.
In that environment, designer Telfar Clemens debuted his latest range. With a musical lineup presided over by Ian Isiah and the South African group Faka (Fela Gucci and Desire Marea), featuring the voices of Moses Sumney and Butch Dawson reworking classics like The Temptations' "Papa Was A Rolling Stone," Aaliyah's "Are You That Somebody" and "Before I Let Go" by Maze featuring Frankie Beverly, Clemens turned out a range of 1970s-influenced pieces with his trademark process of deconstructing and reconstructing the wares.
"Telfar as a person was born to make clothes," Babak Radboy, Telfar's artistic director told Fashionista after the show. "I try to facilitate his ideas in reality, like how can you turn that into a message. How can people understand it and get it and get the value of it without changing it or mutating it? Most fashion designers are not about clothes in that way. They are about an aesthetic or skateboarding or whatever it is, that thing. But that classic Yohji Yamamoto, Romeo Giglio, that's what Telfar is — someone who's born to make clothes. If you pressed reset he'd be making clothes 50 years ago, 100 years ago or forever ago."
This season's "Not For You, For Everyone"-titled collection included trousers with wider legs and higher waists. Jackets were cropped and tops were oversized, cut with a relaxed, chest-baring vibe. Oversized cardigans and some skin-tight knit polos represented the preppy element that's always been present in the line. Denim jackets and jeans come taken apart and put back together with different washes and textures, while sweat shorts come reconstituted with the Telfar logo enlarged and sewn in as a part of the pattern. Some of the jackets, like one worn by actress Indya Moore (who recently signed to IMG Models), came retooled with detachable sleeves, another Telfar staple, as did a one-shoulder cut-out tank.
Those sorts of staples are the foundation of a sustainable fashion business for the brand in a post-Fashion Fund world. "It was amazing," Radboy said of the win. "It's not like it's the solution to everything but you have to understand — we couldn't make things properly, period. It was like everything was staged: it looked good on the runway but you can't put a product to market without investment or something. Even in terms of materials, we used to have to pick what was on hand at the factory. We couldn't pick our denim."
The Fashion Fund prize money changed that for the short term. This show has been six months in the making (the last was only two) and shows a hint of polish that wasn't always there. But the money didn't only go toward the show — it also went into developing the Telfar Shopping Bag that was shown with several looks and is now available in three sizes and three colors. "The first thing we did was order 300 bags and they sold out in two days," Radboy explained. "That's literally the first time we spent money to make clothes and then made money from selling them. It takes time to set up a real product; all these big companies make money off of a bag and a shoe and a perfume and we already have that first thing. We just need more of those things." A belt offered in white, threaded into a pair of jeans from this collection, could be another and is already available for sale in black.
But as they figure out that budding accessories business, and building it out in a sustainable way, the fans and friends that have been around since day one aren't going anywhere.
See the complete Telfar Spring 2019 collection in the gallery below.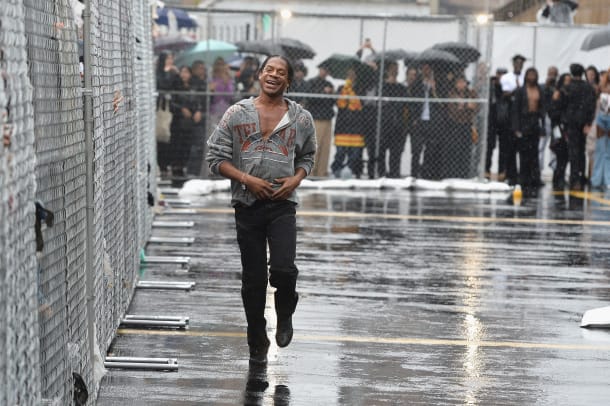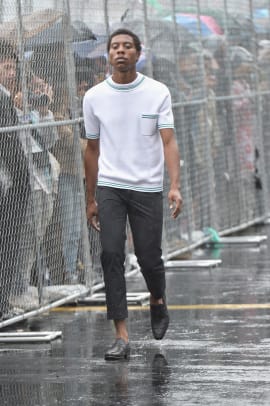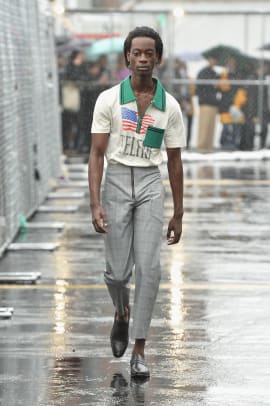 Stay current on the latest trends, news and people shaping the fashion industry. Sign up for our daily newsletter.