Thom Browne's Spring 2019 Dreamscape Is One of Summers Gone By
In Paris, the designer staged an exquisite, childlike day at the beach.
In late August, just a week before the start of New York Fashion Week, Ermenegildo Zegna Group announced that it had acquired a major stake — 85 percent — in Thom Browne.  Thom Browne, the person, assured fans in a press release that the only thing changing about Thom Browne, the label, would be the scope of its long-term business. In the short term, the designer's recent runway shows have included white lace unicorns and feathered bird suits, mini-couture ateliers and ice skate shoes. Can Zegna help bring Thom Browne's grandiose brand of creativity to a more global market? Though, maybe the better question is: Is the world ready for Thom Browne?
Thom Browne's Spring 2019 presentation took place on Sunday afternoon in the Tennis Club de Paris, a vast, turn-of-the-century arena that the designer transformed into a beachside boardwalk. The label's signature red and navy color palette adorned planks that were arranged atop a thin layer of sand. Elsewhere, a single candy-colored palm tree stood near a beachy hut reminiscent of a Nantucket snack shack. 
The show began with a group of male models dressed like garden gnomes — or, Thom Browne's own dapper interpretation of garden gnomes — distributing daisies to select front-row guests. What followed was an exquisite, fantastical tribute to summers gone by, told from the viewpoint of a child (as so much of his work is positioned). 
Some looks embodied fashion's most familiar nautical tropes: sailboat-printed nude bodysuits (watch out, Marine Serre) layered beneath striped triangle bikinis; an anchor-patterned blazer lined with sailing rope; parakeet green thigh-high boots dotted with ocean crabs; a translucent dress embellished with hand-beaded starfish in shades of coral and peach. (Models also wore their hair in low ponytails, styled into the shape of a tusk, like a narwhal.) Others referenced summer more broadly: glossy yellow coats adorned with fruit stickers; cartoonish whale patterns in creamy sky blues and baby pinks; jackets rendered to appear like a plastic gingham picnic blanket; two-feet-wide fruit-shaped headpieces and shoulder bags; a mask in the shape of a melted ice cream cone. 
The artistry was exceptional, as always, but it was this season's truly inventive attention to detail that pushed the collection over the edge. How many designers are able to showcase very blatant pelican and shark suits without them appearing kitschy? 
This exactly is what Zegna is betting on. Thom Browne's designs elicit an emotional response that stays with showgoers long after the designer has taken his final bow. In this season's case, it was a day at the beach — and don't we all hold such sandy memories near and dear to our hearts? 
Click through the gallery below to see Thom Browne's Spring 2019 collection in full.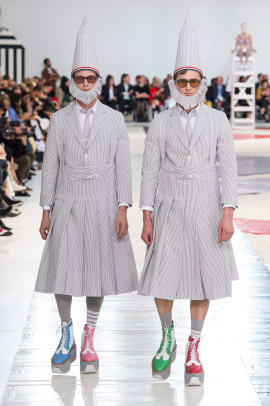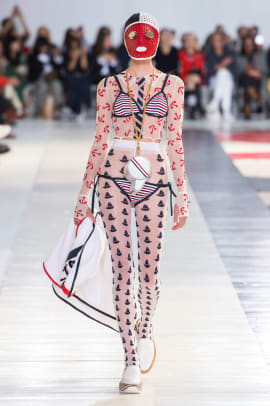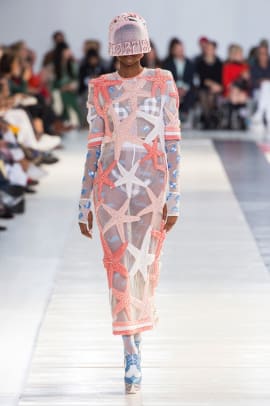 Sign up for our daily newsletter and get the latest industry news in your inbox every day.