Tom Ford Sticks to His Sexy, Sexy Roots for Spring 2019
If you were hoping to see some more rich-girl athleisure this season, we're sorry to disappoint you.
Over the past few seasons, you've surely noticed that designers have leaned all the way in to the practical, the comfortable, the athletic and, when it comes to top tastemakers like Demna Gvasalia and Virgil Abloh, the ironic when conceptualizing their collections. Fashion — both mass-market and high-end — has fully embraced streetwear and sneaker culture, has breathed new life into retro sports brands usually reserved for, you know, playing sports and has co-opted looks popular among cyclists, campers, mountain climbers, skateboarders, surfers, BMXers and more, turning stylized versions of their specialized gear into much-hyped, must-have items. 
Even Tom Ford, the man who epitomizes glamour, sex appeal and pure unadulterated luxury, has experimented with this concept, showing sweatshirts, leggings and puffer jackets just last season for Fall 2018. But Ford knows his sexy, sexy strengths, and for Spring 2019, he abandoned this trend altogether, opting to go back to his sensual roots — high heels, pencil skirts and all. Comfort be damned.
"I feel that fashion has somehow lost its way a bit and it is easy for all of us to be swept up in trends that have lost touch with what women and men want to actually wear," Ford wrote in his show notes. "So I did not want to make clothes that were ironic or clever, but simply clothes that were beautiful." Throughout his career (which has included stints at Yves Saint Laurent and, most famously, Gucci in the '90s), this has meant lots of slinky silk dresses, impeccably tailored suiting, nipped-in waists, see-through fabrics and skintight ruching that shows off the body, complete with luxe accents like leather, feathers and fur. For spring, he stayed true to form with barely-there lace slips, asymmetrical chiffon skirts, airy evening dresses with corset belts to define the waist, deep-cut necklines and crisp, silky jackets with a soft sheen.
Most of the women's looks came in black, white, or neutral shades of nude, pink, peach or lavender, a fact which Ford explained thusly: "Given the harshness of the world, a softer color palette seemed right to me this season." While that's sensible reasoning, the range as a whole felt a little, well, beige. To offset this softness, there were harder edges in shiny black leather, faux crocodile coats, belts and bags, sharply pointed high heels (that the models seemed to have a tough time walking in) and giant black sunglasses. 
Because this is Tom Ford, after all, there were a number of over-the-top statement items, including a feathered overcoat, a series of fringed gowns that are prime red carpet material, a duo of leopard print corset top and motorcycle jacket combos and the cape-like finale gown worn by Gigi Hadid, which floated around her as she twirled at the end of the runway. Ford always draws one of the best front rows of New York Fashion Week, too, and with Cardi B, Henry Golding, Paris Jackson, Tom Hanks (!), Hailee Steinfeld, Anna Wintour and more looking on, there's no question that the designer still has just what the rich and famous want when getting dressed for a fancy occasion.
Ford knows his customers, and while it's highly possible they're out shopping for $1000 status hoodies and $700 sneakers, those aren't the items they're looking to buy from him. Anytime they're in the market for unabashed glamour, he's their go-to guy — and for good reason.
See every look from the Tom Ford Spring 2019 collection in the gallery below.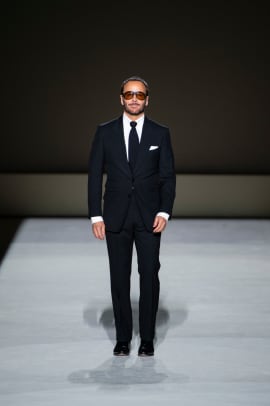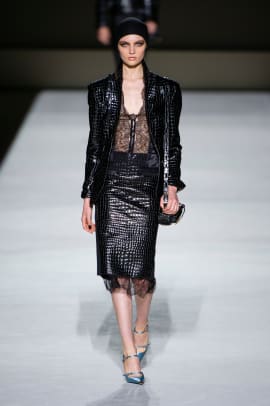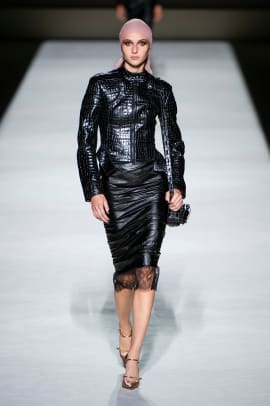 Want the latest fashion industry news first? Sign up for our daily newsletter.