As Prep Stages Its Comeback, Tory Burch Has Been There All Along
The designer's Spring 2019 offering featured stylish wares that wouldn't be a touch out of place at an East Hampton tennis club — but isn't that always the case?
There's been a lot of talk in recent weeks about prep — the clean-cut, scholastic aesthetic most often associated with brands like J.Crew and Brooks Brothers and institutions like boarding schools and tennis camps — being "back." The style, which originates from traditional upper-class leisure activities in the Northeast and New England, has always been there, of course. It's just gotten significantly less play with the rise of less-buttoned-up streetwear and before that, even-less-buttoned-up athleisure. But while we were off waiting in drop lines and reselling limited-edition sneakers, Tory Burch, doyenne of oft-ladylike, always-classic Upper East Side style, has been churning out preppy wares all along.
Her Spring 2019 collection felt especially so, but that could very well be because we're simply more attuned to prep regaining popularity as a trend of late. Set alongside real, extremely pleasant lemon trees at the terrace and garden of 91st St.'s Cooper Hewitt, Smithsonian Design Museum, the runway show presented 45 looks that wouldn't be a touch out of place at an East Hampton yacht club. But isn't that last part always the case? 
Nautical elements — the opening look, a cream summer sweater, featured a black contrast sailor neckline — cropped up alongside crisp shirting, slippy silks and lace embroidery. The silhouettes were kept breezy, almost Phoebe Philo-esque, like a number of silk wide-legged pants in a range of patterns, including a tangerine-hued paisley. Unsurprisingly, polo shirts were also well-represented, as were subtle daisy prints on cotton jackets and tiered midi skirts. The collection closed out with two voluminous organza-style gowns, one of which came in a deep navy with tiny white florals and was worn above another sharply-pressed button-down. (Prepsters do love their layering.)
As prep continues to stage its comeback in both the women's and men's markets, Burch is here to remind you that this is what she does best. And as tried-and-true preppies will tell you, she does it very, very well.
See every look from Tory Burch's Spring 2019 collection in the gallery below.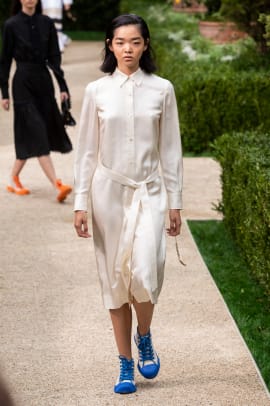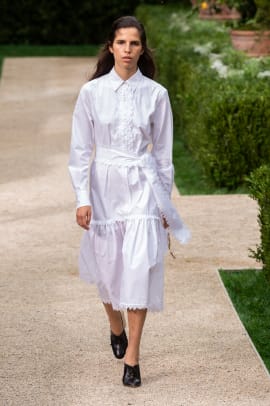 Note: An earlier version of this story speculated that the lemon trees included in the garden set may have been artificial. A spokesperson for Tory Burch clarified that they were real.
Stay current on the latest trends, news and people shaping the fashion industry. Sign up for our daily newsletter.